LOVE QUOTES VI
quotations about love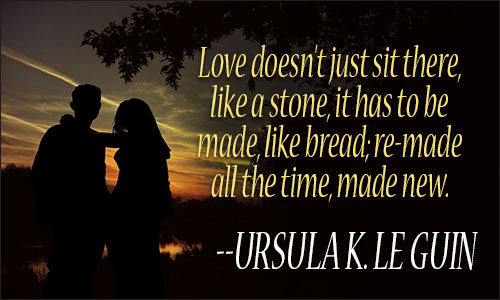 We cannot reason ourselves into love, nor can we reason ourselves out of it, which suggests that love and reason have little to do with each other.
CHRISTIAN NESTELL BOVEE, Intuitions and Summaries of Thought
2 likes
---
Love has its own instinct, finding the way to the heart, as the feeblest insect finds the way to its flower, with a will which nothing can dismay nor turn aside.
HONORE DE BALZAC, A Woman of Thirty
2 likes
---
Pains of love be sweeter far
Than all other pleasures are.
JOHN DRYDEN, Tyrannic Love
2 likes
---
Love is never lost. If not reciprocated, it will flow back and soften and purify the heart.
WASHINGTON IRVING, attributed, Golden Gleams of Thought: From the Words of Leading Orators
2 likes
---
Surely only true love could justify my lack of taste.
MARGARET ATWOOD, Lady Oracle
2 likes
---
Love is the one thing that can really sure-enough lighten all of life's dark clouds.
SINCLAIR LEWIS, Elmer Gantry
2 likes
---
Unconditional love. That's what he wants to give her and what he wants from her. People should give without wanting anything in return. All other giving is selfish. But he is being selfish a little, isn't he, by wanting her to love him in return? He hopes that she loves him in return. Is it possible for a person to love without wanting love back? Is anything so pure? Or is love, by its nature, a reciprocity, like oceans and clouds, an evaporating of seawater and a replenishing of rain?
ALAN LIGHTMAN, Reunion
2 likes
---
All is fair in love and war.
JOHN LYLY, Euphues: The Anatomy of Wit
2 likes
---
I would rather have eyes that cannot see, ears that cannot hear, lips that cannot speak, than a heart that cannot love.
ROBERT TIZON, attributed, Happy for No Reason: 7 Steps to Being Happy from the Inside Out
2 likes
---
Love ain't nothing but a monster with two heads.
COLEMAN HELL, "2 Heads"
2 likes
---
Love is ... the by-product of living in a decent flat.
EVA WISEMAN, "Love is ... let me count the ways you are special", The Guardian, February 14, 2016
2 likes
---
Love isn't something we can just turn off like a well-oiled faucet. It drips, keeping us up at night.
HEIDI K. ISERN, "The responsibility to fall out of love is on you", Quartz, August 5, 2016
2 likes
---
It's love that makes the world go round!
W. S. GILBERT, Iolanthe
1 likes
---
Caresses, expressions of one sort or another, are necessary to the life of the affections, as leaves are to the life of trees. If they are wholly restrained, love will die at the roots.
NATHANIEL HAWTHORNE, American Note-Books, Mar. 9, 1853
1 likes
---
That feelings of love and hate make rational judgments impossible in public affairs, as in private affairs, we can clearly enough see in others, though not so clearly in ourselves.
HERBERT SPENCER, The Study of Sociology
1 likes
---
Love is the wine of existence. When you have taken that, you have taken the most precious drop that there is in the cluster.
HENRY WARD BEECHER, Proverbs from Plymouth Pulpit
1 likes
---
If love is the answer, could you rephrase the question?
LILY TOMLIN, attributed, Parted Lips: Lesbian Love Quotes Through the Ages
1 likes
---
A supreme love, a motive that gives a sublime rhythm to a woman's life, and exalts habit into partnership with the soul's highest needs, is not to be had where and how she wills: to know that high initiation, she must often tread where it is hard to tread, and feel the chill air, and watch through darkness. It is not true that love makes things easy: it makes us choose what is difficult.
GEORGE ELIOT, Felix Holt
1 likes
---
Love, such as it is in society, is only the exchange of two fantasies, and the contact of two bodies.
SEBASTIEN R. N. CHAMFORT, Maximes et pensées
1 likes
---
Do they still call it infatuation? That magic ax that chops away the world in one blow, leaving only the couple standing there trembling? Whatever they call it, it leaps over anything, takes the biggest chair, the largest slice, rules the ground wherever it walks, from a mansion to a swamp, and its selfishness is its beauty.... People with no imagination feed it with sex -- the clown of love. They don't know the real kinds, the better kinds, where losses are cut and everybody benefits. It takes a certain intelligence to love like that -- softly, without props.
TONI MORRISON, Love
1 likes
---