LOVE QUOTES VI
quotations about love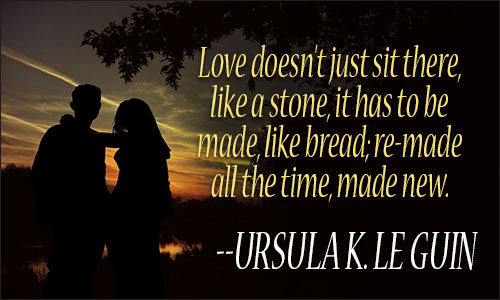 Absence is to love as wind is to fire: it extinguishes the little flame, it fans the big.
UMBERTO ECO, The Island of the Day Before
2 likes
---
There's nothing deader than a dead love.
LEONA HELMSLEY, Playboy, Nov. 1990
2 likes
---
The pleasures of love are really quite wonderful--though I suspect they are rather a luxury and require a certain level of socioeconomic stability to be anything other than a mode of suffering.
SAMUEL R. DELANY, Conversations with Samuel R. Delany
2 likes
---
This love of ours, in so far as it is a love for one particular creature, is not perhaps a very real thing, since, though associations of pleasant or painful musings can attach it for a time to a woman to the extent of making us believe that it has been inspired by her in a logically necessary way, if on the other hand we detach ourselves deliberately or unconsciously from those associations, this love, as though it were in fact spontaneous and sprang from ourselves alone, will revive in order to bestow itself on another woman.
MARCEL PROUST, Within a Budding Grove
2 likes
---
What is love? There is nothing in the world, neither man nor Devil nor any thing, that I hold as suspect as love, for it penetrates the soul more than any other thing. Nothing exists that so fills and binds the heart as love does. Therefore, unless you have those weapons that subdue it, the soul plunges through love into an immense abyss.
UMBERTO ECO, The Name of the Rose
2 likes
---
Love recognizes no barriers. It jumps hurdles, leaps fences, penetrates walls to arrive at its destination full of hope.
MAYA ANGELOU, attributed, The Power of Hope
2 likes
---
We cannot reason ourselves into love, nor can we reason ourselves out of it, which suggests that love and reason have little to do with each other.
CHRISTIAN NESTELL BOVEE, Intuitions and Summaries of Thought
2 likes
---
Love has its own instinct, finding the way to the heart, as the feeblest insect finds the way to its flower, with a will which nothing can dismay nor turn aside.
HONORE DE BALZAC, A Woman of Thirty
2 likes
---
Pains of love be sweeter far
Than all other pleasures are.
JOHN DRYDEN, Tyrannic Love
2 likes
---
Surely only true love could justify my lack of taste.
MARGARET ATWOOD, Lady Oracle
2 likes
---
Love is the one thing that can really sure-enough lighten all of life's dark clouds.
SINCLAIR LEWIS, Elmer Gantry
2 likes
---
Unconditional love. That's what he wants to give her and what he wants from her. People should give without wanting anything in return. All other giving is selfish. But he is being selfish a little, isn't he, by wanting her to love him in return? He hopes that she loves him in return. Is it possible for a person to love without wanting love back? Is anything so pure? Or is love, by its nature, a reciprocity, like oceans and clouds, an evaporating of seawater and a replenishing of rain?
ALAN LIGHTMAN, Reunion
2 likes
---
All is fair in love and war.
JOHN LYLY, Euphues: The Anatomy of Wit
2 likes
---
I would rather have eyes that cannot see, ears that cannot hear, lips that cannot speak, than a heart that cannot love.
ROBERT TIZON, attributed, Happy for No Reason: 7 Steps to Being Happy from the Inside Out
2 likes
---
Love ain't nothing but a monster with two heads.
COLEMAN HELL, "2 Heads"
2 likes
---
Love is ... the by-product of living in a decent flat.
EVA WISEMAN, "Love is ... let me count the ways you are special", The Guardian, February 14, 2016
2 likes
---
Love isn't something we can just turn off like a well-oiled faucet. It drips, keeping us up at night.
HEIDI K. ISERN, "The responsibility to fall out of love is on you", Quartz, August 5, 2016
2 likes
---
It's love that makes the world go round!
W. S. GILBERT, Iolanthe
1 likes
---
Caresses, expressions of one sort or another, are necessary to the life of the affections, as leaves are to the life of trees. If they are wholly restrained, love will die at the roots.
NATHANIEL HAWTHORNE, American Note-Books, Mar. 9, 1853
1 likes
---
That feelings of love and hate make rational judgments impossible in public affairs, as in private affairs, we can clearly enough see in others, though not so clearly in ourselves.
HERBERT SPENCER, The Study of Sociology
1 likes
---