LOVE QUOTES VI
quotations about love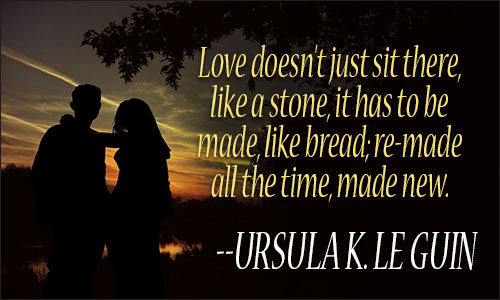 Unconditional love. That's what he wants to give her and what he wants from her. People should give without wanting anything in return. All other giving is selfish. But he is being selfish a little, isn't he, by wanting her to love him in return? He hopes that she loves him in return. Is it possible for a person to love without wanting love back? Is anything so pure? Or is love, by its nature, a reciprocity, like oceans and clouds, an evaporating of seawater and a replenishing of rain?
ALAN LIGHTMAN, Reunion
2 likes
---
All is fair in love and war.
JOHN LYLY, Euphues: The Anatomy of Wit
2 likes
---
I would rather have eyes that cannot see, ears that cannot hear, lips that cannot speak, than a heart that cannot love.
ROBERT TIZON, attributed, Happy for No Reason: 7 Steps to Being Happy from the Inside Out
2 likes
---
Love ain't nothing but a monster with two heads.
COLEMAN HELL, "2 Heads"
2 likes
---
Love is ... the by-product of living in a decent flat.
EVA WISEMAN, "Love is ... let me count the ways you are special", The Guardian, February 14, 2016
2 likes
---
Love isn't something we can just turn off like a well-oiled faucet. It drips, keeping us up at night.
HEIDI K. ISERN, "The responsibility to fall out of love is on you", Quartz, August 5, 2016
2 likes
---
It's love that makes the world go round!
W. S. GILBERT, Iolanthe
1 likes
---
Caresses, expressions of one sort or another, are necessary to the life of the affections, as leaves are to the life of trees. If they are wholly restrained, love will die at the roots.
NATHANIEL HAWTHORNE, American Note-Books, Mar. 9, 1853
1 likes
---
Love was the flower of life, and blossomed unexpectedly and without law, and must be plucked where it was found, and enjoyed for the brief hour of its duration.
D. H. LAWRENCE, The Rainbow
1 likes
---
That feelings of love and hate make rational judgments impossible in public affairs, as in private affairs, we can clearly enough see in others, though not so clearly in ourselves.
HERBERT SPENCER, The Study of Sociology
1 likes
---
Love is the wine of existence. When you have taken that, you have taken the most precious drop that there is in the cluster.
HENRY WARD BEECHER, Proverbs from Plymouth Pulpit
1 likes
---
If love is the answer, could you rephrase the question?
LILY TOMLIN, attributed, Parted Lips: Lesbian Love Quotes Through the Ages
1 likes
---
A supreme love, a motive that gives a sublime rhythm to a woman's life, and exalts habit into partnership with the soul's highest needs, is not to be had where and how she wills: to know that high initiation, she must often tread where it is hard to tread, and feel the chill air, and watch through darkness. It is not true that love makes things easy: it makes us choose what is difficult.
GEORGE ELIOT, Felix Holt
1 likes
---
Love, such as it is in society, is only the exchange of two fantasies, and the contact of two bodies.
SEBASTIEN R. N. CHAMFORT, Maximes et pensées
1 likes
---
Do they still call it infatuation? That magic ax that chops away the world in one blow, leaving only the couple standing there trembling? Whatever they call it, it leaps over anything, takes the biggest chair, the largest slice, rules the ground wherever it walks, from a mansion to a swamp, and its selfishness is its beauty.... People with no imagination feed it with sex -- the clown of love. They don't know the real kinds, the better kinds, where losses are cut and everybody benefits. It takes a certain intelligence to love like that -- softly, without props.
TONI MORRISON, Love
1 likes
---
Love's mysteries in souls do grow,
But yet the body is his book.
JOHN DONNE, The Ecstasy
1 likes
---
True love begins in heaven's bower,
Unfolds on earth a perfect flower.
ARDELIA COTTON BARTON, "Love's Language"
1 likes
---
Love ... like a lamp, it needs to be fed out of the oil of another's heart, or its flame burns low.
HENRY WARD BEECHER, Proverbs from Plymouth Pulpit
1 likes
---
Son, if a maiden love thee, thou shalt appear handsome in her sight; she shall praise thine eyes, and the corners of thy mouth, yea, she shall admire thy hands. Though thou wert even as the orangutan yet shall she paint thee with fancies.
GELETT BURGESS, The Maxims of Methuselah
1 likes
---
A summer breeze can be very refreshing; but if we try to put it in a tin can so we can have it entirely to ourselves, the breeze will die. Our beloved is the same. He is like a breeze, a cloud, a flower. If you imprison him in a tin can, he will die. Yet many people do just that. They rob their loved one of his liberty, until he can no longer be himself. They live to satisfy themselves and use their loved one to help them fulfill that. That is not loving; it is destroying.
THICH NHAT HANH, Teachings on Love
1 likes
---