LOVE QUOTES III
quotations about love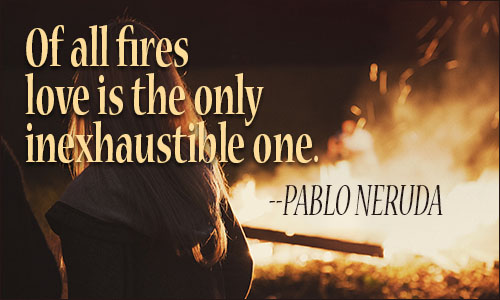 But love, like wine, gives a tumultuous bliss,
Heighten'd indeed beyond all mortal pleasures;
But mingles pangs and madness in the bowl.
EDWARD YOUNG, The Revenge
6 likes
---
Love seeketh not itself to please,
Nor for itself hath any care,
But for another gives its ease,
And builds a Heaven in Hell's despair.
WILLIAM BLAKE, Songs of Experience
5 likes
---
We can't profess love without talking through hand puppets.
DAVID SEDARIS, Dress Your Family in Corduroy and Denim
5 likes
---
Only love heals. Anger, guilt, and fear can only destroy.
ALYSON NOEL, Evermore
5 likes
---
It isn't enough to love people because they're good to you, or because in some way or other you're going to get something by it. We have to love because we love loving.
JOHN GALSWORTHY, A Bit O' Love
5 likes
---
I say I'm in love with her. What does that mean? It means I review my future and my past in the light of this feeling. It is though I wrote in a foreign language that I am suddenly able to read. Wordlessly, she explains me to myself. Like genius, she is ignorant of what she does.
JEANETTE WINTERSON, The Passion
5 likes
---
If you grew up in a house where you weren't loved, you didn't know there was an alternative.
JEFFREY EUGENIDES, The Marriage Plot
5 likes
---
Everything is a mystery with Love--his arrows, his quiver, his torch, his childlike appearance. It's not the work of one day to understand the breadth of his science.
MINA SAMUELS, "Truly, Madly, Deeply--A Fable Explains Why Love is Crazy", Huffington Post, October 31, 2017
5 likes
---
Among the blessings of love there is hardly one more exquisite than the sense that in uniting the beloved life to ours we can watch over its happiness, bring comfort where hardship was, and over memories of privation and suffering open the sweetest fountains of joy.
GEORGE ELIOT, Daniel Deronda
4 likes
---
Love is an alchemist that can transmute poison into food.
CHARLES CALEB COLTON, Lacon
4 likes
---
Love consists in this, that two solitudes protect and border and salute each other.
RAINER MARIA RILKE, Letters to a Young Poet
4 likes
---
Love--that divine fire which was made to light and warm the temple of home--sometimes burns at unholy altars.
HORACE MANN, Thoughts
4 likes
---
If two people are in love they can sleep on the blade of a knife.
EDWARD HOAGLAND, Balancing Acts
4 likes
---
Love, how many roads to reach a kiss.
PABLO NERUDA, "Love, How many Roads to Reach a Kiss"
4 likes
---
Why does it seem to be more and more challenging to find a perfect mate or maintain a happy and compatible relationship? Was love always this difficult? Haven't we heard stories of people being truly fulfilled and happy in love? Is love a myth? There are more people on the planet than ever before, and traveling the world has never been easier. Not only that; now we can use technologies like the Internet to connect with others. So what is the problem? Why does it seem to be more complicated than ever to meet the right person and live happily ever after?
PAMELA OSLIE, Love Colors
4 likes
---
On the day when it will be possible for woman to love not in her weakness but in her strength, not to escape herself but to find herself, not to abase herself but to assert herself--on that day love will become for her, as for man, a source of life and not of mortal danger.
SIMONE DE BEAUVOIR, The Second Sex
4 likes
---
To give up another person's love is a mild suicide; like a very bad inoculation as compared to the full disease.
WYNDHAM LEWIS, Tarr
4 likes
---
Love can change a person the way a parent can change a baby -- awkwardly, and often with a great deal of mess.
DANIEL HANDLER, as Lemony Snicket, Horseradish: Bitter Truths You Can't Avoid
3 likes
---
The greatest pleasures of love are inseparable from its greatest pains: Love has the face of a goddess, but the talons of a lion.
IVAN PANIN, Thoughts
3 likes
---
Have you heard the word is love?
It's so fine, it's sunshine.
THE BEATLES, "The Word", Rubber Soul
3 likes
---