LOVE QUOTES III
quotations about love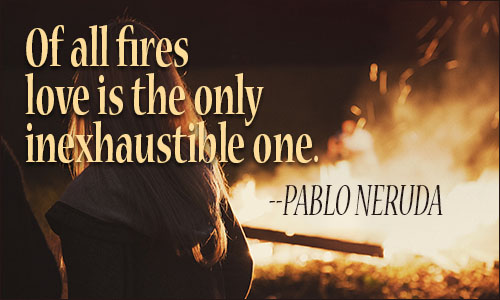 We can't profess love without talking through hand puppets.
DAVID SEDARIS, Dress Your Family in Corduroy and Denim
5 likes
---
It isn't enough to love people because they're good to you, or because in some way or other you're going to get something by it. We have to love because we love loving.
JOHN GALSWORTHY, A Bit O' Love
5 likes
---
I say I'm in love with her. What does that mean? It means I review my future and my past in the light of this feeling. It is though I wrote in a foreign language that I am suddenly able to read. Wordlessly, she explains me to myself. Like genius, she is ignorant of what she does.
JEANETTE WINTERSON, The Passion
5 likes
---
If you grew up in a house where you weren't loved, you didn't know there was an alternative.
JEFFREY EUGENIDES, The Marriage Plot
5 likes
---
Among the blessings of love there is hardly one more exquisite than the sense that in uniting the beloved life to ours we can watch over its happiness, bring comfort where hardship was, and over memories of privation and suffering open the sweetest fountains of joy.
GEORGE ELIOT, Daniel Deronda
4 likes
---
Love consists in this, that two solitudes protect and border and salute each other.
RAINER MARIA RILKE, Letters to a Young Poet
4 likes
---
Love--that divine fire which was made to light and warm the temple of home--sometimes burns at unholy altars.
HORACE MANN, Thoughts
4 likes
---
Why does it seem to be more and more challenging to find a perfect mate or maintain a happy and compatible relationship? Was love always this difficult? Haven't we heard stories of people being truly fulfilled and happy in love? Is love a myth? There are more people on the planet than ever before, and traveling the world has never been easier. Not only that; now we can use technologies like the Internet to connect with others. So what is the problem? Why does it seem to be more complicated than ever to meet the right person and live happily ever after?
PAMELA OSLIE, Love Colors
4 likes
---
Only love heals. Anger, guilt, and fear can only destroy.
ALYSON NOEL, Evermore
4 likes
---
On the day when it will be possible for woman to love not in her weakness but in her strength, not to escape herself but to find herself, not to abase herself but to assert herself--on that day love will become for her, as for man, a source of life and not of mortal danger.
SIMONE DE BEAUVOIR, The Second Sex
4 likes
---
To give up another person's love is a mild suicide; like a very bad inoculation as compared to the full disease.
WYNDHAM LEWIS, Tarr
4 likes
---
Love is an alchemist that can transmute poison into food.
CHARLES CALEB COLTON, Lacon
3 likes
---
If two people are in love they can sleep on the blade of a knife.
EDWARD HOAGLAND, Balancing Acts
3 likes
---
Trust Love, nor fear to soar upon his track.
The wings that bore to Heaven will bear thee back.
RICHARD GARNETT, De Flagello Myrtes
3 likes
---
Greater love has no one than this, that he lay down his life for his friends.
BIBLE, John 15:13
3 likes
---
Giving and receiving love is vital to human existence. It is the glue that binds couples, families, communities, cultures, and nations.
FRANK LAWLIS, Mending the Broken Bond
3 likes
---
We're all a little weird. And life is a little weird. And when we find someone whose weirdness is compatible with ours, we join up with them and fall into mutually satisfying weirdness -- and call it love -- true love.
ROBERT FULGHUM, True Love
3 likes
---
To love and to live well is wished of many, but incident to few.
JOHN LYLY, Euphues and His England
3 likes
---
Love holds everything together with a girdle of barbed wire encased in a sheath of pink cotton wool.
TIM LOTT, "Love is ... a torment and a joy. And it's not for softies", The Guardian, July 22, 2016
3 likes
---
Thou shalt love thy neighbor as thyself.
BIBLE, Leviticus 19:18
2 likes
---