LOVE QUOTES VII
quotations about love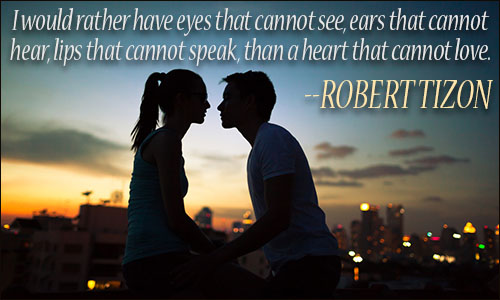 Love is the wine of existence. When you have taken that, you have taken the most precious drop that there is in the cluster.
HENRY WARD BEECHER, Proverbs from Plymouth Pulpit
1 likes
---
If love is the answer, could you rephrase the question?
LILY TOMLIN, attributed, Parted Lips: Lesbian Love Quotes Through the Ages
1 likes
---
A supreme love, a motive that gives a sublime rhythm to a woman's life, and exalts habit into partnership with the soul's highest needs, is not to be had where and how she wills: to know that high initiation, she must often tread where it is hard to tread, and feel the chill air, and watch through darkness. It is not true that love makes things easy: it makes us choose what is difficult.
GEORGE ELIOT, Felix Holt
1 likes
---
Love, such as it is in society, is only the exchange of two fantasies, and the contact of two bodies.
SEBASTIEN R. N. CHAMFORT, Maximes et pensées
1 likes
---
Love will have its day.
U2, "North and South of the River", Staring at the Sun
1 likes
---
Love's mysteries in souls do grow,
But yet the body is his book.
JOHN DONNE, The Ecstasy
1 likes
---
True love begins in heaven's bower,
Unfolds on earth a perfect flower.
ARDELIA COTTON BARTON, "Love's Language"
1 likes
---
Love ... like a lamp, it needs to be fed out of the oil of another's heart, or its flame burns low.
HENRY WARD BEECHER, Proverbs from Plymouth Pulpit
1 likes
---
Son, if a maiden love thee, thou shalt appear handsome in her sight; she shall praise thine eyes, and the corners of thy mouth, yea, she shall admire thy hands. Though thou wert even as the orangutan yet shall she paint thee with fancies.
GELETT BURGESS, The Maxims of Methuselah
1 likes
---
A summer breeze can be very refreshing; but if we try to put it in a tin can so we can have it entirely to ourselves, the breeze will die. Our beloved is the same. He is like a breeze, a cloud, a flower. If you imprison him in a tin can, he will die. Yet many people do just that. They rob their loved one of his liberty, until he can no longer be himself. They live to satisfy themselves and use their loved one to help them fulfill that. That is not loving; it is destroying.
THICH NHAT HANH, Teachings on Love
1 likes
---
Love's tendrils round the heart doth twine,
As round the oak doth cling the vine.
ARDELIA COTTON BARTON, "Love's Language"
1 likes
---
To love is to destroy, and ... to be loved is to be the one destroyed.
CASSANDRA CLARE, City of Bones
1 likes
---
You never give away your heart; you lend it from time to time. If it were not so how could we take it back without asking?
JEANETTE WINTERSON, Written on the Body
1 likes
---
To go through life without love is to travel through the world in a carriage with closed windows.
IVAN PANIN, Thoughts
1 likes
---
Love is a moral drunkenness; and, whilst it lasts, the shrew seems gentle, the tigress a dove, the flirt constant, and the fiend an angel.
CHARLES WILLIAM DAY, The Maxims, Experiences, and Observations of Agogos
1 likes
---
Love, in this world, is like a seed taken from the tropics, and planted where the winter comes too soon; and it cannot spread itself in flower-clusters and wide-twining vines, so that the whole air is filled with the perfume thereof. But there is to be another summer for it yet. Care for the root now, and God will care for the top by and by.
HENRY WARD BEECHER, Life Thoughts
1 likes
---
Love is a spy who is plotting treason,
In league with that warm, red rebel, the Heart.
ELLA WHEELER WILCOX, "Communism"
1 likes
---
Heav'nly love shall outdo Hellish hate.
JOHN MILTON, Paradise Lost
1 likes
---
Where did love begin? What human being looked at another and saw in their face the forests and the sea? Was there a day, exhausted and weary, dragging home food, arms cut and scarred, that you saw yellow flowers and, not knowing what you did, picked them because I love you?
JEANETTE WINTERSON, Lighthousekeeping
1 likes
---
One of the remarkable things about love is that, despite very irritating people writing poems and songs about how pleasant it is, it really is quite pleasant.
DANIEL HANDLER, as Lemony Snicket, Horseradish: Bitter Truths You Can't Avoid
1 likes
---