LOVE QUOTES VIII
quotations about love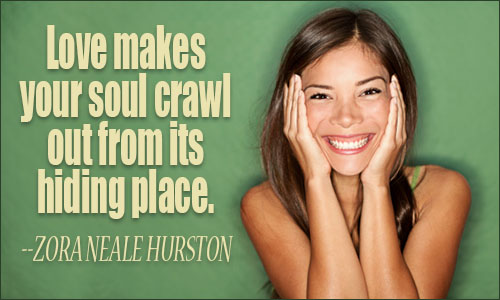 Love is no hot-house flower, but a wild plant, born of a wet night, born of an hour of sunshine; sprung from wild seed, blown along the road by a wild wind. A wild plant that, when it blooms by chance within the hedge of our gardens, we call a flower; and when it blooms outside we call a weed; but, flower or weed, whose scent and colour are always wild!
JOHN GALSWORTHY, The Forsyte Saga
1 likes
---
Anyone who falls in love is searching for the missing pieces of themselves.
HARUKI MURAKAMI, Kafka on the Shore
1 likes
---
When you get in love you are made all over again. The person who loves you has picked you out of the great mass of uncreated clay which is humanity to make something out of, and the poor lumpish clay which is you wants to find out what it has been made into. But at the same time, you, in the act of loving somebody, become real, cease to be a part of the continuum of the uncreated clay and get the breath of life in you and rise up. So you create yourself by creating another person, who, however, has also created you, picked up the you-chunk of clay out of the mass. So there are two you's, the one you create by loving and the one the beloved creates by loving you. The farther those two you's are apart the more the world grinds and grudges on its axis. But if you loved and were loved perfectly then there wouldn't be any difference between the two you's or any distance between them. They would coincide perfectly, there would be perfect focus, as when a stereoscope gets the twin images on the card into perfect alignment.
ROBERT PENN WARREN, Four Quarters, 1970
1 likes
---
One word
Frees us of all the weight and pain of life:
That word is love.
SOPHOCLES, Oedipus at Colonus
1 likes
---
Love. My golly, it sells diapers, don't it!
DAVID MAMET, Goldberg Street: Short Plays and Monologues
1 likes
---
Love is a kind of warfare.
OVID, The Art of Love
1 likes
---
The world has little to bestow
Where two fond hearts in equal love are joined.
ANNA LETITIA BARBAULD, Delia
1 likes
---
Love lives in sealed bottles of regret.
SEAN O'FAOLAIN, Saturday Evening Post, Aug. 13, 1966
1 likes
---
There is no evil angel but Love.
WILLIAM SHAKESPEARE, Love's Labour's Lost
1 likes
---
Without warning
as a whirlwind
swoops on an oak
Love shakes my heart
SAPPHO, Without Warning
1 likes
---
The weight of love
Has buoyed me up
Till my head
Knocks against the sky.
WILLIAM CARLOS WILLIAMS, O Magazine, Feb. 2007
1 likes
---
Love is like the wild rose-briar;
Friendship like the holly-tree.
The holly is dark when the rose-briar blooms,
But which will bloom most constantly?
EMILY BRONTE, Love and Friendship
1 likes
---
The gospel of love spread among a sex for the needs of militarism and the labor market has filled woman with the spiritual hysteria of apostleship.
MARIAN COX, "The Fools of Love", The Dry Rot of Society and Other Essays
1 likes
---
True love is like ghosts, which everybody talks about and few have seen.
LA ROCHEFOUCAULD, attributed, Love: Quotes and Passages from the Heart
1 likes
---
Love is the only shocking act left on the face of the earth.
SANDRA BERNHARD, attributed, Parted Lips: Lesbian Love Quotes Through the Ages
1 likes
---
Love likes not the falling fruit,
Nor the withered tree.
SIR WALTER RALEIGH, As Ye Came from the Holy Land
1 likes
---
Mother love is the most powerful, the most irrational force on earth, even more powerful than sexual love. However, one does lead to the other, so best not to spurn the former.
RITA MAE BROWN, Full Cry
1 likes
---
Love is an anesthesia. It puts you to sleep, it allows you to overlook, not question, not care ... and then, one day, you come to. And, by God and all his horny angels ... it's an eye opener.
ANN WUEHLER, The Next Mrs. Jacob Anderson
1 likes
---
The music that inspires the souls of lovers exists within themselves and the private universe they occupy. They share it with each other; they do not share it with the tribe or with society. The courage to hear that music and to honor it is one of the prerequisites of romantic love.
NATHANIEL BRANDEN, The Psychology of Romantic Love
1 likes
---
If you believe yourself unfortunate, because you have "loved and lost," perish the thought. One who has loved truly, can never lose entirely. Love is whimsical and temperamental. Its nature is ephemeral, and transitory. It comes when it pleases, and goes away without warning. Accept and enjoy it while it remains, but spend no time worrying about its departure. Worry will never bring it back.
NAPOLEON HILL, Think and Grow Rich
1 likes
---