LOVE QUOTES VIII
quotations about love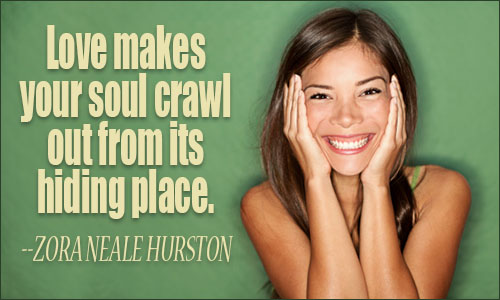 True love is like ghosts, which everybody talks about and few have seen.
LA ROCHEFOUCAULD, attributed, Love: Quotes and Passages from the Heart
1 likes
---
Mother love is the most powerful, the most irrational force on earth, even more powerful than sexual love. However, one does lead to the other, so best not to spurn the former.
RITA MAE BROWN, Full Cry
1 likes
---
The music that inspires the souls of lovers exists within themselves and the private universe they occupy. They share it with each other; they do not share it with the tribe or with society. The courage to hear that music and to honor it is one of the prerequisites of romantic love.
NATHANIEL BRANDEN, The Psychology of Romantic Love
1 likes
---
If you believe yourself unfortunate, because you have "loved and lost," perish the thought. One who has loved truly, can never lose entirely. Love is whimsical and temperamental. Its nature is ephemeral, and transitory. It comes when it pleases, and goes away without warning. Accept and enjoy it while it remains, but spend no time worrying about its departure. Worry will never bring it back.
NAPOLEON HILL, Think and Grow Rich
1 likes
---
Maybe the act of love came too late. As a career move, I should have lost my burdensome virginity at thirteen or fourteen, when there would have been no question of lasting attachment and no desire for one. As it was, I shook when I removed my clothes and I cried after it was done, not out of pain or disappointment but out of an up-rush of muddling emotion which twenty-four hours later I was ready to call love.
HILARY MANTEL, An Experiment in Love
1 likes
---
Life has taught us that love does not consist in gazing at each other but in looking outward together in the same direction.
ANTOINE DE SAINT-EXUPERY, Wind, Sand and Stars
1 likes
---
When there is love, you can live even without happiness.
FYODOR DOSTOYEVSKY, Notes From Underground
1 likes
---
He who falls in love in bars doesn't need a woman all his own. He can always find one on loan.
UMBERTO ECO, Foucault's Pendulum
1 likes
---
There are so few people given us to love. I want to tell my daughters this, that each time you fall in love it is important, even at nineteen. Especially at nineteen. And if you can, at nineteen, count the people you love on one hand, you will not, at forty, have run out of fingers on the other. There are so few people given us to love and they all stick.
ANNE ENRIGHT, The Gathering
1 likes
---
Love on his errand bound to go
Can swim the flood and wade through snow,
Where way is none, 't will creep and wind
And eat through Alps its home to find.
RALPH WALDO EMERSON, Love
1 likes
---
O love is the crooked thing,
There is nobody wise enough
To find out all that is in it,
For he would be thinking of love
Till the stars had run away
And the shadows eaten the moon.
W. B. YEATS, "Brown Penny"
1 likes
---
Love is never free ... It is the most expensive emotion we have.
LAURELL K. HAMILTON, Burnt Offerings
1 likes
---
Love made you vulnerable; if you gave your heart to another, they could leave you or die.
JOHN TWELVE HAWKS, The Traveler
1 likes
---
Love is always right.
RICHARD LAYMON, The Stake
1 likes
---
If you love someone, then your freedom is curtailed. If you love someone, you give up much of your privacy. If you love someone, then you are no longer merely one person but half of a couple. To think or behave any other way is to risk losing that love.
LAURELL K. HAMILTON, Obsidian Butterfly
1 likes
---
For misdirected love, the attainment of its object is, indeed, the best cure; but it cures as the guillotine cures headache.
IVAN PANIN, Thoughts
1 likes
---
A man in love is incomplete until he has married--then he's finished.
ZSA ZSA GABOR, Newsweek, Mar. 28, 1960
1 likes
---
Love is the medicine of all moral evil. By it the world is to be cured of sin.
HENRY WARD BEECHER, Proverbs from Plymouth Pulpit
1 likes
---
It is much easier to tell a woman you love her when you do not than when you do.
CHARLES EDWARD JERNINGHAM, The Maxims of Marmaduke
1 likes
---
Love is ownership. We own whom we love. The universe is God's because he loves.
HENRY WARD BEECHER, Life Thoughts
1 likes
---