LOVE QUOTES V
quotations about love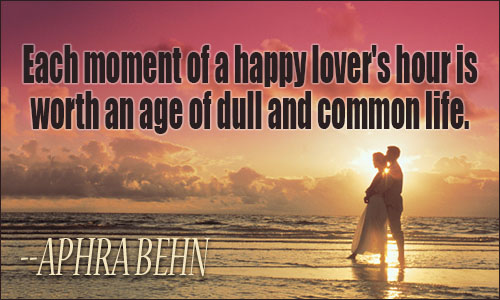 O, wicked love ... that has so many unnamed components.
ANNE RICE, Beauty's Punishment
2 likes
---
The prerequisite to loving others is to love yourself. If you don't have a healthy respect for who you are, and if you don't learn to accept yourself faults and all, you will never be able to properly love other people.
JOEL OSTEEN, Become a Better You
2 likes
---
Love, how many roads to reach a kiss.
PABLO NERUDA, "Love, How many Roads to Reach a Kiss"
2 likes
---
Love, amid the other graces of this world, is like a cathedral tower, which begins at the earth and at the first is surrounded by the other parts of the structure. But at length, rising above buttresses, wall and arch, and parapet and pinnacle, it shoots, spire-like, many a foot right into the air, so high that the huge cross on its summit glows like a spark in the morning light, and shines like a star in the evening sky, when the rest of the pile is enveloped in darkness. So love here is surrounded by the other graces, and divides the honors with them; but they will have felt the wrap of night and of darkness, when it will shine, luminous, against the sky of eternity.
HENRY WARD BEECHER, Life Thoughts
2 likes
---
True love is like a coin, changeless and pure,
Bright from the mint of virtuous affection,
Whose solid worth lies in its gold secure
Stamped with the soul's reflection;
Though Time may mar with rude and hasty hands
Its brilliancy and beauty,
Its gold unspoiled beneath the surface stands
Alloyed with common duty.
MARTHA LAVINIA HOFFMAN, "Love's Counterfeits"
2 likes
---
Love needs its martyrs
Needs its sacrifices
They live for your beauty
And pay for their vices
Love will be the death of
My lonely soul brothers
But their spirits shall live on in
The hearts of all lovers
DEPECHE MODE, "The Love Thieves", Ultra
2 likes
---
Among all methods by which love is brought into being, among all the agents which disseminate that blessed bane, there are few so efficacious as this gust of feverish agitation that sweeps over us from time to time. For then the die is cast, the person whose company we enjoy at that moment is the person we shall henceforward love. It is not even necessary for that person to have attracted us, up till then, more than or even as much as others. All that was needed was that our predilection should become exclusive. And that condition is fulfilled when -- in this moment of deprivation -- the quest is for the pleasures we enjoyed in his or her company is suddenly replaced by an anxious, torturing need, whose object is the person alone, an absurd, irrational need which the laws of this world make it impossible to satisfy and difficult to assuage -- the insensate, agonizing need to possess exclusively.
MARCEL PROUST, Swann's Way
2 likes
---
Absence is to love as wind is to fire: it extinguishes the little flame, it fans the big.
UMBERTO ECO, The Island of the Day Before
2 likes
---
There's nothing deader than a dead love.
LEONA HELMSLEY, Playboy, Nov. 1990
2 likes
---
The pleasures of love are really quite wonderful--though I suspect they are rather a luxury and require a certain level of socioeconomic stability to be anything other than a mode of suffering.
SAMUEL R. DELANY, Conversations with Samuel R. Delany
2 likes
---
This love of ours, in so far as it is a love for one particular creature, is not perhaps a very real thing, since, though associations of pleasant or painful musings can attach it for a time to a woman to the extent of making us believe that it has been inspired by her in a logically necessary way, if on the other hand we detach ourselves deliberately or unconsciously from those associations, this love, as though it were in fact spontaneous and sprang from ourselves alone, will revive in order to bestow itself on another woman.
MARCEL PROUST, Within a Budding Grove
2 likes
---
Not all men are worthy of love.
SIGMUND FREUD, Civilization and Its Discontents
2 likes
---
What is love? There is nothing in the world, neither man nor Devil nor any thing, that I hold as suspect as love, for it penetrates the soul more than any other thing. Nothing exists that so fills and binds the heart as love does. Therefore, unless you have those weapons that subdue it, the soul plunges through love into an immense abyss.
UMBERTO ECO, The Name of the Rose
2 likes
---
Love recognizes no barriers. It jumps hurdles, leaps fences, penetrates walls to arrive at its destination full of hope.
MAYA ANGELOU, attributed, The Power of Hope
2 likes
---
We cannot reason ourselves into love, nor can we reason ourselves out of it, which suggests that love and reason have little to do with each other.
CHRISTIAN NESTELL BOVEE, Intuitions and Summaries of Thought
2 likes
---
Love has its own instinct, finding the way to the heart, as the feeblest insect finds the way to its flower, with a will which nothing can dismay nor turn aside.
HONORE DE BALZAC, A Woman of Thirty
2 likes
---
Pains of love be sweeter far
Than all other pleasures are.
JOHN DRYDEN, Tyrannic Love
2 likes
---
Love is never lost. If not reciprocated, it will flow back and soften and purify the heart.
WASHINGTON IRVING, attributed, Golden Gleams of Thought: From the Words of Leading Orators
2 likes
---
Surely only true love could justify my lack of taste.
MARGARET ATWOOD, Lady Oracle
2 likes
---
Love is the one thing that can really sure-enough lighten all of life's dark clouds.
SINCLAIR LEWIS, Elmer Gantry
2 likes
---