LOVE QUOTES II
quotations about love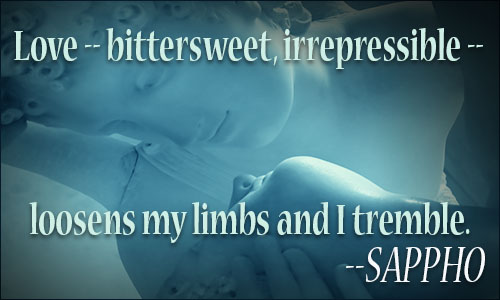 Love doesn't just sit there, like a stone, it has to be made, like bread; re-made all the time, made new.
URSULA K. LE GUIN, The Lathe of Heaven
11 likes
---
We should like those whom we love to receive all their happiness, or, if this were impossible, all their unhappiness from our hands.
JEAN DE LA BRUYÈRE, "Of the Affections", Les Caractères
10 likes
---
Love is the hastening gravitation of spirit towards spirit, and body towards body, in the joy of creation.
D. H. LAWRENCE, "Love"
9 likes
---
Love is one long sweet dream, and marriage is the alarm clock.
DAVID MINKOFF, Oy!
8 likes
---
Love, the hidden spring of life, and soul's desire.
Celestial gold, secreted, laid by fire
In every heart, in every thing that lives,
In every thought that human impulse gives.
The coin of heaven, the treasure of the earth,
The rarest gift, and joy of largest worth.
EDWIN LEIBFREED, "Love"
8 likes
---
Love -- bittersweet, irrepressible -- loosens my limbs and I tremble.
SAPPHO, "To Atthis"
7 likes
---
What is love? To be delighted by the happiness of another.
GOTTFRIED WILHELM LEIBNIZ, Confessio Philosophi
7 likes
---
In the end, the love you take is equal to the love you make.
THE BEATLES, "The End", Abbey Road
6 likes
---
Have you ever been in love? Horrible isn't it? It makes you so vulnerable. It opens your chest and it opens up your heart and it means that someone can get inside you and mess you up. You build up all these defenses, you build up a whole suit of armor, so that nothing can hurt you, then one stupid person, no different from any other stupid person, wanders into your stupid life... You give them a piece of you. They didn't ask for it. They did something dumb one day, like kiss you or smile at you, and then your life isn't your own anymore.
NEIL GAIMAN, The Sandman, #65
6 likes
---
Sex is the joining of two bodies; love is the joining of two souls.
GARY D. CHAPMAN, Making Love
6 likes
---
Love isn't there to make us happy. I believe it exists to show us how much we can endure.
HERMANN HESSE, Peter Camenzind
5 likes
---
Love seeketh not itself to please,
Nor for itself hath any care,
But for another gives its ease,
And builds a Heaven in Hell's despair.
WILLIAM BLAKE, Songs of Experience
5 likes
---
True love is a durable fire,
In the mind ever burning.
SIR WALTER RALEIGH, As Ye Came from the Holy Land
5 likes
---
But love, like wine, gives a tumultuous bliss,
Heighten'd indeed beyond all mortal pleasures;
But mingles pangs and madness in the bowl.
EDWARD YOUNG, The Revenge
5 likes
---
It isn't enough to love people because they're good to you, or because in some way or other you're going to get something by it. We have to love because we love loving.
JOHN GALSWORTHY, A Bit O' Love
5 likes
---
I say I'm in love with her. What does that mean? It means I review my future and my past in the light of this feeling. It is though I wrote in a foreign language that I am suddenly able to read. Wordlessly, she explains me to myself. Like genius, she is ignorant of what she does.
JEANETTE WINTERSON, The Passion
5 likes
---
If you grew up in a house where you weren't loved, you didn't know there was an alternative.
JEFFREY EUGENIDES, The Marriage Plot
5 likes
---
Among the blessings of love there is hardly one more exquisite than the sense that in uniting the beloved life to ours we can watch over its happiness, bring comfort where hardship was, and over memories of privation and suffering open the sweetest fountains of joy.
GEORGE ELIOT, Daniel Deronda
4 likes
---
Love consists in this, that two solitudes protect and border and salute each other.
RAINER MARIA RILKE, Letters to a Young Poet
4 likes
---
Man's love is of man's life a thing apart,
'Tis woman's whole existence.
LORD BYRON, Don Juan
4 likes
---