LOVE QUOTES IV
quotations about love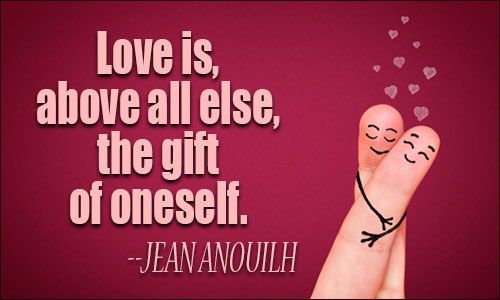 Love, how many roads to reach a kiss.
PABLO NERUDA, "Love, How many Roads to Reach a Kiss"
3 likes
---
Giving and receiving love is vital to human existence. It is the glue that binds couples, families, communities, cultures, and nations.
FRANK LAWLIS, Mending the Broken Bond
3 likes
---
Not all men are worthy of love.
SIGMUND FREUD, Civilization and Its Discontents
3 likes
---
We're all a little weird. And life is a little weird. And when we find someone whose weirdness is compatible with ours, we join up with them and fall into mutually satisfying weirdness -- and call it love -- true love.
ROBERT FULGHUM, True Love
3 likes
---
To love and to live well is wished of many, but incident to few.
JOHN LYLY, Euphues and His England
3 likes
---
Thou shalt love thy neighbor as thyself.
BIBLE, Leviticus 19:18
2 likes
---
Do they still call it infatuation? That magic ax that chops away the world in one blow, leaving only the couple standing there trembling? Whatever they call it, it leaps over anything, takes the biggest chair, the largest slice, rules the ground wherever it walks, from a mansion to a swamp, and its selfishness is its beauty.... People with no imagination feed it with sex -- the clown of love. They don't know the real kinds, the better kinds, where losses are cut and everybody benefits. It takes a certain intelligence to love like that -- softly, without props.
TONI MORRISON, Love
2 likes
---
It is the plain women who know about love; the beautiful women are too busy being fascinating.
KATHARINE HEPBURN, attributed, Evan Esar's 20,000 Quips & Quotes
2 likes
---
Love is divine only and difficult always. If you think it is easy you are a fool. If you think it is natural you are blind. It is a learned application without reason or motive except that it is God.
TONI MORRISON, Paradise
2 likes
---
Love can change a person the way a parent can change a baby -- awkwardly, and often with a great deal of mess.
DANIEL HANDLER, as Lemony Snicket, Horseradish: Bitter Truths You Can't Avoid
2 likes
---
Love means not ever having to say you're sorry.
ERICH SEGAL, Love Story
2 likes
---
There is a comfort in the strength of love;
'Twill make a thing endurable, which else
Would overset the brain, or break the heart.
WILLIAM WORDSWORTH, Michael
2 likes
---
Love is the key-note of the universe--
The theme, the melody.
HENRY ABBEY, "The Troubadour"
2 likes
---
'Tis better to have loved and lost than never to have loved at all.
ALFRED TENNYSON, "In Memoriam"
2 likes
---
Upon Love's bosom Earth floats like an Ark
Safely through all the Deluge of the dark.
GERALD MASSEY, "To My Wife"
2 likes
---
Each moment of a happy lover's hour is worth an age of dull and common life.
APHRA BEHN, The Younger Brother
2 likes
---
Why does a man who is truly in love insist that this relationship must continue and be "lifelong"? Because life is pain and the enjoyment of love is an anesthetic. Who would want to wake up halfway through an operation?
CESARE PAVESE, This Business of Living, Jan. 19, 1938
2 likes
---
I measured love by the extent of my jealousy.
GRAHAM GREENE, The End of the Affair
2 likes
---
Immature love says: "I love you because I need you." Mature love says: "I need you because I love you."
ERICH FROMM, The Art of Loving
2 likes
---
No distance can keep anxious lovers long asunder.
GEORGE WASHINGTON, letter to the Marquis de Lafayette, Sep. 30, 1779
2 likes
---