LOVE QUOTES X
quotations about love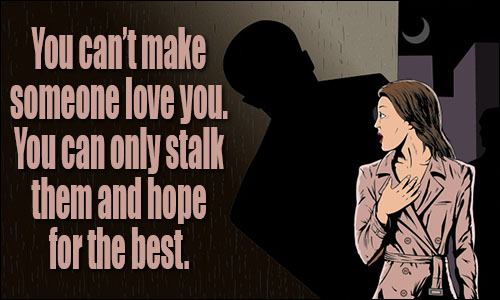 Love had a thousand shapes.
VIRGINIA WOOLF, To the Lighthouse
1 likes
---
Who is he who will affirm that there must be a web of flesh and bone to hold the shape of love?
WILLIAM FAULKNER, "Beyond"
1 likes
---
Let me begin by telling you that I was in love. An ordinary statement, to be sure, but not an ordinary fact, for so few of us learn that love is tenderness, and tenderness is not, as a fair proportion suspect, pity; and still fewer know that hapiness in love is not the absolute focusing of all emotion in another: one has always to love a good many things which the beloved must come only to symbolize; the true beloveds of this world are in their lovers's eyes lilac opening, ship lights, school bells, a landscape, remembered conversations, friends, a child's Sunday, lost voices, one's favourite suit, autumn and all seasons, memory, yes, it being the earth and water of existence, memory.
TRUMAN CAPOTE, Other Voices, Other Rooms
1 likes
---
The Venus flytrap, a devouring organism, aptly named for the goddess of love.
TENNESSEE WILLIAMS, Suddenly Last Summer
1 likes
---
Love in the young requires as little of hope as of desire to feed upon.
WILLIAM FAULKNER, Light in August
1 likes
---
I try to keep deep love out of my stories because, once that particular subject comes up, it is almost impossible to talk about anything else. Readers don't want to hear about anything else. They go gaga about love. If a lover in a story wins his true love, that's the end of the tale, even if World War III is about to begin, and the sky is black with flying saucers.
KURT VONNEGUT, The Paris Review, spring 1977
1 likes
---
Are not all loves secretly the same? A hundred flowers sprung from a single root.
TANITH LEE, Delirium's Mistress
1 likes
---
And when two people have loved each other
see how it is like a
scar between their bodies,
stronger, darker, and proud;
how the black cord makes of them a single fabric
that nothing can tear or mend.
JANE HIRSHFIELD, "For What Binds Us"
1 likes
---
No one can genuinely love the world, which is too large to love entire. To love all the world at once is pretense or dangerous self-delusion. Loving the world is like loving the idea of love, which is perilous because, feeling virtuous about this grand affection, you are freed from the struggles and the duties that come with loving people as individuals.
DEAN KOONTZ, Odd Hours
1 likes
---
There's always a moment when you start to fall out of love, whether it's with a person or an idea or a cause, even if it's one you only narrate to yourself years after the event: a tiny thing, a wrong word, a false note, which means that things can never be quite the same again.
DOUGLAS ADAMS, The Salmon of Doubt
1 likes
---
It is always possible to bind together a considerable number of people in love, so long as there are other people left over to receive manifestations of their aggressiveness.
SIGMUND FREUD, Civilization and Its Discontents
1 likes
---
Love never goes away; it just changes form.
PAMELA ANDERSON, Esquire, Jan. 2005
1 likes
---
If somebody says "I love you" to me, I feel as though I had a pistol pointed at my head. What can anybody reply under such conditions but that which the pistol holder requires? "I love you, too."
KURT VONNEGUT, Wampeters, Foma and Granfalloons
1 likes
---
Near even a candle, the visible heat.
So it is with a person in love.
JANE HIRSHFIELD, "The Visible Heat"
1 likes
---
Love life seems to be that factor which requires the largest quantity of magical tinkering.
ISAAC ASIMOV, Foundation and Empire
1 likes
---
A love affair begins with a fantasy. For instance, that the beloved will always be there.
AMY HEMPEL, "The Dog of the Marriage"
1 likes
---
Love won't be tampered with, love won't go away. Push it to one side and it creeps to the other. Throw it in the garbage and it springs up clean. Try to root it out and it only flourishes. Love is a weed, a dandelion that you poison from your heart. The taproots wait. The seeds blow off, ticklish, into a part of the yard you didn't spray. And one day, though you worked, though you prodded out each spiky leaf, you lift your eyes and dozens of fat golden faces bob in the grass.
LOUISE ERDRICH, The Bingo Palace
1 likes
---
The Eskimo has fifty-two names for snow because it is important to them; there ought to be as many for love.
MARGARET ATWOOD, Surfacing
1 likes
---
Love is an abstract noun, something nebulous. And yet love turns out to be the only part of us that is solid, as the world turns upside down and the screen goes black. We can't tell if it will survive us. But we can be sure that it's the last thing to go.
MARTIN AMIS, The Second Plane
1 likes
---
I never saw love as luck, as that gift from the gods which put everything else in place, and allowed you to succeed. No, I saw love as reward. One could find it only after one's virtue, or one's courage, or self-sacrifice, or generosity, or loss, has succeeded in stirring the power of creation.
NORMAN MAILER, Harlot's Ghost
1 likes
---