LOVE QUOTES IX
quotations about love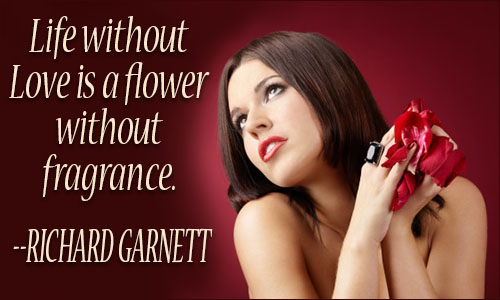 Life has taught us that love does not consist in gazing at each other but in looking outward together in the same direction.
ANTOINE DE SAINT-EXUPERY, Wind, Sand and Stars
1 likes
---
When there is love, you can live even without happiness.
FYODOR DOSTOYEVSKY, Notes From Underground
1 likes
---
He who falls in love in bars doesn't need a woman all his own. He can always find one on loan.
UMBERTO ECO, Foucault's Pendulum
1 likes
---
Duty makes us do things well, but love makes us do them beautifully.
ZIG ZIGLAR, See You at the Top
1 likes
---
I dream of a love that is more than two people craving to possess one another.
IRVIN D. YALOM, When Nietzsche Wept
1 likes
---
There are so few people given us to love. I want to tell my daughters this, that each time you fall in love it is important, even at nineteen. Especially at nineteen. And if you can, at nineteen, count the people you love on one hand, you will not, at forty, have run out of fingers on the other. There are so few people given us to love and they all stick.
ANNE ENRIGHT, The Gathering
1 likes
---
Love on his errand bound to go
Can swim the flood and wade through snow,
Where way is none, 't will creep and wind
And eat through Alps its home to find.
RALPH WALDO EMERSON, Love
1 likes
---
Love, which, in concert with Abstinence, established Faith, and which, along with Patience, builds up Chastity, is like the columns that sustain the four corners of a house. For it was that same Love which planted a glorious garden redolent with precious herbs and noble flowers--roses and lilies--which breathed forth a wondrous fragrance, that garden on which the true Solomon was accustomed to feast his eyes.
HILDEGARD OF BINGEN, letter to the Monk Guibert, 1176
1 likes
---
Every little thing wants to be loved.
SUE MONK KIDD, The Secret Life of Bees
1 likes
---
O love is the crooked thing,
There is nobody wise enough
To find out all that is in it,
For he would be thinking of love
Till the stars had run away
And the shadows eaten the moon.
W. B. YEATS, "Brown Penny"
1 likes
---
Love is never free ... It is the most expensive emotion we have.
LAURELL K. HAMILTON, Burnt Offerings
1 likes
---
Love made you vulnerable; if you gave your heart to another, they could leave you or die.
JOHN TWELVE HAWKS, The Traveler
1 likes
---
Love is always right.
RICHARD LAYMON, The Stake
1 likes
---
If you love someone, then your freedom is curtailed. If you love someone, you give up much of your privacy. If you love someone, then you are no longer merely one person but half of a couple. To think or behave any other way is to risk losing that love.
LAURELL K. HAMILTON, Obsidian Butterfly
1 likes
---
Love, however doomed, had the capacity to attach buoys to the soul.
ARIANA FRANKLIN, Mistress of the Art of Death
1 likes
---
For misdirected love, the attainment of its object is, indeed, the best cure; but it cures as the guillotine cures headache.
IVAN PANIN, Thoughts
1 likes
---
A man in love is incomplete until he has married--then he's finished.
ZSA ZSA GABOR, Newsweek, Mar. 28, 1960
1 likes
---
Love, by reason of its passion, destroys the in-between which relates us to and separates us from others. As long as its spell lasts, the only in-between which can insert itself between two lovers is the child, love's own product. The child, this in-between, to which the lovers now are related and which they hold in common, is representative of the world in that it also separates them; it is an indication that they will insert a new world into the existing world. Through the child, it is as though the lovers return to the world from which their love had expelled them. But this new worldliness, the possible result and the only possibly happy ending of a love affair, is, in a sense, the end of love, which must either overcome the partners anew or be transformed into another mode of belonging together.
HANNAH ARENDT, The Human Condition
1 likes
---
Love is the medicine of all moral evil. By it the world is to be cured of sin.
HENRY WARD BEECHER, Proverbs from Plymouth Pulpit
1 likes
---
Only little boys and old men sneer at love.
LOUIS AUCHINCLOSS, The Rector of Justin
1 likes
---