LIFE QUOTES V
quotations about life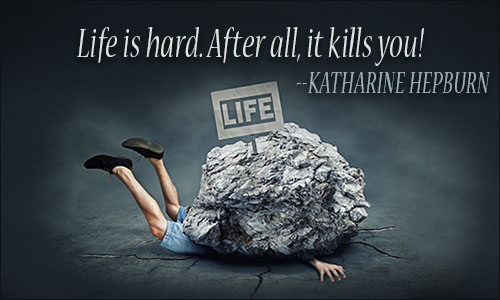 There are those who say that life is like a book, with chapters for each event in your life and a limited number of pages on which you can spend your time. But I prefer to think that a book is like a life, particularly a good one, which is well to worth staying up all night to finish.
DANIEL HANDLER, (as Lemony Snicket), Horseradish: Bitter Truths You Can't Avoid
2 likes
---
Life calls the tune, we dance.
JOHN GALSWORTHY, Five Tales
2 likes
---
Let life happen to you. Believe me: life is in the right, always.
RAINER MARIA RILKE, Letters to a Young Poet
2 likes
---
Life is but a prelude.
EDWARD COUNSEL, Maxims
2 likes
---
It's over before you know it. It all goes by so fast. Yeah the bad nights take forever, and the good nights don't ever seem to last.
TOM PETTY, The Best of Everything
2 likes
---
If we look at life in its small details, how ridiculous it all seems. It is like a drop of water seen through a microscope, a single drop teeming with protozoa. How we laugh as they bustle about so eagerly and struggle with one another. Whether here, or in the little span of human life, this terrible activity produces a comic effect.
IRVIN D. YALOM, The Schopenhauer Cure
2 likes
---
Life has an--an irony all its own. What you wish for, you get, but you discover that it's not what you want.
JOHN AUSTIN CONNOLLY, The Boys from Siam
2 likes
---
The zest for life of those unusual men and women who make a great zealous success of living is due more often in good part to the craftiness and pertinacity with which they manage to overlook the misery of others. You can watch them watch life beat the stuffing out of the faces of their friends and acquaintances, although they themselves seem to outwit the dense delays of social custom, the tedious tick-tock of bureaucratic obfuscation, accepting loss and age and change and disappointment without suffering punctures in their stomach lining.
EDWARD HOAGLAND, Tigers & Ice
2 likes
---
How small a portion of our life it is that we really enjoy. In youth, we are looking forward to things that are to come; in old age, we are looking backwards to things that are gone past; in manhood, although we appear indeed to be more occupied in things that are present, yet even that is too often absorbed in vague determinations to be vastly happy on some future day when we have time.
CHARLES CALEB COLTON, Lacon
2 likes
---
No man has ever known what he would meet around the next corner; if life were predictable it would cease to be life, and be without flavor.
ELEANOR ROOSEVELT, Tomorrow Is Now
2 likes
---
The art of living is simply getting up after you've been knocked down.
JOE BIDEN, Promises to Keep
2 likes
---
That's the problem with being alive ... You've got to keep thinking of what to do.
GLEN DUNCAN, Death of an Ordinary Man
2 likes
---
Life is a moment stolen from eternity.
ELIZA COOK, Diamond Dust
2 likes
---
Life is a tragedy for those who feel, and a comedy for those who think.
JEAN DE LA BRUYÈRE, attributed, Selected Thoughts from the French: XV Century-XX Century, with English Translations
2 likes
---
Life is laughter amid a rosary of death.
FEDERICO GARCIA LORCA, attributed, Only Mystery: Federico García Lorca's Poetry in Word and Image
2 likes
---
Life is a stream
On which we strew
Petal by petal the flower of our heart.
AMY LOWELL, "Petals", A Dome of Many-coloured Glass
2 likes
---
A life knows few revelations; these must be followed when they come.
JOHN UPDIKE, Rabbit at Rest
2 likes
---
Set your life on fire. Seek those who fan your flames.
RUMI, attributed, When the Moon Slips Away: Rejoicing in Everyday Miracles
2 likes
---
Life is a spell so exquisite that everything conspires to break it.
EMILY DICKINSON, letter to Louisa and Frances Norcross, Apr. 1873
1 likes
---
Life is for each man a solitary cell whose walls are mirrors.
EUGENE O'NEILL, Lazarus Laughed
1 likes
---