LIFE QUOTES III
quotations about life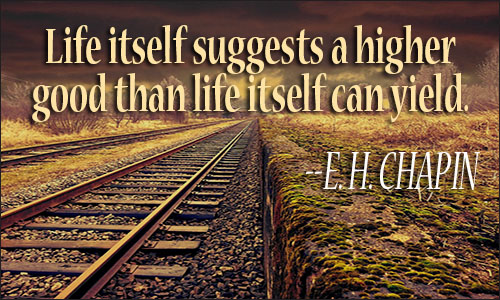 Each one of us must live the life God gives him; it cannot be shirked.
SOPHOCLES, Philoctetes
4 likes
---
Life is one long process of getting tired.
SAMUEL BUTLER, Note Books
4 likes
---
God is found in this Life ... to wait for another is folly.
DAN SIMMONS, Lovedeath
4 likes
---
Life, just as we first thought, is playing grownup.
JOHN UPDIKE, Rabbit is Rich
4 likes
---
Life is not lost by dying! Life is lost
Minute by minute, day by dragging day,
In all the thousand, small, uncaring ways,
The smooth appeasing compromises of time.
STEPHEN VINCENT BENET, A Child is Born
4 likes
---
The most decisive actions of our life -- I mean those that are most likely to decide the whole course of our future -- are, more often than not, unconsidered. Like a train into which one jumps without thinking, and without asking oneself where it is going.
ANDRE GIDE, The Counterfeiters
4 likes
---
If you haven't fought for your life for something you want, you don't know what's life all about.
ROBERT STONE, Dog Soldiers
4 likes
---
What is the course of the life
Of mortal men on the earth?--
Most men eddy about
Here and there--eat and drink,
Chatter and love and hate,
Gather and squander, are raised
Aloft, are hurl'd in the dust,
Striving blindly, achieving
Nothing; and, then they die--
Perish; and no one asks
Who or what they have been,
More than he asks what waves
In the moonlit solitudes mild
Of the midmost Ocean, have swell'd,
Foam'd for a moment, and gone.
MATTHEW ARNOLD, Rugby Chapel
4 likes
---
A somewhat depressing lesson that we learn from life is that there is no guaranteed sure-fire formula for happiness.
MICHAEL W. EYSENCK, Happiness: Facts and Myths
4 likes
---
Looking at your life as a debt may seem the dreariest view of things at a distance; but it cannot really be so. What makes life dreary is the want of motive; but once beginning to act with the penitential, loving purpose you have in your mind, there will be unexpected satisfactions--there will be newly-opening needs--continually coming to carry you on from day to day. You will find your life growing like a plant.
GEORGE ELIOT, Daniel Deronda
4 likes
---
If life be wretched, it is hard to bear it; if it be happy, it is horrible to lose it ; both come to the same thing.
JEAN DE LA BRUYÈRE, "Of Mankind", Les Caractères
4 likes
---
The life of every man is a diary in which he means to write one story, and writes another; and his humblest hour is when he compares the volume as it is with what he vowed to make it.
J.M. BARRIE, The Little Minister
3 likes
---
Football is a team game. So is life.
JOE NAMATH, attributed, Where Football Is King
3 likes
---
You should live everyday like it's your birthday.
PARIS HILTON, attributed, The Ultimate Book of Quotations
3 likes
---
Life is what you celebrate. All of it. Even its end.
JOANNE HARRIS, Chocolat
3 likes
---
There is an ecstasy that marks the summit of life, and beyond which life cannot rise. And such is the paradox of living, this ecstasy comes when one is most alive, and it comes as a complete forgetfulness that one is alive.
JACK LONDON, The Call of the Wild
3 likes
---
Life is a dream in the night, a fear among fears,
A naked runner lost in a storm of spears.
ARTHUR SYMONS, "In the Wood of Finvara"
3 likes
---
Life's but a walking shadow, a poor player
That struts and frets his hour upon the stage
And then is heard no more: it is a tale
Told by an idiot, full of sound and fury,
Signifying nothing.
WILLIAM SHAKESPEARE, Macbeth
3 likes
---
There is only one success: to be able to spend your life in your own way, and not to give others absurd maddening claims upon it.
CHRISTOPHER MORLEY, Where the Blue Begins
3 likes
---
Life is a maze in which we take the wrong turning before we have learnt to walk.
CYRIL CONNOLLY, The Unquiet Grave
3 likes
---