LIFE QUOTES
quotations about life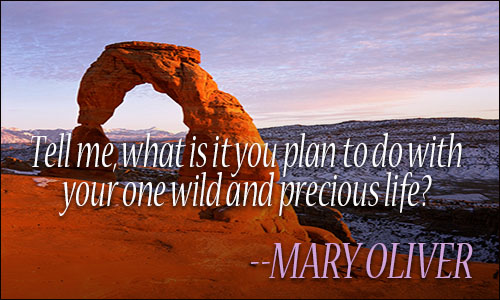 My mistakes are my life.
SAMUEL BECKETT, How It Is
127 likes
---
Life is hard, but it's harder if you're stupid.
MICHAEL CRICHTON, Next
100 likes
---
Most important thing in life ... is learning how to fall.
JEANNETTE WALLS, Half Broke Horses
68 likes
---
We can smile, breathe, walk, and eat our meals in a way that allows us to be in touch with the abundance of happiness that is available. We are very good at preparing to live, but not very good at living. We know how to sacrifice ten years for a diploma and we are willing to work very hard to get a job, a car, a house, and so on. But we have difficulty remembering that we are alive in the present moment, the only moment there is for us to be alive.
THICH NHAT HANH, Peace is Every Step
66 likes
---
The hardest thing in life is to know which bridge to cross, and which to burn.
DAVID RUSSELL, attributed, Good Morning: 365 Positive Ways to Start Your Day
62 likes
---
The fine art of Life is to make
Another Soul vibrate with a song of joy.
EDWIN LEIBFREED, "The Song of the Soul"
49 likes
---
Life is like walking through Paradise with peas in your shoes.
CHARLES EDWARD JERNINGHAM, The Maxims of Marmaduke
45 likes
---
Inch by inch. Life is a cinch. Yard by yard. Life is hard.
JOHN UPDIKE, Rabbit Redux
42 likes
---
You're pretending this isn't your life. You think it's going to happen some other time. When you're dead you'll realize you were alive now.
CARYL CHURCHILL, Mad Forest
38 likes
---
I'm letting life hit me until it gets tired. Then I'll hit back. It's a classic rope-a-dope.
DAMIEN CHAZELLE, La La Land
37 likes
---
Life is all memory except for the one present moment that goes by so quick you can hardly catch it going.
TENNESSEE WILLIAMS, The Milk Train Doesn't Stop Here Anymore
34 likes
---
Life is a long lesson in humility.
J.M. BARRIE, The Little Minister
34 likes
---
Life itself, too, is forever turning an infinitely vacant, dispiriting blank side towards man on which nothing appears, any more than it does on a blank canvas. But no matter how vacant and vain, how dead life may appear to be, the man of faith, of energy, of warmth, who knows something, will not be put off so easily.
VINCENT VAN GOGH, letter to Theo van Gogh, Oct. 1884
28 likes
---
Life is hard. After all, it kills you!
KATHARINE HEPBURN, attributed, Katharine Hepburn Once Said...
27 likes
---
One word
Frees us of all the weight and pain of life:
That word is love.
SOPHOCLES, Oedipus at Colonus
26 likes
---
I live in a room and I go to work and I play a game called getting through the day while you wait for the night.
LILLIAN HELLMAN, The Autumn Garden
25 likes
---
Life don't owe you nothing.
AUGUST WILSON, Fences
22 likes
---
Time
Like a petal in the wind
Flows softly by
As old lives are taken
New ones begin
A continual chain
Which lasts throughout eternity
Every life but a minute in time
But each of equal importance
CINDY CHENEY, "Time"
21 likes
---
Live on, survive, for the earth gives forth wonders. It may swallow your heart, but the wonders keep on coming. You stand before them bareheaded, shriven. What is expected of you is attention.
SALMAN RUSHDIE, The Ground Beneath Her Feet
20 likes
---
The road is life.
JACK KEROUAC, On the Road
19 likes
---