LIFE QUOTES IV
quotations about life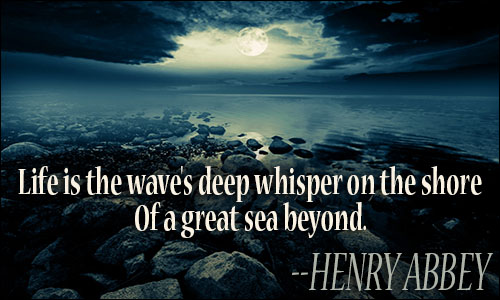 A life is black, whiten it as you will.
E. H. CHAPIN, Living Words
3 likes
---
The shock, the power of an ordinary life. It is a thing you could not invent with banks of computers in a dust-free room.
DON DELILLO, Underworld
3 likes
---
Life is the root of Eden's loftiest tree
Whose ripened fruit is immortality.
MARTHA LAVINIA HOFFMAN, "God's Gift to Man"
3 likes
---
Tell me, what is it you plan to do with your one wild and precious life?
MARY OLIVER, "The Summer Day", New and Selected Poems
3 likes
---
A well-developed sense of humor is the pole that adds balance to your steps as you walk the tightrope of life.
WILLIAM ARTHUR WARD, Woman's Day Magazine, Jun. 1, 2007
3 likes
---
Our lives teach us who we are.
SALMAN RUSHDIE, London Independent, Feb. 4, 1990
3 likes
---
I sat in amazement, the translucence that comes when life hardens into a bead of such cruel perfection you see it with the purest clarity. Everything suddenly there--life as it truly is, enormous, appalling, devastating. You see the great sinkholes it makes in people and the harrowing lengths to which love will go to fill them.
SUE MONK KIDD, The Mermaid Chair
3 likes
---
Between a gasp and a sigh, a life can change forever.
TIM LEBBON, Face
3 likes
---
To those who view the voyage of life from the port of departure the bark that has accomplished any considerable distance appears already in close approach to the farther shore.
AMBROSE BIERCE, "The Death of Halpin Frayser"
3 likes
---
I think the serious things really are the things that make for happiness--people and things that are compatible, love.... So many people are content just to sit around and talk about them instead of getting out and attaining them. As if life were a joke of some kind.
WILLIAM FAULKNER, Mosquitoes
3 likes
---
He who is not courageous enough to take risks will accomplish nothing in life.
MUHAMMAD ALI, Woman's Day, Apr. 1, 2009
3 likes
---
Life is not meant to be hard: if it is, we make it so.
IVAN PANIN, Thoughts
3 likes
---
Life is a plant that grows out of death.
HENRY WARD BEECHER, Proverbs from Plymouth Pulpit
3 likes
---
To withhold from living is to die ... the more you give of yourself to life the more life nourishes you.
ANAIS NIN, diary, Mar. 6, 1936
3 likes
---
That's the problem with being alive ... You've got to keep thinking of what to do.
GLEN DUNCAN, Death of an Ordinary Man
3 likes
---
We've been told there's a certain way to live ... that this is living ... and we ... we never really questioned it. We just sort of went along. But what if it's not the best way? What if there's another way that's better? What if there's something more?!
WALTER WYKES, The Profession
2 likes
---
Chaos often breeds life, when order breeds habit.
HENRY ADAMS, The Education of Henry Adams
2 likes
---
You're alive. That means you have infinite potential. You can do anything, make anything, dream anything. If you change the world, the world will change.
NEIL GAIMAN, The Graveyard Book
2 likes
---
Life packed a clever one-two punch: cruelty and absurdity.
DEAN KOONTZ, Velocity
2 likes
---
Store well Life's sheaves, the grains of thought--
Your harvest will be good,
If sheaves are bound by ties of love,
And evil you've withstood.
ARDELIA COTTON BARTON, "Gathering of the Sheaves"
2 likes
---