LIFE QUOTES IV
quotations about life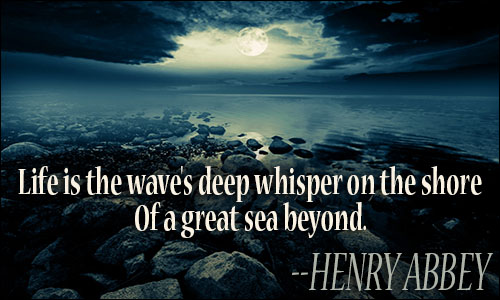 A well-developed sense of humor is the pole that adds balance to your steps as you walk the tightrope of life.
WILLIAM ARTHUR WARD, Woman's Day Magazine, Jun. 1, 2007
3 likes
---
I sat in amazement, the translucence that comes when life hardens into a bead of such cruel perfection you see it with the purest clarity. Everything suddenly there--life as it truly is, enormous, appalling, devastating. You see the great sinkholes it makes in people and the harrowing lengths to which love will go to fill them.
SUE MONK KIDD, The Mermaid Chair
3 likes
---
Between a gasp and a sigh, a life can change forever.
TIM LEBBON, Face
3 likes
---
A somewhat depressing lesson that we learn from life is that there is no guaranteed sure-fire formula for happiness.
MICHAEL W. EYSENCK, Happiness: Facts and Myths
3 likes
---
I think the serious things really are the things that make for happiness--people and things that are compatible, love.... So many people are content just to sit around and talk about them instead of getting out and attaining them. As if life were a joke of some kind.
WILLIAM FAULKNER, Mosquitoes
3 likes
---
Life is not meant to be hard: if it is, we make it so.
IVAN PANIN, Thoughts
3 likes
---
We've been told there's a certain way to live ... that this is living ... and we ... we never really questioned it. We just sort of went along. But what if it's not the best way? What if there's another way that's better? What if there's something more?!
WALTER WYKES, The Profession
2 likes
---
Chaos often breeds life, when order breeds habit.
HENRY ADAMS, The Education of Henry Adams
2 likes
---
There is an ecstasy that marks the summit of life, and beyond which life cannot rise. And such is the paradox of living, this ecstasy comes when one is most alive, and it comes as a complete forgetfulness that one is alive.
JACK LONDON, The Call of the Wild
2 likes
---
You're alive. That means you have infinite potential. You can do anything, make anything, dream anything. If you change the world, the world will change.
NEIL GAIMAN, The Graveyard Book
2 likes
---
Store well Life's sheaves, the grains of thought--
Your harvest will be good,
If sheaves are bound by ties of love,
And evil you've withstood.
ARDELIA COTTON BARTON, "Gathering of the Sheaves"
2 likes
---
Life is a maze in which we take the wrong turning before we have learnt to walk.
CYRIL CONNOLLY, The Unquiet Grave
2 likes
---
Life is a riddle we die in guessing.
CLARA MARCELLE FARRAR GREENE, "Before the Wedding"
2 likes
---
There are those who say that life is like a book, with chapters for each event in your life and a limited number of pages on which you can spend your time. But I prefer to think that a book is like a life, particularly a good one, which is well to worth staying up all night to finish.
DANIEL HANDLER, (as Lemony Snicket), Horseradish: Bitter Truths You Can't Avoid
2 likes
---
Life calls the tune, we dance.
JOHN GALSWORTHY, Five Tales
2 likes
---
Let life happen to you. Believe me: life is in the right, always.
RAINER MARIA RILKE, Letters to a Young Poet
2 likes
---
Life is but a prelude.
EDWARD COUNSEL, Maxims
2 likes
---
It's over before you know it. It all goes by so fast. Yeah the bad nights take forever, and the good nights don't ever seem to last.
TOM PETTY, The Best of Everything
2 likes
---
Our lives teach us who we are.
SALMAN RUSHDIE, London Independent, Feb. 4, 1990
2 likes
---
If we look at life in its small details, how ridiculous it all seems. It is like a drop of water seen through a microscope, a single drop teeming with protozoa. How we laugh as they bustle about so eagerly and struggle with one another. Whether here, or in the little span of human life, this terrible activity produces a comic effect.
IRVIN D. YALOM, The Schopenhauer Cure
2 likes
---