LIFE QUOTES II
quotations about life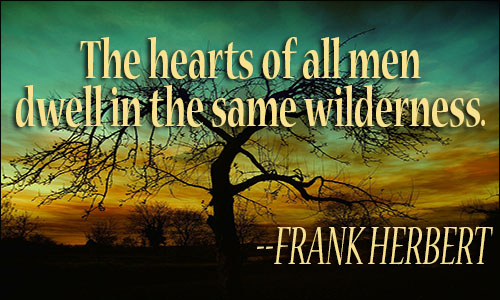 You must learn to deal with the odd and even in life, as well as in figures.
GEORGE ELIOT, Adam Bede
14 likes
---
You can't live your life for other people. You've got to do what's right for you, even if it hurts some people you love.
NICHOLAS SPARKS, The Notebook
14 likes
---
It is time to stop looking outside yourself for the answers to why you haven't created the life and results you want, for it is you who creates the quality of life you lead and the results you produce. You--no one else! To achieve major success in life--to achieve those things that are most important to you--you must assume 100 percent responsibility for your life. Nothing less will do.
JACK CANFIELD, The Success Principles
12 likes
---
Life is a game. Money is how we keep score.
TED TURNER, attributed, The Complete Idiot's Guide to Great Quotes for All Occasions
11 likes
---
Life is not always a matter of holding good cards, but sometimes, playing a poor hand well.
JACK LONDON, attributed, Sacred Journey of the Peaceful Warrior
10 likes
---
Life is everything. Life is God. Everything changes and moves and that movement is God. And while there is life there is joy in consciousness of the divine. To love life is to love God.
LEO TOLSTOY, War and Peace
10 likes
---
Whatever may be our condition in life, it is better to lay hold of its advantages than to count its evils.
E. H. CHAPIN, Living Words
9 likes
---
Over the years you get to see what a struggle life is for most people, how tough it is, how easy it is to be judgmental and criticise and stand outside of situations and impart your wisdom and judgment. But over the decades I've got more tolerant of people's flaws and mistakes. Everybody makes a lot of them. When you're younger you feel: "Hey, this person is evil" or "This person is a jerk" or stupid or "What's wrong with them?" Then you go through life and you think: "Well, it's not so easy." There's a lot of mystery and suffering and complication. Everybody's out there trying to do the best they can. And it's not such an easy business.
WOODY ALLEN, The Guardian
9 likes
---
The essence of human experience lay not primarily in the peak experiences, the wedding days and triumphs which stood out in the memory like dates circled in red on old calendars, but, rather, in the unself-conscious flow of little things--the weekend afternoon with each member of the family engaged in his or her own pursuit, their crossings and connections casual, dialogues imminently forgettable, but the sum of such hours creating a synergy which was important and eternal.
DAN SIMMONS, Hyperion
8 likes
---
Our lives are waves that come up out of the ocean of eternity, break upon the beach of earth, and lapse back to the ocean of eternity. Some are sunlit, some run in storm and rain; one is a quiet ripple, another is a thunderous breaker; and once in many centuries comes a great tidal wave that sweeps over a continent; but all go back to the sea and lie equally level there.
AUSTIN O'MALLEY, Keystones of Thought
8 likes
---
Life is the great teacher.
JAMES JOYCE, Ulysses
7 likes
---
Some there are find joy in life,
And some that only bear it.
LOUISE DRISCOLL, "Luck"
6 likes
---
Success makes life easier. It doesn't make living easier.
BRUCE SPRINGSTEEN, Q, August, 1992
6 likes
---
We must rejoice when love is great, and pardon its excess, for love is the staff of life, and life without love is life in vain.
ARTHUR LYNCH, Moods of Life
6 likes
---
Life is good. It is precious. It is a great blessing. Even on its worst days. And in its deepest valleys you must remember the view from its highest mountains. You must not forget that happiness is a matter of perspective, not circumstance.
BOB LONSBERRY, A Various Language
6 likes
---
The lives of people are like young trees in a forest. They are being choked by climbing vines. The vines are old thoughts and beliefs planted by dead men.
SHERWOOD ANDERSON, "Seeds", The Triumph of the Egg
5 likes
---
All our life passes in this way: we seek rest by struggling against certain obstacles, and once they are overcome, rest proves intolerable because of the boredom it produces.
BLAISE PASCAL, Pensees
5 likes
---
Any man's life, told truly, is a novel.
ERNEST HEMINGWAY, Death in the Afternoon
5 likes
---
There is no man that lives who does not need to be drilled, disciplined, and developed into something higher and nobler and better than he is by nature. Life is one prolonged birth.
HENRY WARD BEECHER, Proverbs from Plymouth Pulpit
5 likes
---
Life is a hill that gets steeper the more you climb.
JOHN UPDIKE, Rabbit at Rest
5 likes
---