LIFE QUOTES VI
quotations about life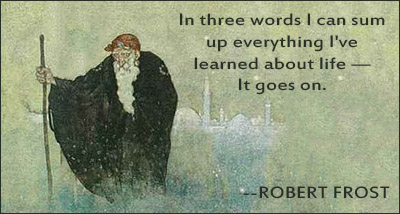 Life is a tragedy for those who feel, and a comedy for those who think.
JEAN DE LA BRUYÈRE, attributed, Selected Thoughts from the French: XV Century-XX Century, with English Translations
2 likes
---
Life is a stream
On which we strew
Petal by petal the flower of our heart.
AMY LOWELL, "Petals", A Dome of Many-coloured Glass
2 likes
---
A life knows few revelations; these must be followed when they come.
JOHN UPDIKE, Rabbit at Rest
2 likes
---
Life is a spell so exquisite that everything conspires to break it.
EMILY DICKINSON, letter to Louisa and Frances Norcross, Apr. 1873
1 likes
---
Life is for each man a solitary cell whose walls are mirrors.
EUGENE O'NEILL, Lazarus Laughed
1 likes
---
Life is so complicated a game that the devices of skill are liable to be defeated at every turn by air-blown chances, incalculable as the descent of thistle-down.
GEORGE ELIOT, Romola
1 likes
---
Life is too short to blend in.
PARIS HILTON, Confessions of an Heiress
1 likes
---
It is in life as it is in ways, the shortest way is commonly the foulest, and surely the fairer way is not much about.
FRANCIS BACON, Advancement of Learning
1 likes
---
How small a porton of our life it is that we really enjoy. In youth we are looking forward to things that are to come; in old age, we are looking backwards to things that are gone past; in manhood, although we appear indeed to be more occupied in things that are present, yet even that is too often absorbed in vague determinations to be vastly happy on some future day, when we have time.
CHARLES CALEB COLTON, Lacon
1 likes
---
What is this life if, full of care,
We have no time to stand and stare?
WILLIAM HENRY DAVIES, Leisure
1 likes
---
The secret of the greatest fruitfulness and the greatest enjoyment of existence is: to live dangerously!
FRIEDRICH NIETZSCHE, The Joyful Wisdom
1 likes
---
Life is made up of marble and mud.
NATHANIEL HAWTHORNE, The House of the Seven Gables
1 likes
---
Life is measured by the rapidity of change, the succession of influences that modify the being.
GEORGE ELIOT, Felix Holt
1 likes
---
Living is a hazardous profession.
TOBSHA LEARNER, The Witch of Cologne
1 likes
---
Do not take life too seriously--you will never get out of it alive.
ELBERT HUBBARD, The American Bible
1 likes
---
Well life has a funny way of sneaking up on you
When you think everything's okay and everything's going right
And life has a funny way of helping you out when
You think everything's gone wrong and everything blows up
In your face
ALANIS MORISSETTE, "Ironic"
1 likes
---
Life is a skeleton-land over which are hovering reflections, past and future fulfillments, clinging raiments of old desires, spread in full blaze upon the bones of the dead.
ELISE PUMPELLY CABOT, "Arizona"
1 likes
---
Life is more sweet than I
Knew: the shifted scene
Less wavered, more trimmed with light,
Than the years before.
Look down. People pass over the ice
As a file of thin ghosts creep,
And fade beyond the hill.
You, and you, and you--
Small souls, shrinking away.
MARK TURBYFILL, "Journey"
1 likes
---
Life is like a moustache. It can be wonderful or terrible. But it always tickles.
NORA ROBERTS, From the Heart
1 likes
---
Into each life some rain must fall.
HENRY WADSWORTH LONGFELLOW, "The Rainy Day"
1 likes
---