WOMEN QUOTES IV
quotations about women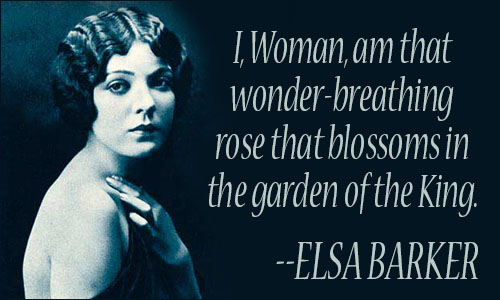 The happiest women, like the happiest nations, have no history.
GEORGE ELIOT, The Mill on the Floss
1 likes
---
I know little of women. But I've heard dread tales.
HAROLD PINTER, Moonlight
1 likes
---
O woman, perfect woman! what distraction
Was meant to mankind when thou wast made a devil!
JOHN FLETCHER, Monsieur Thomas
1 likes
---
The man's desire is for the woman; but the woman's desire is rarely other than for the desire of the man.
SAMUEL TAYLOR COLERIDGE, Table Talk, July 23, 1827
1 likes
---
Wretched
Women!
When you are wholly lovely
Man cannot forget either of his two afflictions,
Soul, or body!
MARJORIE ALLEN SEIFFERT, "Ode in the New Mode"
1 likes
---
Of all the paths lead to a woman's love
Pity's the straightest.
JOHN FLETCHER, The Knight of Malta
1 likes
---
Horns to bulls wise Nature lends;
Horses she with hoofs defends;
Hares with nimble feet relieves;
Dreadful teeth to lions gives;
Fishes learn through streams to slide;
Birds through yielding air to glide;
Men with courage she supplies;
But to women these denies.
What then gives she? Beauty, this
Both their arms and armour is:
She, that can this weapon use,
Fire and sword with ease subdues.
ANACREON, "Beauty"
1 likes
---
Two women can't share a house comfortably, no matter how fond they might be of each other. It's got to be one woman's kitchen.
NORA ROBERTS, Blue Smoke
1 likes
---
A woman is rarely up to date on the subject of her age.
ROBERT ELLIOTT GONZALES, Poems and Paragraphs
1 likes
---
Twenty years of romance make a woman look like a ruin, but twenty years of marriage make her something like a public building.
OSCAR WILDE, A Woman of No Importance
1 likes
---
Marriage is a bribe to make a housekeeper think she's a householder.
THORNTON WILDER, The Matchmaker
1 likes
---
If you don't think women are explosive, drop one.
GERALD F. LIEBERMAN, attributed, Dim Wit: The Stupidest Quotes of All Time
1 likes
---
What we like about women is sensuality, wildness, hormones. Women who make a song and dance about their intuition.
YASMINA REZA, The God of Carnage
1 likes
---
It's the silliest lie a sensible man like you ever believed, to say a woman makes a house comfortable. It's a story got up, because the women are there, and something must be found for 'em to do. I tell you there isn't a thing under the sun that needs to be done at all, but what a man can do better than a woman, unless it's bearing children, and they do that in a poor make-shift way; it had better ha' been left to the men.... I tell you, a woman 'ull bake you a pie every week of her life, and never come to see that the hotter th' oven the shorter the time.
GEORGE ELIOT, Adam Bede
1 likes
---
Women are beautiful when they're young, and not after. Men can still preserve their sex appeal well into old age.... Some men can maintain, if they embrace it ... cragginess, weary masculinity. Women just get old and fat and wrinkly.
TRACY LETTS, August: Osage Country
1 likes
---
Modesty is the richest ornament of a woman ... the want of it is her greatest deformity.
CHARLES CALEB COLTON, Lacon
1 likes
---
While a woman is losing confidence in a man she is usually reposing it in another.
LEWIS F. KORNS, Thoughts
1 likes
---
The ladies usually go for the biggest damn fool they can find; that is why the human race stands where it does today: we have bred the clever and lasting Casanovas, all hollow inside, like the chocolate Easter bunnies we foster upon our poor children.
CHARLES BUKOWSKI, Notes of a Dirty Old Man
1 likes
---
A goodlookin horse is like a goodlookin woman.... They're always more trouble than what they're worth. What a man needs is just one that will get the job done.
CORMAC MCCARTHY, All the Pretty Horses
1 likes
---
Some women think they need to be overpowering in order to be powerful. This is so far from the truth. What is so great about being a women is how powerful we are quite naturally.
ROBI LUDWIG, interview, The Romance Files, February 16, 2011
1 likes
---