WOMEN QUOTES IX
quotations about women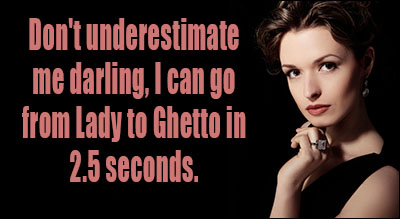 If we took away women's right to vote, we'd never have to worry about another Democratic president. It's kind of a pipe dream; it's a personal fantasy of mine.
ANN COULTER, Newsweek, October 15, 2007
0 likes
---
Women are leaders everywhere you look--from the CEO who runs a Fortune 500 company to the housewife who raises her children and heads her household. Our country was built by strong women and we will continue to break down walls and defy stereotypes.
NANCY PELOSI, Glamour Magazine, January 2007
0 likes
---
Women still have an uneasy relationship with power and the traits necessary to be a leader. There is this internalized fear that if we are really powerful, we are going to be considered ruthless or pushy or strident--al those epithets that strike right at our femininity. We are still working at trying to overcome the fear that power and womanliness are mutually exclusive.
ARIANNA HUFFINGTON, Newsweek, October 15, 2007
0 likes
---
As a woman, I have an inherent need to be all things to all people, to make certain everybody's taken care of. I know I can't sustain that level all the time, so I'm finding the proper balance and it's made me infinitely happier.
SARAH JESSICA PARKER, Woman's Day Magazine, September 12, 2007
0 likes
---
A woman with a voice is by definition a strong woman. But the search to find that voice can be remarkably difficult.
MELINDA GATES, Woman's Day Magazine, October 2, 2007
0 likes
---
A woman with a well-stocked toy drawer isn't dependent on anyone and is unlikely to hurl herself at a lowlife just for nooky.
ARIANNE COHEN, Marie Claire Magazine, March 2008
0 likes
---
A man in love ... is the master, so it seems, but only if his lady friend permits it! The need to interchange the roles of slave and master for the sake of the relationship is never more clearly demonstrated than in the course of an affair. Never is the complicity between victim and executioner more essential. Even chained, down on her knees, begging for mercy, it is the woman, finally, who is in command ... the all powerful slave, dragging herself along the ground at her master's heels, is now really the god. The man is only her priest, living in fear and trembling of her displeasure.
PAULINE RÉAGE, introduction, The Image
0 likes
---
'Of womenkind such indeed is the love,
Or the word love abused,
Under which many childish desires
And conceits are excused.
SIR WALTER RALEIGH, As Ye Came from the Holy Land
0 likes
---
Women are not allowed to be complicated in our society. We still very much have a Madonna-whore complex. We're comfortable seeing women as great mothers, and then we're comfortable seeing them as hookers, but there's no in-between.
CHARLIZE THERON, Glamour Magazine, July 2008
0 likes
---
I am not accustomed to the language of eulogy. I have never studied the art of paying compliments to women. But I must say, that if all that has been said by orators and poets since the creation of the world in praise of women were applied to the women of America, it would not do them justice.
ABRAHAM LINCOLN, speech, March 18, 1864
0 likes
---
Accepting the theory that the monkey is man's ancestor, one is inclined to infer that woman, judging by the number and length of her hatpins, is a lineal descendant of the porcupine.
ROBERT ELLIOTT GONZALES, Poems and Paragraphs
0 likes
---
Women themselves condition their daughters to serve the system of male primacy. If a daughter challenges it, the mother will generally defend the system rather than her daughter. These mothers, victims themselves, have unwittingly become wounded wounders. Women need to attack culture's oppression of women, for there truly is a godlike socializing power that induces women to "buy in" or collude, but we also need to confront our own part in accepting male dominance and take responsibility where appropriate.
SUE MONK KIDD, The Dance of the Dissident Daughter
0 likes
---
Because a woman brought death
a bright Maiden overcame it,
and so the highest blessing
in all of creation
lies in the form of a woman,
since God has become man
in a sweet and blessed Virgin.
HILDEGARD OF BINGEN, "Quia ergo femina"
0 likes
---
I know the woman has no soul, I know
The woman has no possibilities
Of soul or mind or heart, but merely is
The masterpiece of flesh: well, be it so.
It is her flesh that I adore; I go
Thirsting afresh to drain her empty kiss.
I know she cannot love: it is not this
My vanquished heart implores in overthrow.
Tyrannously I crave, I crave alone,
Her splendid body, Earth's most eloquent
Music, divinest human harmony;
Her body now a silent instrument,
That 'neath my touch shall wake and make for me
The strains I have but dreamed of, never known.
ARTHUR SYMONS, "Idealism"
0 likes
---
When a woman gets over 35 she is generally willing to embark on the sea of matrimony with almost any life-buoy.
ROBERT ELLIOTT GONZALES, Poems and Paragraphs
0 likes
---
A woman in Deep Sleep is one who goes about in an unconscious state. She seems unaware or unfazed by the truth of her own female life, the truth about women in general, the way women and the feminine have been wounded, devalued, and limited within culture, churches, and families. She cannot see the wound or feel the pain. She has never acknowledged, much less confronted, sexism within the church, biblical interpretations, or Christian doctrine. Okay, so women have been largely missing from positions of church power, we've been silenced and relegated to positions of subordination by biblical interpretations and doctrine, and God has been represented to us as exclusively male. So what? The woman in Deep Sleep is oblivious to the psychological and spiritual impact this has had on her. Or maybe she has some awareness of it all but keeps it sequestered nicely in her head, rarely allowing it to move down into her heart or into the politics of her spirituality.
SUE MONK KIDD, The Dance of the Dissident Daughter
0 likes
---
For men have marble, women waxen, minds,
And therefore are they form'd as marble will;
The weak oppress'd, the impression of strange kinds
Is form'd in them by force, by fraud, or skill:
Then call them not the authors of their ill,
No more than wax shall be accounted evil
Wherein is stamp'd the semblance of a devil.
WILLIAM SHAKESPEARE, The Rape of Lucrece
0 likes
---
It does seem paradoxical. But when a woman has curves we always want her 'round.
ROBERT ELLIOTT GONZALES, Poems and Paragraphs
0 likes
---
A good woman's arms round a man's neck is a lifebelt thrown out to him from heaven.
JEROME K. JEROME, "A Charming Woman"
0 likes
---
How do those who contend that woman is the intellectual inferior of man account for the fact that she can give a man a piece of her mind 365 days in the year and still have a huge reserve supply?
ROBERT ELLIOTT GONZALES, Poems and Paragraphs
0 likes
---