WOMEN QUOTES II
quotations about women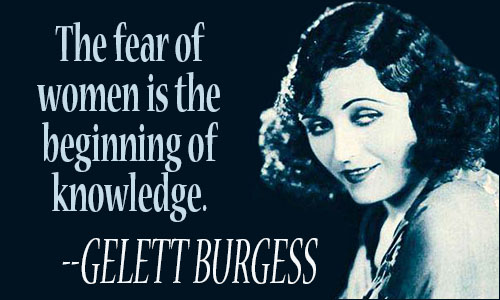 With women the heart argues, not the mind.
MATTHEW ARNOLD, Merope
15 likes
---
Men are allowed to have passion and commitment for their work ... a woman is allowed that feeling for a man, but not her work.
BARBRA STREISAND, People Magazine, May 31, 1993
12 likes
---
Men's eyes are in their heads; women's, in their hearts.
IVAN PANIN, Thoughts
12 likes
---
You won't regret the men you never killed, but you will regret the women you passed up.
BERNARD CORNWELL, The Winter King
11 likes
---
This view that women are somehow inferior to men is not restricted to one religion or belief. Women are prevented from playing a full and equal role in many faiths. Nor, tragically, does its influence stop at the walls of the church, mosque, synagogue or temple. This discrimination, unjustifiably attributed to a Higher Authority, has provided a reason or excuse for the deprivation of women's equal rights across the world for centuries. At its most repugnant, the belief that women must be subjugated to the wishes of men excuses slavery, violence, forced prostitution, genital mutilation and national laws that omit rape as a crime. But it also costs many millions of girls and women control over their own bodies and lives, and continues to deny them fair access to education, health, employment and influence within their own communities.... The truth is that male religious leaders have had -- and still have -- an option to interpret holy teachings either to exalt or subjugate women. They have, for their own selfish ends, overwhelmingly chosen the latter.
JIMMY CARTER, "Losing My Religion for Equality"
10 likes
---
A woman is like a tea bag; you never know how strong she is until she gets into hot water.
ELEANOR ROOSEVELT, attributed, Woman's Day, August 2011
8 likes
---
Sadly, "respecting" women just because they fill a narrow role misogyny defines as "respectable" is actually the opposite of respecting women. People who can't or won't respect women simply because women are human beings don't respect women at all.
JULIA O'DONNELL, "Women are so much more than just sisters, mothers, wives", The Badger Herald, March 14, 2017
8 likes
---
Women's eyes have pierced more hearts than ever did the bullets of war.
WILLIAM SCOTT DOWNEY, Proverbs
6 likes
---
I think that women as a group are so powerful. I still don't think we are able to embrace our power well enough yet. We think we live in a man's world and we have to follow their rules, and yet, we're so different, and our rules are so different. I wish that we could come together more as a political force. If women ran the world, I don't believe that there would be war. I really don't.... We understand the bigger picture. We understand our impact on the environment, on the world. We understand the generations that will go after us because we gave birth to them.
KYRA SEDGWICK, Newsweek, October 15, 2007
6 likes
---
The plainest man who pays attention to women, will sometimes succeed as well as the handsomest man who does not.
CHARLES CALEB COLTON, Lacon
5 likes
---
I, Woman, am that wonder-breathing rose
That blossoms in the garden of the King.
ELSA BARKER, The Mystic Rose
5 likes
---
Men are from Mars, Women are from Venus.
JOHN GRAY, Men are From Mars, Women are From Venus
4 likes
---
I'm supposed to have a Ph.D. on the subject of women. But the truth is I've flunked more often than not. I'm very fond of women; I admire them. But, like all men, I don't understand them.
FRANK SINATRA, attributed, The Way You Wear Your Hat
4 likes
---
It will be a pity if women in the more conventional mould are to be phased out, for there will never be anyone to go home to.
ANITA BROOKNER, A Friend from England
4 likes
---
A woman's charm is fifty percent illusion.
TENNESSEE WILLIAMS, A Streetcar Named Desire
4 likes
---
I believe a strong woman may be stronger than a man, particularly if she happens to have love in her heart. I guess a loving woman is indestructible.
JOHN STEINBECK, East of Eden
4 likes
---
When women are the advisers, the lords of creation don't take the advice till they have persuaded themselves that it is just what they intended to do. Then they act upon it, and, if it succeeds, they give the weaker vessel half the credit of it. If it fails, they generously give her the whole.
LOUISA MAY ALCOTT, Little Women
3 likes
---
Woman ... is the divine object, violated, endlessly sacrificed yet always reborn, whose only joy, achieved through a subtle interplay of images, lies in contemplation of herself.
PAULINE RÉAGE, introduction, The Image
3 likes
---
Woman is a delightful instrument of pleasure, but it is necessary to know its trembling strings, to study the position of them, the timid keyboard, the fingering so changeful and capricious which befits it.
HONORE DE BALZAC, Physiology of Marriage
3 likes
---
Horns to bulls wise Nature lends;
Horses she with hoofs defends;
Hares with nimble feet relieves;
Dreadful teeth to lions gives;
Fishes learn through streams to slide;
Birds through yielding air to glide;
Men with courage she supplies;
But to women these denies.
What then gives she? Beauty, this
Both their arms and armour is:
She, that can this weapon use,
Fire and sword with ease subdues.
ANACREON, "Beauty"
3 likes
---