ABRAHAM LINCOLN QUOTES V
U.S. President (1809-1865)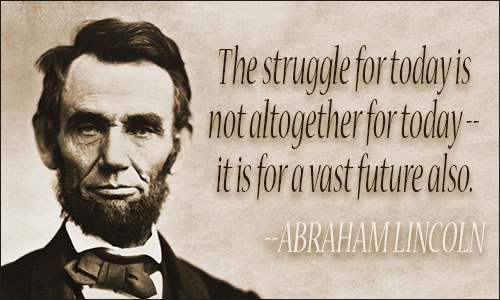 It is safe to assert that no government proper ever had a provision in its organic law for its own termination.
ABRAHAM LINCOLN, First Inaugural Address, March 4, 1861
3 likes
---
Few can be induced to labor exclusively for posterity; and none will do it enthusiastically. Posterity has done nothing for us; and theorize on it as we may, practically we shall do very little for it, unless we are made to think we are at the same time doing something for ourselves.
ABRAHAM LINCOLN, speech, February 22, 1842
3 likes
---
No organic law can ever be framed with a provision specifically applicable to every question which may occur in practical administration. No foresight can anticipate nor any document of reasonable length contain express provisions for all possible questions.
ABRAHAM LINCOLN, First Inaugural Address, March 4, 1861
3 likes
---
By the fruit the tree is to be known. An evil tree cannot bring forth good fruit.
ABRAHAM LINCOLN, letter to Williamson Durley, October 3, 1845
3 likes
---
A husband and wife may be divorced and go out of the presence and beyond the reach of each other, but the different parts of our country can not do this. They can but remain face to face, and intercourse, either amicable or hostile, must continue between them.
ABRAHAM LINCOLN, First Inaugural Address, March 4, 1861
3 likes
---
That is the real issue. That is the issue that will continue in this country when these poor tongues of Judge Douglas and myself shall be silent. It is the eternal struggle between these two principles--right and wrong--throughout the world. They are the two principles that have stood face to face from the beginning of time, and will ever continue to struggle. The one is the common right of humanity, and the other the "divine right of kings." It is the same principle in whatever shape it develops itself. It is the same spirit that says, "You work and toil and earn bread, and I'll eat it." No matter in what shape it comes, whether from the mouth of a king, who seeks to bestride the people of his own nation and live by the fruit of their labor, or from one race of men as an apology for enslaving another race, it is the same tyrannical principle.... Whenever the issue can be distinctly made, and all extraneous matter thrown out, so that men can fairly see the real difference between the parties, this controversy will soon be settled.
ABRAHAM LINCOLN, debate with Douglas, October 15, 1858
3 likes
---
All I ask for the negro is that if you do not like him, let him alone. If God gave him but little, that little let him enjoy.
ABRAHAM LINCOLN, speech, July 17, 1858
3 likes
---
The way for a young man to rise is to improve himself every way he can, never suspecting that anybody wishes to hinder him.
ABRAHAM LINCOLN, letter to William H. Herndon, July 10, 1848
3 likes
---
Peace does not appear so distant as it did. I hope it will come soon, and come to stay; and so come as to be worth the keeping in all future time. It will then have been proved that among freemen there can be no successful appeal from the ballot to the bullet, and that they who take such appeal are sure to lose their case and pay the cost.
ABRAHAM LINCOLN, letter to J. C. Conkling, August 26, 1863
3 likes
---
The mystic chords of memory, stretching from every battle-field, and patriot grave, to every living heart and hearth-stone, all over this broad land, will yet swell the chorus of the Union, when again touched, as surely they will be, by the better angels of our nature.
ABRAHAM LINCOLN, First Inaugural Address, March 4, 1861
3 likes
---
If ever I feel the soul within me elevate and expand to those dimensions, not wholly unworthy of its almighty Architect, it is when I contemplate the cause of my country, deserted by all the world beside, and I standing up boldly, alone, hurling defiance at her victorious oppressors.
ABRAHAM LINCOLN, speech to the Sub-Treasury, Sangamon Journal, March 6, 1840
3 likes
---
I have no prejudice against the Southern people. They are just what we would be in their situation. If slavery did not now exist among them, they would not introduce it. If it did now exist among us, we should not instantly give it up. This I believe of the masses North and South. Doubtless there are individuals on both sides who would not hold slaves under any circumstances, and others who would gladly introduce slavery anew if it were out of existence. We know that some Southern men do free their slaves, go North and become tip-top abolitionists, while some Northern ones go South and become most cruel slave masters.
ABRAHAM LINCOLN, speech at Peoria, Illinois, in reply to Senator Douglas, October 16, 1854
3 likes
---
If A. can prove, however conclusively, that he may, of right, enslave B. Why may not B. snatch the same argument, and prove equally, that he may enslave A? You say A. is white, and B. is black. It is color, then; the lighter, having the right to enslave the darker? Take care. By this rule, you are to be slave to the first man you meet, with a fairer skin than your own. You do not mean color exactly? You mean the whites are intellectually the superiors of the blacks, and, therefore have the right to enslave them? Take care again. By this rule, you are to be slave to the first man you meet, with an intellect superior to your own. But, say you, it is a question of interest; and, if you can make it your interest, you have the right to enslave another. Very well. And if he can make it his interest, he has the right to enslave you.
ABRAHAM LINCOLN, fragment of a speech from 1854, Collected Works of Abraham Lincoln
3 likes
---
These capitalists generally act harmoniously and in concert to fleece the people, and now that they have got into a quarrel with themselves, we are called upon to appropriate the people's money to settle the quarrel.
ABRAHAM LINCOLN, speech to Illinois legislature, Sangamo Journal, January 28, 1837
3 likes
---
It has so happened in all ages of the world, that some have laboured, and others have, without labour, enjoyed a large proportion of the fruits. This is wrong, and should not continue. To each labourer the whole product of his labour, or as nearly as possible, is a most worthy object of any good government.
ABRAHAM LINCOLN, "Fragments of a Tariff Discussion", December 1, 1847
3 likes
---
The probability that we may fall in the struggle ought not to deter us from the support of a cause we believe to be just; it shall not deter me.
ABRAHAM LINCOLN, speech to the Sub-Treasury, Sangamon Journal, March 6, 1840
3 likes
---
I have now come to the conclusion never again to think of marrying, and for this reason; I can never be satisfied with anyone who would be blockhead enough to have me.
ABRAHAM LINCOLN, letter to Mrs. Orville H. Browning, April 1, 1838
3 likes
---
I insist, that if there is ANY THING which it is the duty of the WHOLE PEOPLE to never entrust to any hands but their own, that thing is the preservation and perpetuity, of their own liberties, and institutions.
ABRAHAM LINCOLN, speech at Peoria, Illinois, in reply to Senator Douglas, October 16, 1854
3 likes
---
I hope I am over wary; but if I am not, there is, even now, something of ill-omen, amongst us. I mean the increasing disregard for law which pervades the country; the growing disposition to substitute the wild and furious passions, in lieu of the sober judgment of Courts; and the worse than savage mobs, for the executive ministers of justice. This disposition is awfully fearful in any and that it now exists in ours, though grating to our feelings to admit, it would be a violation of truth and an insult to our intelligence to deny.
ABRAHAM LINCOLN, address to the Young Men's Lyceum of Springfield, Illinois, January 27, 1838
3 likes
---
What constitutes the bulwark of our own liberty and independence? It is not our frowning battlements, our bristling sea coasts, the guns of our war steamers, or the strength our gallant and disciplined army? These are not our reliance against a resumption of tyranny in our fair land. All of those may be turned against our liberties, without making us weaker or stronger for the struggle. Our reliance is in the love of liberty which God has planted in our bosoms. Our defense is in the preservation of the spirit which prizes liberty as the heritage of all men, in all lands, everywhere. Destroy this spirit, and you have planted the seeds of despotism around your own doors. Familiarize yourselves with the chains of bondage and you are preparing your own limbs to wear them. Accustomed to trample on the rights of those around you, you have lost the genius of your own independence, and become the fit subjects of the first cunning tyrant who rises.
ABRAHAM LINCOLN, speech at Edwardsville, Illinois, September 11, 1858
3 likes
---