WAR QUOTES
quotations about war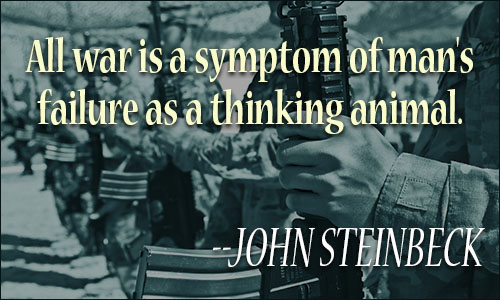 It's funny how those who are most pro-war are almost always the guys who never had to fight in one.
JEROME P. CRABB, War Quotes and Quibbles
92 likes
---
War may sometimes be a necessary evil. But no matter how necessary, it is always an evil, never a good. We will not learn how to live together in peace by killing each other's children.
JIMMY CARTER, Nobel Lecture, December 10, 2002
79 likes
---
There never was a good war, or a bad peace.
BENJAMIN FRANKLIN, Poor Richard's Almanac
71 likes
---
I do not know with what weapons World War III will be fought, but I do know that World War IV will be fought with rocks.
ALBERT EINSTEIN, attributed, Congressional Record, 1968
67 likes
---
When the rich wage war, it is the poor who die.
JEAN-PAUL SARTRE, The Devil and the Good Lord
46 likes
---
Wars of pen and ink often lead to wars of cannon and bayonets.
EDWARD COUNSEL, Maxims
37 likes
---
War is like love, it always finds a way.
BERTOLT BRECHT, Mother Courage and Her Children
34 likes
---
I hate war as only a soldier who has lived it can, only as one who has seen its brutality, its stupidity.
DWIGHT D. EISENHOWER, speech, January 10, 1946
31 likes
---
War is only a cowardly escape from the problems of peace.
THOMAS MANN, attributed, This I Believe
28 likes
---
I think a curse should rest on me -- because I love this war. I know it's smashing and shattering the lives of thousands every moment -- and yet -- I can't help it -- I enjoy every second of it.
WINSTON CHURCHILL, letter to a friend, 1916
25 likes
---
War: first, one hopes to win; then one expects the enemy to lose; then, one is satisfied that he too is suffering; in the end, one is surprised that everyone has lost.
KARL KRAUS, Die Fackel, October 19, 1917
25 likes
---
History teaches that wars begin when governments believe the price of aggression is cheap.
RONALD REAGAN, speech, January 16, 1984
24 likes
---
All war represents a failure of diplomacy.
TONY BENN, speech, February 28, 1991
23 likes
---
The true soldier fights not because he hates what is in front of him, but because he loves what is behind him.
G. K. CHESTERTON, The New Jerusalem
23 likes
---
War makes rattling good history; but Peace is poor reading.
THOMAS HARDY, The Dynasts
22 likes
---
A mind at peace does not engender wars.
SOPHOCLES, Oedipus Rex
20 likes
---
War is the trade of kings.
JOHN DRYDEN, King Arthur
19 likes
---
Vietnam was the first war ever fought without any censorship. Without censorship, things can get terribly confused in the public mind.
WILLIAM WESTMORELAND, Time Magazine, April 5, 1982
19 likes
---
War is a severe doctor; but it sometimes heals grievances.
EDWARD COUNSEL, Maxims
18 likes
---
The act of war is the last option of a democracy.
JOSEPH C. WILSON, New York Times, July 6, 2003
17 likes
---