WAR QUOTES II
quotations about war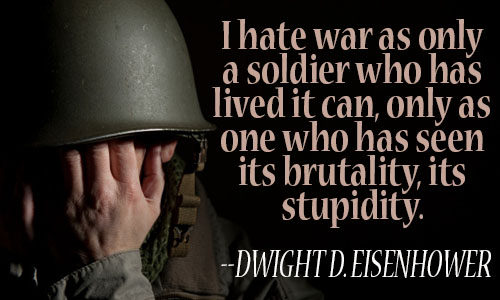 After a long, hopeless war, people will settle for peace, at almost any price.
SALMAN RUSHDIE, preface, The Jaguar Smile
15 likes
---
Come you masters of war
You that build all the guns
You that build the death planes
You that build the big bombs
You that hide behind walls
You that hide behind desks....
I think you will find
When your death takes its toll
All the money you made
Will never buy back your soul
BOB DYLAN, "Masters of War"
15 likes
---
In order for us human beings to commit ourselves personally to the inhumanity of war, we find it necessary first to dehumanize our opponents, which is in itself a violation of the beliefs of all religions. Once we characterize our adversaries as beyond the scope of God's mercy and grace, their lives lose all value. We deny personal responsibility when we plant landmines and, days or years later, a stranger to us -- often a child -- is crippled or killed. From a great distance, we launch bombs or missiles with almost total impunity, and never want to know the number or identity of the victims.
JIMMY CARTER, Nobel Lecture, December 10, 2002
13 likes
---
Truth, it has been said, is the first casualty of war.
PHILIP SNOWDEN, introduction, Truth and the War
12 likes
---
War demands sacrifice of the people. It gives only suffering in return.
FREDERIC CLEMSON HOWE, Why War
7 likes
---
Military glory -- that attractive rainbow that rises in showers of blood.
ABRAHAM LINCOLN, speech in opposition to the Mexican-American War, January 12, 1848
7 likes
---
Man has no right to kill his brother, it is no excuse that he does so in uniform. He only adds the infamy of servitude to the crime of murder.
PERCY BYSSHE SHELLEY, "Declaration of Rights"
7 likes
---
Wars have no memory, and nobody has the courage to understand them until there are no voices left to tell what happened, until the moment comes when we no longer recognize them and they return, with another face and another name, to devour what they left behind.
CARLOS RUIZ ZAFON, The Shadow of the Wind
6 likes
---
The war does not end when you come home. It lives on in memories of your fellow soldiers, sailors, airmen and Marines who gave their lives. It endures in the wound that is slow to heal, the disability that isn't going away, the dream that wakes you at night, or the stiffening in your spine when a car backfires down the street.
BARACK OBAMA, speech, February 27, 2009
6 likes
---
All delays are dangerous in war.
JOHN DRYDEN, Tyrannic Love
5 likes
---
You can't say civilization don't advance ... in every war they kill you in a new way.
WILL ROGERS, New York Times, December 23, 1929
5 likes
---
In wartime, truth is so precious that she should always be attended by a bodyguard of lies.
WINSTON CHURCHILL, The Second World War
5 likes
---
To get through a war, a man needs something bigger than himself to fight for.
RICK REMENDER, Black Science, No. 4, February 2014
5 likes
---
Einstein was horrified by World War I. He devoted a lot of time to thinking and worrying about it. He went to this conference in Geneva. He thought they were discussing disarmament, to do away with the weapons of war and therefore to prevent war. Instead, he found these representatives of various countries discussing what kinds of weapons would be suitable and what kind of weapons needed to be prohibited. What were good weapons and bad weapons, just weapons and unjust weapons? Einstein did something which nobody ever expected. He was a very private man. He did something really uncharacteristic: he called a press conference. The whole international press came, because Einstein was, well, he was Einstein. They came, and he told this press conference how horrified he was by what he had heard at the international conference. He said, "One does not make wars less likely by formulating rules of warfare. War cannot be humanized. It can only be abolished."
HOWARD ZINN, Failure to Quit: Reflections of an Optimistic Historian
5 likes
---
They sent forth men to battle,
But no such men return;
And home, to claim their welcome,
Come ashes in an urn.
AESCHYLUS, Agamemnon
4 likes
---
The belief in the possibility of a short decisive war appears to be one of the most ancient and dangerous of human illusions.
ROBERT WILSON LYND, attributed, The Best Liberal Quotes Ever
4 likes
---
War is what happens when language fails.
MARGARET ATWOOD, The Robber Bride
4 likes
---
With the indiscriminate nature of modern military technology (no such thing as a "smart bomb," it turns out) all wars are wars against civilians, and are therefore inherently immoral. This is true even when a war is considered "just," because it is fought against a tyrant, against an aggressor, to correct a stolen boundary.
HOWARD ZINN, Howard Zinn on War
3 likes
---
War's one of those things, don't you think, where everyone always thinks they're in the right have you noticed that? Nobody ever says we're the bad guys, we're going to beat shit out of the good guys.
CARYL CHURCHILL, A Number
3 likes
---
Duelling was abolished because man's conscience told him that to be opposed to a man with less knowledge of how to use his weapon, was so certain of killing him, the odds being so unequal, that in reality it was "murder." What difference is there when a strong nation goes to war with a weak one? And is not this generally the case with wars? The chances are not even; it is only a matter of time; if so, is not war generally wholesale murder? We must in time consider wars as acts of barbarism, the acts of savages. Men will see that war for honour is as foolish between nations as if done between individuals.
JAMES PLATT, Platt's Essays
3 likes
---