WAR QUOTES III
quotations about war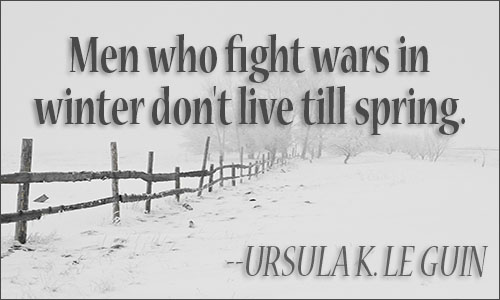 War is a mind-set, and all action that comes out of such a mind-set will either strengthen the enemy, the perceived evil, or, if the war is won, will create a new enemy, a new evil equal to and often worse than the one that was defeated. There is a deep interrelatedness between your state of consciousness and external reality. When you are in the grip of a mind-set such as "war," your perceptions become extremely selective as well as distorted. In other words, you will see only what you want to see and then misinterpret it. You can imagine what kind of action comes out of such a delusional system. Or instead of imagining it, watch the news on TV tonight.
ECKHART TOLLE, A New Earth
5 likes
---
All war is a symptom of man's failure as a thinking animal.
JOHN STEINBECK, introduction, Once There Was a War
4 likes
---
Force and fraud are in war the two cardinal virtues.
THOMAS HOBBES, Leviathan
4 likes
---
War is what happens when language fails.
MARGARET ATWOOD, The Robber Bride
4 likes
---
Is it not tragic, for example, that while in the last World War almost everyone believed it was the war to end all wars and wanted to make it so, now in this Second World War almost no writer that I have read dares even suggest that this is the war to end all wars, or act on that belief? We have lost the courage to hope.
LIN YUTANG, Between Tears and Laughter
4 likes
---
As long as war is regarded as wicked, it will always have its fascination. When it is looked upon as vulgar, it will cease to be popular.
OSCAR WILDE, The Critic as Artist
3 likes
---
War is an admission of failure.
K. J. PARKER, The Folding Knife
3 likes
---
War's one of those things, don't you think, where everyone always thinks they're in the right have you noticed that? Nobody ever says we're the bad guys, we're going to beat shit out of the good guys.
CARYL CHURCHILL, A Number
3 likes
---
Duelling was abolished because man's conscience told him that to be opposed to a man with less knowledge of how to use his weapon, was so certain of killing him, the odds being so unequal, that in reality it was "murder." What difference is there when a strong nation goes to war with a weak one? And is not this generally the case with wars? The chances are not even; it is only a matter of time; if so, is not war generally wholesale murder? We must in time consider wars as acts of barbarism, the acts of savages. Men will see that war for honour is as foolish between nations as if done between individuals.
JAMES PLATT, Platt's Essays
3 likes
---
The tragedy of modern war is not so much that the young men die but that they die fighting each other--instead of their real enemies back home in the capitals.
EDWARD ABBEY, A Voice Crying in the Wilderness
3 likes
---
Preventing war is much better than protesting against the war. Protesting the war is too late.
THICH NHAT HANH, Being Peace
3 likes
---
There has been no war without atrocity. War is atrocity, pure and simple: only greed, nationalism and faith help us pretend otherwise.
MICHAEL MARSHALL, Blood of Angels
3 likes
---
If there is a God, the phrase that must disgust him is "holy war".
STEVE ALLEN, Reflections
3 likes
---
All the entertainment and talk of history is nothing almost but fighting and killing: and the honour and renown that is bestowed on conquerors (who for the most part are but the great butchers of mankind) farther mislead growing youth, who by this means come to think slaughter the laudable business of mankind, and the most heroic of virtues.
JOHN LOCKE, Some Thoughts Concerning Education
3 likes
---
If you think of humanity as one large body, then war is like suicide, or at best, self mutilation.
JEROME P. CRABB, War Quotes and Quibbles
2 likes
---
My opposition to war is not based upon pacifist or non-resistant principles. It may be that the present state of civilization is such that certain international questions cannot be discussed; it may be that they have to be fought out. But the fighting never settles the question. It only gets the participants around to a frame of mind where they will agree to discuss what they were fighting about.
HENRY FORD, My Life and Work
2 likes
---
Beautiful that war and all its deeds of carnage must in time be utterly lost,
That the hands of the sisters Death and Night incessantly softly wash again, and ever again, this soil'd world;
For my enemy is dead, a man as divine as myself is dead,
I look where he lies white-faced and still in the coffin -- I draw near,
Bend down and touch lightly with my lips the white face in the coffin.
WALT WHITMAN, Reconciliation
2 likes
---
Weakness and ambivalence lead to war.
GEORGE H. W. BUSH, RNC acceptance speech, August 18, 1988
2 likes
---
Those who ignore history's lessons in the ultimate folly of war are forced to do more than relive them ... they may be forced to die by them.
DAN SIMMONS, The Fall of Hyperion
2 likes
---
War seldom enters but where wealth allures.
JOHN DRYDEN, The Hind and the Panther
2 likes
---