WAR QUOTES III
quotations about war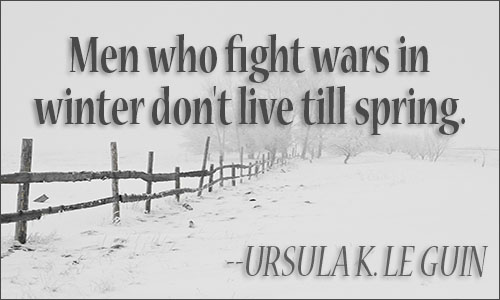 The tragedy of modern war is not so much that the young men die but that they die fighting each other--instead of their real enemies back home in the capitals.
EDWARD ABBEY, A Voice Crying in the Wilderness
3 likes
---
All war is a symptom of man's failure as a thinking animal.
JOHN STEINBECK, introduction, Once There Was a War
3 likes
---
Never, never, never believe any war will be smooth and easy, or that anyone who embarks on the strange voyage can measure the tides and hurricanes he will encounter. The statesman who yields to war fever must realise that once the signal is given, he is no longer the master of policy but the slave of unforeseeable and uncontrollable events. Antiquated War Offices, weak, incompetent, or arrogant Commanders, untrustworthy allies, hostile neutrals, malignant Fortune, ugly surprises, awful miscalculations — all take their seats at the Council Board on the morrow of a declaration of war.
WINSTON CHURCHILL, My Early Life: A Roving Commission
3 likes
---
Preventing war is much better than protesting against the war. Protesting the war is too late.
THICH NHAT HANH, Being Peace
3 likes
---
All the entertainment and talk of history is nothing almost but fighting and killing: and the honour and renown that is bestowed on conquerors (who for the most part are but the great butchers of mankind) farther mislead growing youth, who by this means come to think slaughter the laudable business of mankind, and the most heroic of virtues.
JOHN LOCKE, Some Thoughts Concerning Education
3 likes
---
As long as war is regarded as wicked, it will always have its fascination. When it is looked upon as vulgar, it will cease to be popular.
OSCAR WILDE, The Critic as Artist
2 likes
---
War is an admission of failure.
K. J. PARKER, The Folding Knife
2 likes
---
My opposition to war is not based upon pacifist or non-resistant principles. It may be that the present state of civilization is such that certain international questions cannot be discussed; it may be that they have to be fought out. But the fighting never settles the question. It only gets the participants around to a frame of mind where they will agree to discuss what they were fighting about.
HENRY FORD, My Life and Work
2 likes
---
Beautiful that war and all its deeds of carnage must in time be utterly lost,
That the hands of the sisters Death and Night incessantly softly wash again, and ever again, this soil'd world;
For my enemy is dead, a man as divine as myself is dead,
I look where he lies white-faced and still in the coffin -- I draw near,
Bend down and touch lightly with my lips the white face in the coffin.
WALT WHITMAN, Reconciliation
2 likes
---
Weakness and ambivalence lead to war.
GEORGE H. W. BUSH, RNC acceptance speech, August 18, 1988
2 likes
---
Those who ignore history's lessons in the ultimate folly of war are forced to do more than relive them ... they may be forced to die by them.
DAN SIMMONS, The Fall of Hyperion
2 likes
---
War seldom enters but where wealth allures.
JOHN DRYDEN, The Hind and the Panther
2 likes
---
War is behavior with roots in the single cell of the primeval seas. Eat whatever you touch or it will eat you.
FRANK HERBERT, Chapterhouse: Dune
2 likes
---
Now, for the moment, we are safe. The only kind of international violence that worries most people in the developed countries is terrorism: from imminent heart attack to a bad case of hangnail in fifteen years flat. We are very lucky people--but we need to use the time we have been granted wisely, because total war is only sleeping. All the major states are still organized for war, and all that is needed for the world to slide back into a nuclear confrontation is a twist of the kaleidoscope that shifts international relations into a new pattern of rival alliances.
GWYNNE DYER, War: The Lethal Custom
2 likes
---
War is not a life: it is a situation,
One which may neither be ignored nor accepted.
T. S. ELIOT, A Note on War Poetry
2 likes
---
War being the greatest of evils, all its accessories necessarily partake of the same character.
HERMAN MELVILLE, Omoo
2 likes
---
There has been no war without atrocity. War is atrocity, pure and simple: only greed, nationalism and faith help us pretend otherwise.
MICHAEL MARSHALL, Blood of Angels
2 likes
---
The only religion which seems to have a function in time of war is the tribal religion which invokes a God as the exclusive protector of the nation which calls upon him.
JOSEPH ALEXANDER LEIGHTON, The Nation and the Ethics of War and Preparedness: An Address
2 likes
---
War is a mind-set, and all action that comes out of such a mind-set will either strengthen the enemy, the perceived evil, or, if the war is won, will create a new enemy, a new evil equal to and often worse than the one that was defeated. There is a deep interrelatedness between your state of consciousness and external reality. When you are in the grip of a mind-set such as "war," your perceptions become extremely selective as well as distorted. In other words, you will see only what you want to see and then misinterpret it. You can imagine what kind of action comes out of such a delusional system. Or instead of imagining it, watch the news on TV tonight.
ECKHART TOLLE, A New Earth
2 likes
---
In war--a country's hopes stagnate,
In war--her strong are slain.
In war--dark evils desecrate
Her council hall and fane.
In war--with wings of omen dark
Her wrongs and debts increase,
Prosperity and progress mark
The golden realm of Peace.
MARTHA LAVINIA HOFFMAN, "The Song of Peace"
2 likes
---