PEACE QUOTES
quotations about peace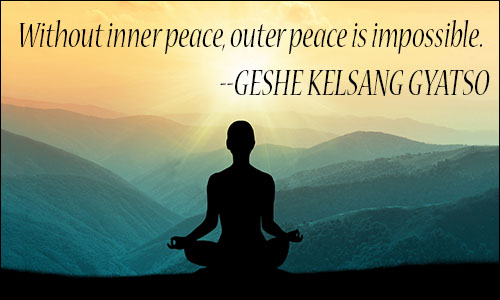 Peace can become a lens through which you see the world. Be it. Live it. Radiate it out. Peace is an inside job.
WAYNE DYER, Woman's Day Magazine, June 1, 2007
4 likes
---
Peace hath her victories
No less renowned than war.
JOHN MILTON, To the Lord General Cromwell, May 1652
3 likes
---
Find peace in where and what you are.
CHRISTOPHER PAOLINI, Eragon
3 likes
---
There is nothing so likely to produce peace as to be well prepared to meet an enemy.
GEORGE WASHINGTON, letter to Elbridge Gerry, January 29, 1780
2 likes
---
Peace cannot be kept by force. It can only be achieved by understanding.
ALBERT EINSTEIN, Notes on Pacifism
2 likes
---
Peace, perfect peace, in this dark world of sin?
The Blood of Jesus whispers peace within.
EDWARD HENRY BICKERSTETH, Peace, Perfect Peace
2 likes
---
We're trying to sell peace, like a product, you know, and sell it like people sell soap or soft drinks. And it's the only way to get people aware that peace is possible, and it isn't just inevitable to have violence. Not just war -- all forms of violence. People just accept it ... [but] We're all responsible for everything that goes on, you know, we're all responsible for Biafra and Hitler and everything. So we're just saying "SELL PEACE" -- anybody interested in peace just stick it in the window. It's simple but it lets somebody else know that you want peace too, because you feel alone if you're the only one thinking "wouldn't it be nice if there was peace and nobody was getting killed." So advertise yourself that you're for peace if you believe in it.
JOHN LENNON, The David Frost Show, June 14, 1969
2 likes
---
War is a most uneconomical, foolish, poor arrangement, a bloody enrichment of that soil which bears the sweet flower of peace.
M. E. W. SHERWOOD, An Epistle to Posterity
2 likes
---
Peace on this planet will not be forged by military strength. It will be forged by those who come together despite their government's differences.
DAN BROWN, Deception Point
2 likes
---
If everyone demanded peace instead of another TV set, we'd have peace.
JOHN LENNON, statement during the Bed-In for Peace in Montreal, Canada, June 1, 1969
2 likes
---
No one is so foolish as to prefer war to peace, in which, instead of sons burying their fathers, fathers bury their sons.
HERODOTUS, The Histories
2 likes
---
There never was a good war, or a bad peace.
BENJAMIN FRANKLIN, Poor Richard's Almanac
1 likes
---
In a nuclear age, each of us is threatened when peace is not secured everywhere.
JIMMY CARTER, State of the Union Address, January 19, 1978
1 likes
---
Peace will come when there is realization that only under a reign of law, based on righteousness and supported by the religious conviction of the brotherhood of man, can there be any hope of a complete and satisfying life. Parchment will fail, the sword will fail, it is only the spiritual nature of man that can be triumphant.
CALVIN COOLIDGE, Inaugural Address, March 4, 1925
1 likes
---
To control aggression without inflicting injury is the Art of Peace.
MORIHEI UESHIBA, The Art of Peace
1 likes
---
One of the greatest dangers to peace lies in the economic pressure to which people find themselves subjected. One of the most practical things to be done in the world is to seek arrangements under which such pressure may be removed, so that opportunity may be renewed and hope may be revived.
CALVIN COOLIDGE, Inaugural Address, March 4, 1925
1 likes
---
A mind at peace does not engender wars.
SOPHOCLES, Oedipus Rex
1 likes
---
None of the abstract concepts comes closer to fulfilled utopia than that of eternal peace.
THEODOR WIESENGRUND ADORNO, Minima Moralia
1 likes
---
After a long, hopeless war, people will settle for peace, at almost any price.
SALMAN RUSHDIE, preface, The Jaguar Smile
1 likes
---
In the days of peace every precaution should be taken to insure that there are no forces making for war. Just as we now forbid the trafficking in certain drugs, in the sale of poisons, just as we forbid the making of any imprint that suggests a coin or currency, just as experience has demonstrated that men may not make profit out of certain things because of the danger of abuse, so in the gravest of all dangers laws should be passed taking from those who might gain from war or preparations for war every hope that advantage could come to them by such a calamity.
FREDERIC CLEMSON HOWE, Why War
1 likes
---