WORK QUOTES
quotations about work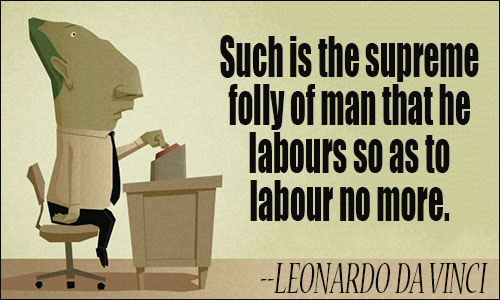 I am no stranger to working hard. I have done it all my life. As a result I have become accustomed to expecting success in everything I do. Some people call me lucky, but I know better.
DONALD TRUMP, Think Big
5 likes
---
The man who has the largest capacity for work and thought is the man who is bound to succeed.
HENRY FORD, My Life and Work
4 likes
---
A man willing to work, and unable to find work, is perhaps the saddest sight that fortune's inequality exhibits under this sun.
THOMAS CARLYLE, Chartism
4 likes
---
It is necessary to work, if not from inclination, at least from despair. Everything considered, work is less boring than amusing oneself.
CHARLES BAUDELAIRE, attributed, The Biteback Dictionary of Humorous Business Quotations
4 likes
---
Honest labour bears a lovely face.
THOMAS DEKKER, Patient Grissell
3 likes
---
I do not believe we can repair the basic fabric of society until people who are willing to work have work. Work organizes life. It gives structure and discipline to life.
BILL CLINTON, speech in Memphis, November 13, 1993
3 likes
---
How happy he who crowns in shades like these,
A youth of labour with an age of ease.
OLIVER GOLDSMITH, The Deserted Village
2 likes
---
Work banishes those three great evils, boredom, vice, and poverty.
VOLTAIRE, Candide
2 likes
---
There is nothing derogatory in any employment which ministers to the well-being of the race. It is the spirit that is carried into an employment that elevates or degrades it.
HORACE MANN, A Few Thoughts for a Young Man
2 likes
---
Each of us, when our day's work is done, must seek our ideal, whether it be love or pinochle or lobster à la Newburg, or the sweet silence of the musty bookshelves.
O. HENRY, "The Social Triangle"
2 likes
---
A foreman, if he's got a conscience, and delights in his work, will do his business as well as if he was a partner. I wouldn't give a penny for a man as 'ud drive a nail in slack because he didn't get extra pay for it.
GEORGE ELIOT, Adam Bede
2 likes
---
Work is the Rent we pay for our time on Earth.
TUBBY CLAYTON, attributed, Saga Magazine, January 2009
2 likes
---
The idea that to make a man work you've got to hold gold in front of his eyes is a growth, not an axiom. We've done that for so long that we've forgotten there's any other way.
F. SCOTT FITZGERALD, This Side of Paradise
1 likes
---
No man will labor for himself who can make another labor for him.
THOMAS JEFFERSON, Notes on Virginia
1 likes
---
If you don't find a way to do something as work that is fulfilling and enjoyable, then your life is going to be really sad.
RUDOLPH GIULIANI, interview, May 3, 2003
1 likes
---
You reach a point where you don't work for money.
WALT DISNEY, attributed, The Quotable Billionaire
1 likes
---
How strange it is that so many people have the belief that work is a burden and that idleness means happiness. Many are longing for the day that they will possess sufficient to quit work and take the world easy. They imagine that when that time comes their happiness will be complete. Alas, how many have reached this period of life to find themselves greatly disappointed! Idleness fails to give the happiness they expected and time drags more heavily than ever. The hardest job we ever tried was that of doing nothing.
NICIAS BALLARD COOKSEY, Helps to Happiness
1 likes
---
Fewer people are bent from hard work than are crooked from avoiding it.
ZIG ZIGLAR, See You at the Top
1 likes
---
I like work: it fascinates me. I can sit and look at it for hours.
JEROME K. JEROME, Three Men in a Boat
1 likes
---
A person who has not done one half his day's work by ten o'clock, runs a chance of leaving the other half undone.
EMILY BRONTË, Wuthering Heights
0 likes
---