ACTING QUOTES III
quotations about acting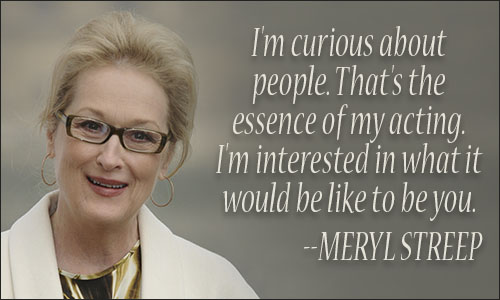 Most of the stuff that I do is based on instincts. You end up kind of following a procedure that no one has ever explained to you, but I have figured it out over time.
TOM HANKS, "Tom Hanks Explains How Acting Is Just Like Flying a Plane", Vanity Fair, September 8, 2016
1 likes
---
When I connect to my soul, project it into another character, and then bring it to the stage or to a film--that has always been for me the great joy of acting. It's been as if my soul kind of leaps out of my body and is able to be free and dance around.
KYRA SEDGWICK, Newsweek, Oct. 15, 2007
0 likes
---
The fame of an actor is won in minutes and seconds, not in years.
BRAM STOKER, Personal Reminiscences of Henry Irving
0 likes
---
By the time an actor knows how to act any sort of part he is often too old to act any but a few.
W. SOMERSET MAUGHAM, The Summing Up
0 likes
---
There is a place in the universe not for the faint of heart. It is a place where you must be completely vulnerable without ever expecting a hug. It is a place where you make earth-shattering discoveries you will never be able to share. It is a place where you face the limitations of being human in the face of another's pain. That place is the film frame.
JOHN SWANBECK, "Why Film Acting Is a Lonely Art", Backstage, March 1, 2016
0 likes
---
The art of acting is not to act. Once you show them more, what you show them, in fact is bad acting.
ANTHONY HOPKINS, attributed, Movie Speak: How to Talk Like You Belong on a Movie Set
0 likes
---
If you get an impulse in a scene, no matter how wrong it seems, follow the impulse. It might be something and if it ain't ... take two.
JACK NICHOLSON, attributed, The 100 Best Movies You've Never Seen
0 likes
---
On the stage he was natural, simple, affecting,
'Twas only that when he was off, he was acting.
OLIVER GOLDSMITH, Retaliation
0 likes
---
I wanted to stop acting. The director was like, "It looks too real. It looks too painful. Can you be prettier when you cry? Cry pretty, Jessica." He was like, "Don't do that thing with your face. Just make it flat. We can CGI the tears in." And I'm like, But there's no connection to a human being. And then it got me thinking: Am I not good enough? Are my instincts and my emotions not good enough? Do people hate them so much that they don't want me to be a person? Am I not allowed to be a person in my work? And so I just said, "F--k it. I don't care about this business anymore."
JESSICA ALBA, "Why Fantastic Four made Jessica Alba want to stop acting", Blastr, December 14, 2012
0 likes
---
For years one of the highest praises visited upon an actor's performance has been that they were acting "as if the camera weren't there." In fact, this is often the public's most indelible impression of acting skill. But it's a completely false one. For any middling actor, there's virtually nothing intimidating about a camera being on the set; after all, "real life" occurs in front of all sorts of appurtenances: cars, lamps, pedestrians, neighbors, etc. The camera is just another movable piece of equipment on the set. Until it starts rolling. That's when it gets intimidating. That's when people make all those mistakes and waste all that film.
TONY BILL, Movie Speak: How to Talk Like You Belong on a Movie Set
0 likes
---
I can act every single day because I love it; it's just so liberating. It might be rare, but there are certain moments when you really don't feel like yourself.
LILY-ROSE DEPP, "Lily-Rose Depp on why acting is life", New Zealand Herald, February 2, 2016
0 likes
---
I became an actor so I didn't have to be myself.
MARK RUFFALO, interview, About Entertainment, October 20, 2015
0 likes
---
The art of shape-shifting, or character acting, is by and large misunderstood and under appreciated. We can tell a musical instrument is hard to master because it's external to us. The instrument of the actor--the physical body and the voice--well, in the words of John Lennon, "Everybody's got one." Built-in. Meaning most people think that they, therefore, must be able to act. "How hard could it be?" Plenty hard. There's a reason acting conservatories like Julliard and the Yale School of Drama exist: it takes practice. The greatest stage actor of all time, Laurence Olivier, said it takes 20 years to master.
MARK JACKSON, "Acting Appreciation 101: Five Top Character Acting Examples in Film", Epoch Times, February 21, 2016
0 likes
---
I sometimes don't enjoy it at all, and sometimes it feels like ... breath.
GILLIAN ANDERSON, Larry King Live, January 15, 2016
0 likes
---
One of the things about acting is it allows you to live other people's lives without having to pay the price.
ROBERT DE NIRO, attributed, Cinespia
0 likes
---
The chance to become someone else, and really understand what motivates them, is what acting is all about. And when you have amazing characters to play, it's a dream come true!
VERONICA TAYLOR, "Meet Veronica Taylor, Voice Actor for Pokémon Icon Ash Ketchum", Nintendo News, March 1, 2016
0 likes
---
I think acting is making the impossible possible.
NAM TAE HYUN, "Nam Tae Hyun is complimented for his 180-degree change in attitude", allkpop, February 25, 2016
0 likes
---
Speak the speech, I pray you, as I pronounced it to you, trippingly on the tongue.
WILLIAM SHAKESPEARE, Hamlet
0 likes
---
Your relationship with a live audience is very different than your relationship with the movie camera. It used to be even more so when we used actual film. Then the actors could hear the film running through the camera. It felt like a living organism is witnessing what you're doing. But we don't have that anymore.
SCARLETT JOHANSSON, "Scarlett Johansson on Finding Love and Protecting Her Daughter", Parade, April 23, 2015
0 likes
---
Our bodies and personalities are our tools. We have to use what we have and plug it into the projects we take on.
ROBERT PETERPAUL, "The 1 Most Important Question Actors Must Ask", Backstage, September 7, 2016
0 likes
---