ACTING QUOTES II
quotations about acting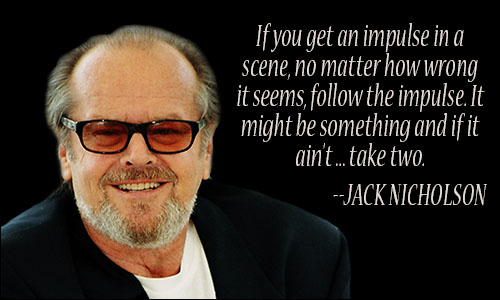 For the theatre one needs long arms; it is better to have them too long than too short. An artiste with short arms can never, never make a fine gesture.
SARAH BERNHARDT, Memories of My Life
2 likes
---
An actor's a guy, who if you ain't talking about him, ain't listening.
MARLON BRANDO, The Observer
2 likes
---
Once in a while I experience an emotion onstage that is so gut-wrenching, so heart-stopping, that I could weep with gratitude and joy. The feeling catches and magnifies so rapidly that it threatens to engulf me.
JULIE ANDREWS, Home: A Memoir of My Early Years
2 likes
---
The actor knows how to listen. It's fascinating to watch actors when they're not speaking. Some are too caught up in ego or technicalities (e.g., trying to remember the next line) to totally focus on whomever it is they're acting with. Others seem to register everything they hear. You can see whatever is being said to them physically affecting them, as if the words are slapping them across the face.
MARCUS GEDULD, "How Do You Differentiate Good Acting From Bad Acting?", Slate, September 10, 2014
2 likes
---
It's the actors who are prepared to make fools of themselves who are usually the ones who come to mean something to the audience.
CHRISTIAN BALE, attributed, Christian Bale: the Dark Knight Unmasked
2 likes
---
I remember a long time ago, a theater professor said that the definition of acting is "living believably under an imaginary set of circumstances." Living, not acting. You have to live. You are that guy.
JOHN KRASINSKI, "An Interview With John Krasinski and Margo Martindale of 'The Hollars'", popmatters, September 7, 2016
2 likes
---
As actors, we are required to bring pieces of our personality and experiences to a role, more so than any other job. Take a look at any actor you admire and I guarantee there is a common thread to their performances, whether they're playing a drunk pirate or a high-profile politician (which, contrary to popular belief, are not the same thing), you can generally see similarities in their personality or choices. That's because they understand who they are as a person and know the right parts of themselves to infuse into a role. That's not to say they aren't "becoming" someone else, but you have to realize that you can't truly take on another person if you don't know yourself at least a little bit.
ROBERT PETERPAUL, "The 1 Most Important Question Actors Must Ask", Backstage, September 7, 2016
2 likes
---
I was terrorized by the emotional requirements of being an actor. Acting is like letting your pants down; you're exposed.
PAUL NEWMAN, Time Magazine, Dec. 6, 1982
1 likes
---
Work was never about wanting fame or money. I never thought about that. I loved getting the job, going to rehearsal, playing someone else, hanging around with a bunch of actors. I needed that, the way you need water.
SARAH JESSICA PARKER, Sam Magazine, 2005
1 likes
---
To be an actor, you have to be a child.
PAUL NEWMAN, attributed, Paul Newman: A Life in Pictures
1 likes
---
What they teach in these acting schools is incredible, hair-raising crap.
KLAUS KINSKI, Kinski Uncut: The Autobiography of Klaus Kinski
1 likes
---
I'm curious about people. That's the essence of my acting. I'm interested in what it would be like to be you.
MERYL STREEP, attributed, Pinterest
1 likes
---
An actor's job is to know the breadth of human possibility and the depths of his or her own possibilities. He or she must pull from this well and surprise us. Otherwise, the actor becomes boring and predictable.
MARCUS GEDULD, "How Do You Differentiate Good Acting From Bad Acting?", Slate, September 10, 2014
1 likes
---
After acting for so many years, do you know who you are anymore? Because actors are liars basically, you lie about who you are to an audience.
STEPHEN COLBERT, The Colbert Report, September 18, 2014
1 likes
---
I've been planted here to be a vessel for acting ... that's why I'm really taking any part, regardless of how complicated it's going to be.
LEONARDO DICAPRIO, attributed, The Leonardo DiCaprio Album
1 likes
---
It's what I learn from the great actors that I work with. Stillness. That's all and that's the hardest thing.
MORGAN FREEMAN, "A Taste of Freeman", Film Freak Central, July 20, 2015
1 likes
---
If you give audiences half a chance, they'll do half your acting for you.
KATHARINE HEPBURN, attributed, "Effective Persuasion", Blue Tongue Toastmasters
1 likes
---
The experience of acting in the film frame is akin to that of our primal ancestors who wandered solo away from their tribes across unfamiliar terrain to see what else was out there. You are skilled; you are adventurous; you are totally unprepared for what you will encounter. In the film frame, you need all your wits about you and a courage beyond what you think yourself capable.
JOHN SWANBECK, "Why Film Acting Is a Lonely Art", Backstage, March 1, 2016
1 likes
---
Great actors share the parts of themselves that most people keep hidden. They are always naked.
MARCUS GEDULD, "How Do You Differentiate Good Acting From Bad Acting?", Slate, September 10, 2014
1 likes
---
Movie actors are just ordinary mixed-up people--with agents.
JEAN KERR, Mary, Mary
1 likes
---