ZOMBIE QUOTES
quotations about zombies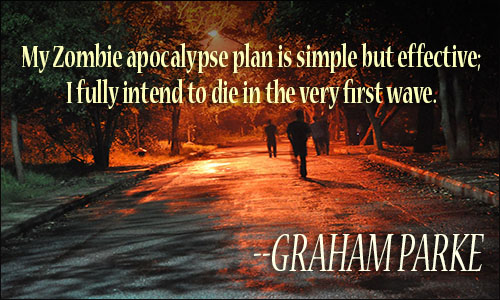 Zombies are then a symbol of our own mad urges to destroy ourselves, and a terrifying portent that we might succeed.
KIM PAFFENROTH, Gospel of the Living Dead: George Romero's Visions of Hell on Earth
3 likes
---
The zombies were like Canadians, in that they looked enough like real people at first, to fool you.
KELLY LINK, Magic for Beginners
3 likes
---
My friend "M" says the irony of being a zombie is that everything is funny, but you can't smile, because your lips have rotted off.
ISAAC MARION, Warm Bodies
2 likes
---
Blood is really warm,
it's like drinking hot chocolate
but with more screaming.
RYAN MECUM, Zombie Haiku: Good Poetry for Your ... Brains
2 likes
---
Zombies are peculiarly scary because we think that we could be turned into one, and zombies are peculiarly tragic figures because we recognize the innocent people that these monsters once were.
WILLIAM S. LARKIN, "Res Corporealis: Persons, Bodies, and Zombies", Zombies, Vampires, and Philosophy: New Life for the Undead
2 likes
---
Zombies are not blessed with overly active frontal lobes.
MAC MONTANDON, The Proper Care and Feeding of Zombies: A Completely Scientific Guide to the Lives of the Undead
2 likes
---
OMG YOU GUYS it has come to my attention that SOMEONE on the internet is saying that my fictional 19th century zombies are NOT SCIENTIFICALLY SOUND. Naturally, I am crushed. To think, IF ONLY I'd consulted with a zombologist or two before sitting down to write, I could've avoided ALL THIS EMBARRASSMENT.
CHERIE PRIEST, "A Zombie Lament", official website, Oct. 27, 2010
2 likes
---
My Zombie apocalypse plan is simple but effective; I fully intend to die in the very first wave.
GRAHAM PARKE, Unspent Time
1 likes
---
Something coming back from the dead was almost always bad news. Movies taught me that. For every one Jesus you get a million zombies.
DAVID WONG, John Dies at the End
1 likes
---
They are almost like the coyote in the Road Runner cartoons. Zombies are there to be damaged, and whatever you do to them is OK. Just like you can blow the coyote's legs off and people chuckle.
GEORGE A. ROMERO, "A visit with zombie-film king Romero", The Washington Times, Aug. 26, 2010
1 likes
---
Nothing sends the message to your enemy that he has not fully understood the situation on the battlefield--a tactician's greatest sin--like zombies unexpectedly tapping their rear guard on the shoulder and eating their brains.
SCOTT KENEMORE, The Art of Zombie Warfare: How to Kick Ass Like the Walking Dead
1 likes
---
Zombies don't run. They don't dance. They don't say, "More brains." There is no Thriller Night. Those are stereotypes that are perpetrated by Hollywood, which I think is very irresponsible because it can get you killed.
MAX BROOKS, "I'm Just a Zombie Nerd", Time, Jul. 15, 2010
1 likes
---
When there's no more room in hell, the dead will walk the earth.
KEN FOREE, Dawn of the Dead
1 likes
---
I love zombies. If any monster could Riverdance, it would be zombies.
CRAIG FERGUSON, The Late Late Show with Craig Ferguson
1 likes
---
In those moments where you're not quite sure if the undead are really dead, dead, don't get all stingy with your bullets. I mean, one more clean shot to the head, and this lady could have avoided becoming a human Happy Meal. Woulda... coulda... shoulda.
JESSE EISENBERG, Zombieland
1 likes
---
Zombies are the real lower-class citizens of the monster world and that's why l like them.
GEORGE ROMERO, attributed, Aftershocks: The End of Style Culture
1 likes
---
Zombies are the middle children of the otherworldly family. Vampires are the oldest brother who gets to have a room in the attic, all tripped out with a disco ball and shag carpet. Werewolves are the youngest, the babies, always getting pinched and told they're cute. With all that attention stolen away from the middle child Zombie, no wonder she shuffles off grumbling, "Marsha, Marsha, Marsha."
KEVIN JAMES BREAUX, attributed, "Zombies, unicorns, and unemployment law--oh, my!", Oct. 30, 2012
1 likes
---
Zombies are the misanthrope's monster of choice. They represent fear and disgust of our fellow man. The anonymous animal masses. The dumb, shuffling crowd. Them -- the public. They're awesomely stupid. They have an IQ of one. Proper zombies can't operate a door handle or climb a ladder. Toss one a Rubik's Cube and it'll bounce off his thick, moaning head. All they do is walk around aimlessly, pausing occasionally to eat survivors.
CHARLIE BROOKER, "Before 'Black Mirror,' Charlie Brooker Made Zombies Reality With 'Dead Set'", Inverse, January 28, 2016
1 likes
---
Zombies have always been smaller than life terrors. Vampires are dark, mysterious, and sexy; werewolves are animalistic and virile and sexy; Jason and Freddie are unstoppable forces of nature. But zombies are merely beautifully anticlimactic monsters: slow, ugly, and pathetic, driven by dumb hunger rather than evil malevolence. They're ridiculous -- which makes them a lot like people.
NOAH BERLATSKY, "The Zombies Will Feast on Your Funny Bone", Random Nerds, March 8, 2017
1 likes
---
Since zombies are not fully dead, they upset the essential balance of nature: no animals eat zombies, apparently, and zombies do not seem to decay, at least, not to the point of disintegration and reintegration back into the soil, so the food chain, or the circle of life, seems to end or be short-circuited by their existence. Zombies fulfill the worst potentialities of humans to create a hellish kingdom on earth of endless, sterile repetition and boredom.
KIM PAFFENROTH, Gospel of the Living Dead: George Romero's Visions of Hell on Earth
0 likes
---