HELL QUOTES
quotations about Hell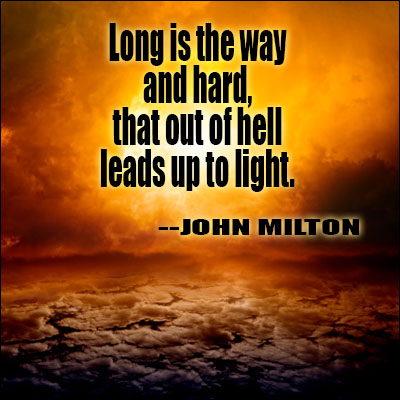 The road to Hell is paved with good intentions.
KARL MARX, Capital
2 likes
---
Hell's foundations quiver
At the shout of praise;
Brothers, lift your voices,
Loud your anthems raise.
SABINE BARING-GOULD, Onward
2 likes
---
Then shall he say also unto them on the left hand, Depart from me, ye cursed, into everlasting fire, prepared for the devil and his angels.
BIBLE, Matthew 25:41
2 likes
---
And some are fall'n, to disobedience fall'n,
And so from Heav'n to deepest Hell; O fall
From what high state of bliss into what woe!
JOHN MILTON, Paradise Lost
1 likes
---
Long is the way
And hard, that out of hell leads up to light.
JOHN MILTON, Paradise Lost
1 likes
---
Personally I didn't believe God had a private torture chamber. Hell was being cut off from God, cut off from his power, his energy, Him.
LAURELL K. HAMILTON, Burnt Offerings
1 likes
---
Hell is the opposite of joy. It is unfulfillment. It is knowing Who and What You Are, and failing to experience that. It is being less.
NEALE DONALD WALSCH, Conversations with God
1 likes
---
Now let us try for a moment to realize, as far as we can, the nature of that abode of the damned which the justice of an offended God has called into existence for the eternal punishment of sinners. Hell is a strait and dark and foul-smelling prison, an abode of demons and lost souls, filled with fire and smoke. The straitness of this prison house is expressly designed by God to punish those who refused to be bound by His laws. In earthly prisons the poor captive has at least some liberty of movement, were it only within the four walls of his cell or in the gloomy yard of his prison. Not so in hell. There, by reason of the great number of the damned, the prisoners are heaped together in their awful prison, the walls of which are said to be four thousand miles thick: and the damned are so utterly bound and helpless that, as a blessed saint, saint Anselm, writes in his book on similitudes, they are not even able to remove from the eye a worm that gnaws it.
JAMES JOYCE, A Portrait of the Artist as a Young Man
1 likes
---
It is easy to go down to hell; night and day the gates of Dark Death stand wide; but to climb back up again, to retrace one's steps to the open air, their lies the problem, the difficult task.
VIRGIL, The Aeneid
1 likes
---
At the end of the world ... the angels will come and separate the wicked people from the righteous, throwing the wicked into the fiery furnace, where there will be weeping and gnashing of teeth.
BIBLE, Matthew 13:49-50
1 likes
---
Each lost soul will be a hell unto itself, the boundless fire raging in its very vitals.
JAMES JOYCE, A Portrait of the Artist as a Young Man
1 likes
---
The fact that most people don't believe in hell doesn't mean they won't end up there.
CLIFFE KNECHTLE, Give Me an Answer
1 likes
---
The safest road to Hell is the gradual one -- the gentle slope, soft underfoot, without sudden turnings, without milestones, without signposts.
C. S. LEWIS, The Screwtape Letters
1 likes
---
One smell of brimstone makes the whole world kin.
GEORGE ADE, "The Fable of How the Canny Commercial Salesman Guessed the Combination", True Bills
1 likes
---
Hell is the carrot and the stick in the chain letter that is the Christian religion.
ANONYMOUS, World Religions in a Nutshell
1 likes
---
If heaven is where people become fully human, then hell is the ultimate disintegration of what it means to be human.
SEAN MCDOWELL & JONATHAN MORROW, Is God Just a Human Invention
1 likes
---
If hell doesn't exist, then neither does justice.
ANONYMOUS, The Living Church, vol. 130
1 likes
---
Satan knows where he's headed and he knows the everlasting punishment that awaits him there. Now he wants to persuade everyone he can (including you) to follow him to that place of torment. He'll make you believe any of his lies that he can to deceive you into being his roommate in hell forever. If he can make you believe that you will rule and reign with him there, then he'll do that. If he can make you believe that hell doesn't really exist, then that's what he'll do. If he can convince you that hell is a wonderful place, that will be his tactic. Satan will do whatever it takes to stop you from believing and receiving the truth. And the truth is; Satan hates you with a passion! His only desire is to hear your agonizing screams as you share his torture in the burning flames of hell.
RICK JONES, Stairway to Hell
1 likes
---
The concept of hell doesn't fit the mold of a loving God. The god of the bible did not exist in any form, and ALL other gods were made up. Hell is imaginary, and Organized Religion only uses it to justify their religious dogma. No God of religion exists, and all holy books are no more than man-made mythology. As you live through intellectual honesty, you will reject the doctrine of hell and choose truth as your authority, rejecting authority as your truth.
JAWARA D. KING, Transform Your World Through the Powers of Your Mind
1 likes
---
If hell doesn't exist, nothing exists. And hell must not only exist, it must also be completely cut off from the upper regions. There must be barbed-wire fences and flames and spires of broken glass and high-voltage electric wires and watertight compartments and a void without atmosphere or pressure and the maelstrom of a black hole that swallows all who try to escape from it. My mother and father wouldn't be able to stand being in the same place as you; they should be exempted even from imagining that you still exist somewhere in the universe. And therefore it's imperative that there should be all those barriers between what's above and what's below.
SUSANNA TAMARO, Answer Me
1 likes
---