WRITING QUOTES II
quotations about writing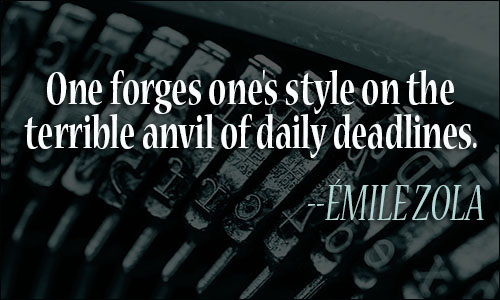 Most writer zombies don't realize they are the undead, because they do just enough to convince themselves (and others) that they are actual writers. They talk a lot about writing -- boy, are writer zombies great talkers -- going on for hours about the screenplay or pilot they're supposedly writing or will write once they have the time. They also read writing books and blogs and take seminars because that makes them feel like they are in the game. And they take classes, especially those that impose short-term deadlines, because that gets them writing, which makes them feel alive. But once the class is over, they almost always go back to their zombie ways.
COREY MANDELL, "Beware the Writing Zombies", Huffington Post, February 25, 2016
1 likes
---
When we attempt to articulate our tender feelings in writing, we enter an inner dialogue of self-exploration: we forage for the more precise word, the more resonant phrasing. If the writing is done with particular care and attention, there is a Goldilocks quality to it: We rustle through an assortment of terms, discarding one, perhaps as "too weak" or another "too ordinary" until we settle upon the one that is "just right". In doing so, we have discovered something about ourselves.
DANIEL GRIFFIN, "Don't Tell Him You Love Him... Put It in Writing", Huffington Post, February 15, 2016
1 likes
---
It's not so much that we write what we know; it's that we write what we feel ... or might have felt.
NANCY LAMB, The Art and Craft of Storytelling
1 likes
---
In my view, if you write every day you're a certified graphomaniac, you're OCD, you're addicted to the physical act and not the real, spiritual one.
ROSEMARY JENKINSON, "Writing is not about youth but about spark", Irish Times, March 27, 2017
1 likes
---
Writing is an act of blind faith that out there, somewhere, someone will read and enjoy, understand.
JAMES V. SCHALL, "The Creative Catholic: Fr. James V. Schall S.J. on the art and vocation of writing", Catholic World Report, March 27, 2017
1 likes
---
Writing is a part of healing, of digging into society.
KHALED KHALIFA, "Syrian novelist Khaled Khalifa tells the stories of a bleeding, beautiful country", Syria Direct, March 23, 2017
1 likes
---
Lucky the one who writes in a book of spiral-bound mornings
a future in ink, who writes hand unshaking
JANE HIRSHFIELD, "Sweater"
1 likes
---
When I first started I was obsessed--putting in 16 hours a day, seven days a week, and loving it. My in-laws told my husband that perhaps he should get some help for me. Once the book was published it was OK because writers can be a little crazy.
JEAN M. AUEL, interview, goodreads, April 2011
1 likes
---
The only courageous act is to speak in the first person.
ARTHUR ADAMOV, attributed, Woorden
1 likes
---
How hard is the destiny of a maker of books! He has to cut and sew up in order to make ideas follow logically. But when one writes a book on reverie, has the time not come to let the pen run, to let reverie speak, and better yet to dream the reverie at the same time one believes he is transcribing it?
GASTON BACHELARD, The Poetics of Reverie: Childhood, Language, and the Cosmos
1 likes
---
If it is a distinction to have written a good book, it is also a disgrace to have written a bad one.
CHRISTIAN NESTELL BOVEE, Intuitions and Summaries of Thought
0 likes
---
The writer should never be ashamed of staring. There is nothing that does not require his attention.
FLANNERY O'CONNOR, attributed, Room to Write: Daily Invitations to a Writer's Life
0 likes
---
There are men that will make you books, and turn them loose into the world, with as much dispatch as they would do a dish of fritters.
MIGUEL DE CERVANTES, Don Quixote
0 likes
---
Of all that is written I love only what a man has written with his blood. Write with blood, and you will find that blood is spirit.
FRIEDRICH NIETZSCHE, Thus Spoke Zarathustra
0 likes
---
To turn experience into speech -- that is, to classify, to categorize, to conceptualize, to grammarize, to syntactify it -- is always a betrayal of experience, a falsification of it; but only so betrayed can it be dealt with at all, and only in so dealing with it did I ever feel a man, alive and kicking.
JOHN BARTH, The End of the Road
0 likes
---
There's no such thing as perfect writing, just like there's no such thing as perfect despair.
HURAKI MURAKAMI, Hear the Wind Sing
0 likes
---
The poet cannot invent new words every time, of course. He uses the words of the tribe. But the handling of the word, the accent, a new articulation, renew them.
EUGENE IONESCO, Present Past / Past Present
0 likes
---
To string incongruities and absurdities together in a wandering and sometimes purposeless way, and seem innocently unaware that they are absurdities, is the basis of the American art, if my position is correct.
MARK TWAIN, "How to Tell a Story"
0 likes
---
If you don't have the time to read, you don't have the time or the tools to write.
STEPHEN KING, On Writing
0 likes
---
There are two men inside the artist, the poet and the craftsman. One is born a poet. One becomes a craftsman.
EMILE ZOLA, letter to Cezanne
0 likes
---