PHILOSOPHY QUOTES
quotations about philosophy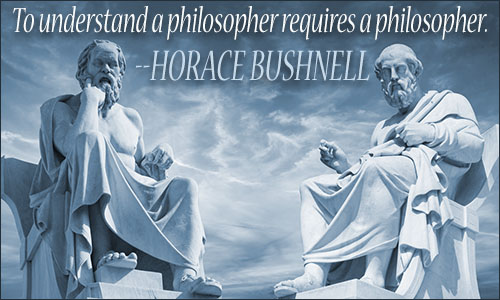 Children are the boldest philosophers. They enter life naked, not covered by the smallest fig leaf of dogma, absolutes, creeds. This is why every question they ask is so absurdly naïve and so frighteningly complex.
YEVGENY ZAMYATIN, On Literature, Revolution, Entropy, and Other Matters
3 likes
---
Philosophy, n. A route of many roads leading from nowhere to nothing.
AMBROSE BIERCE, The Devil's Dictionary
2 likes
---
The philosopher strives to find the liberating word, that is, the word that finally permits us to grasp what up to now has intangibly weighed down upon our consciousness.
LUDWIG WITTGENSTEIN, Philosophical Occasions
2 likes
---
It is the duty of all who make philosophy the entertainment of their lives, to turn their thoughts to practical schemes for the good of society, and not pass away their time in fruitless searches, which tend rather to the ostentation of knowledge than the service of life.
JOSEPH ADDISON, The Tatler, December 9, 1710
2 likes
---
I have tried in my time to be a philosopher; but, I don't know how, cheerfulness was always breaking in.
OLIVER EDWARDS, attributed, Life of Samuel Johnson
1 likes
---
Philosophy is a battle against the bewitchment of our intelligence by means of our language.
LUDWIG WITTGENSTEIN, Philosophical Investigations
1 likes
---
The true philosopher is a brave spirit; dauntless to discover, and bold to declare the truth at all hazard. He feels the inner constraint of his messages, and, as a prophet to his day and generation, he must needs speak, though the whole world cry to him, silence.
JOHN GRIER HIBBEN, The Problems of Philosophy
1 likes
---
Philosophy is concerned with that which is, in contrast with that which seems to be. Its aim is to reveal the reality which underlies appearance.
JOHN GRIER HIBBEN, The Problems of Philosophy
1 likes
---
To believe only possibilities is not faith, but mere Philosophy.
SIR THOMAS BROWNE, Religio Medici
1 likes
---
The problems of philosophy and the systems designed to solve them are formulated in terms which tend to refer, not to the realm of actuality, but to the realms of possibility and necessity: to what might be and what must be, rather than to what is.
ROGER SCRUTON, Short History of Modern Philosophy
1 likes
---
You can't do without philosophy, since everything has its hidden meaning which we must know.
MAXIM GORKY, The Zykovs
1 likes
---
It is unfortunately very difficult to describe the nature of philosophy in a small compass; the only satisfaction that an author can draw from the attempt to do so lies in the knowledge that an answer to the question "What is philosophy?" is apt to seem persuasive only to the extent that it is brief. The more one ponders over the qualifications that any reasoned answer must contain, the more one is driven to the conclusion that this question is itself one of the principal subjects of philosophical thinking.
ROGER SCRUTON, Short History of Modern Philosophy
1 likes
---
The philosopher is neither a chemist, a smith, a merchant, or a manufacturer; but he both teaches and is taught by all of them; and his prayer is that the intellectual light may be as general as the solar, and uncontrolled.
CHARLES CALEB COLTON, Lacon
1 likes
---
Among all the characters of mankind, that of the Philosopher is the most perfect. Distinguished from those of the inferior kind, by clearer and more distinct perceptions; by more comprehensive views of both nature and art; by a more ardent love and higher admiration of what is excellent; by a firmer attachment to virtue, and the general good of the world; by a lower regard for all inferior beauties compared with the supreme, consisting in rectitude of conduct and dignitude of behaviour; by a greater moderation in prosperity, and greater patience and courage under the evils of life; the real Philosopher, though not absolutely perfect, sets the grandeur of human genius in the fairest light.
WELLINS CALCOTT, Thoughts Moral and Divine
1 likes
---
He is but a poor philosopher who holds a view so narrow as to exclude forms not to his personal taste.
JOHN GALSWORTHY, Vague Thoughts on Art
1 likes
---
Philosophers are like cartographers -- they map our world. The milestones, however, are not road signs or signposts. They are ideas and values.
IVAN KOLEV, "Bangladesh Philosophy Olympiad 2016", Dhaka Tribune, April 3, 2016
1 likes
---
A little philosophy inclineth man's mind to atheism, but depth in philosophy bringeth men's minds about to religion.
FRANCIS BACON, Essays
0 likes
---
To a philosopher no circumstance, however trifling, is too minute.
OLIVER GOLDSMITH, Citizen of the World
0 likes
---
The maxim, "An unexamined life is not worth living," is the priceless legacy of Socrates to the generations of men who have followed him upon this earth. The beings who have stood on humanity's summit are those, and only those, who have heard the voice of Socrates across the centuries. The others are a superior kind of cattle.
NICHOLAS MURRAY BUTLER, lecture at Columbia University, March 4, 1908
0 likes
---
Philosophy should quicken life, not deaden it.
SUSAN GLASPELL, Little Masks
0 likes
---