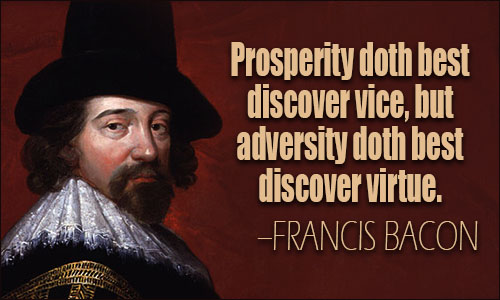 If a man will begin with certainties, he shall end in doubts; but if he will be content to begin with doubts, he shall end in certainties.
FRANCIS BACON, Advancement of Learning
Children sweeten labours, but they make misfortunes more bitter.
It is in life as it is in ways, the shortest way is commonly the foulest, and surely the fairer way is not much about.
FRANCIS BACON, Advancement of Learning
God Almighty first planted a garden; and, indeed, it is the purest of human pleasures.
Hope is a good breakfast, but it is a bad supper.
Silence is the virtue of fools.
FRANCIS BACON, De Augmentis Scientiarum
FRANCIS BACON, Meditationes Sacrae
All colours will agree in the dark.
Men fear death as children fear to go in the dark; and as that natural fear in children is increased with tales, so is the other.
Man seeketh in society comfort, use, and protection.
FRANCIS BACON, Advancement of Learning
A man that studieth revenge keeps his own wounds green.
As the births of living creatures at first are ill-shapen, so are all innovations, which are the births of time.
The desire of power in excess caused the angels to fall; the desire of knowledge in excess caused man to fall.
FRANCIS BACON, "Of Goodness and Goodness in Nature," Essays
He that travelleth into a country before he hath some entrance into the language, goeth to school, and not to travel.
He that hath wife and children hath given hostages to fortune; for they are impediments to great enterprises, either of virtue or mischief.
Wives are young men's mistresses, companions for middle age, and old men's nurses.
Fame is like a river, that beareth up things light and swollen, and drowns things weighty and solid.
Riches are a good handmaid, but the worst mistress.
FRANCIS BACON, De Augmentis Scientiarum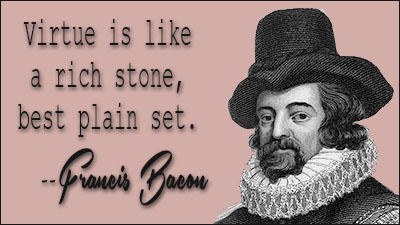 Chiefly the mould of a man's fortune is in his own hands.
Virtue is like a rich stone, best plain set.
If a man be gracious and courteous to strangers, it shows he is a citizen of the world.
Nobility of birth commonly abateth industry.
There is no excellent beauty that hath not some strangeness in the proportion.
A little philosophy inclineth man's mind to atheism, but depth in philosophy bringeth men's minds about to religion.
Prosperity is the blessing of the Old Testament, adversity is the blessing of the New.
Prosperity doth best discover vice, but adversity doth best discover virtue.
It is a miserable state of mind to have few things to desire and many things to fear.
A man must make his opportunity, as oft as find it.
FRANCIS BACON, Advancement of Learning
Seek first the virtues of the mind; and other things either will come, or will not be wanted.
FRANCIS BACON, The Advancement of Learning
Nothing doth more hurt in a state than that cunning men pass for wise.
FRANCIS BACON, "Of Cunning," Essays
It would be an unsound fancy and self-contradictory to expect that things which have never yet been done can be done except by means which have never yet been tried.
FRANCIS BACON, Novum Organum
If we do not maintain Justice, Justice will not maintain us.
FRANCIS BACON, speech in Overbury murder case, Nov. 1615