NATURE QUOTES
quotations about nature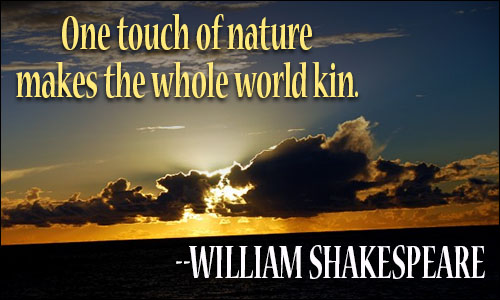 There is new life in the soil for every man. There is healing in the trees for tired minds and for our overburdened spirits, there is strength in the hills, if only we will lift up our eyes. Remember that nature is your great restorer.
CALVIN COOLIDGE, speech, July 25, 1924
4 likes
---
One touch of nature makes the whole world kin.
WILLIAM SHAKESPEARE, Troilus and Cressida
3 likes
---
I must go to Nature disarmed of perspective and stretch myself like a large transparent canvas upon her in the hope that, my submission being perfect, the imprint of a beautiful and useful truth would be taken.
JOHN UPDIKE, The Centaur
2 likes
---
All Nature wears one universal grin.
HENRY FIELDING, Tom Thumb the Great
2 likes
---
Nature flies from the infinite, for the infinite is unending or imperfect, and Nature ever seeks to amend.
ARISTOTLE, On the Generation of Animals
2 likes
---
We cannot command nature except by obeying her.
FRANCIS BACON, Novum Organum
2 likes
---
By viewing nature, nature's handmaid art,
Makes mighty things from small beginnings grow:
Thus fishes first to shipping did impart,
Their tail the rudder, and their head the prow.
JOHN DRYDEN, Annus Mirabilis
1 likes
---
God made the forests, the tiny stars, and the wild winds--and I think that he made them partly as a balance for that kind of civilization that would choke the spirit of joy out of our hearts. He made the great open places for the people who want to be alone with him and talk to him, away from the crowds that kill all reverence. And I think that he is glad at times to have us forget our cares and responsibilities that we may be nearer him--as Jesus was when he crept away into the wilderness to pray.
MARGARET ELIZABETH SANGSTER, "The Gypsy Spirit"
1 likes
---
Nature is but a name for an effect,
Whose cause is God.
WILLIAM COWPER, The Task
1 likes
---
Never, no, never did Nature say one thing and Wisdom say another.
EDMUND BURKE, Letters on a Regicide Peace
1 likes
---
There is pleasure in the pathless woods,
There is a rapture on the lonely shore,
There is society, where none intrudes,
By the deep sea, and music in its roar:
I love not man the less, but Nature more,
From these our interviews, in which I steal
From all I may be, or have been before,
To mingle with the Universe, and feel
What I can ne'er express, yet cannot all conceal.
LORD BYRON, Childe Harold
1 likes
---
A miracle constantly repeated becomes a process of nature.
LYMAN ABBOTT, Problems of Life: Selections from the Writings of Rev. Lyman Abbott
1 likes
---
If Nature put not forth her power
About the opening of the flower,
Who is it that could live an hour?
ALFRED TENNYSON, The Two Voices
1 likes
---
Nature, to be commanded, must be obeyed.
HENRY ADAMS, The Education of Henry Adams
1 likes
---
All nature is the temple; earth the altar.
ALPHONSE DE LAMARTINE, "Prayer", Poetical Meditations
1 likes
---
Nature, with its fragile yet resilient magnificence, models for us what aliveness means and reminds us that we are mortal.
MARIA POPOVA, "Poetry as Protest and Sanctuary", brainpickings, April 18, 2017
1 likes
---
All the time nature is trying to tell us things and we blur her greatness with our little thoughts, our feebleness and flesh.
JENNETTE LEE, The Symphony Play
1 likes
---
Nature is necessary for our physical and psychological wellbeing. Interacting with nature teaches us to live in relation with the other, not in domination over the other: You don't control the birds flying overhead, or the moon rising, or the bear walking where it would like to walk. In my appraisal, one of the overarching problems of the world today is that we see ourselves living in domination over rather than in relation with other people and with the natural world.
PETER KAHN, "Technology is changing our relationship with nature as we know it", Quartz, August 8, 2017
1 likes
---
Nature is simply what is and has nothing to do with what ought to be.
JULIAN BAGGINI, "Nature is not evil, simply amoral", The Independent, March 14, 2011
1 likes
---
Somehow we instinctively know that our own nature is revived when we expose it to real nature, and real nature, by definition, is wild.
RICK BROUSSARD, "Health and Wildness", New Hampshire Magazine, August 14, 2017
1 likes
---