MONEY QUOTES
quotations about money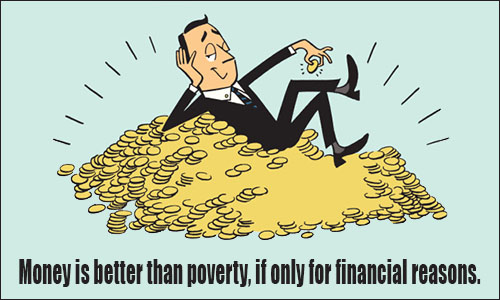 Life is a game. Money is how we keep score.
TED TURNER, attributed, The Quotable Billionaire
3 likes
---
Focusing your life solely on making a buck shows a poverty of ambition. It asks too little of yourself. And it will leave you unfulfilled.
BARACK OBAMA, speech, July 12, 2006
3 likes
---
Money is a needful and precious thing, and when well used, a noble thing, but I never want you to think it is the first or only prize to strive for. I'd rather see you poor men's wives, if you were happy, beloved, contented, than queens on thrones, without self-respect and peace.
LOUISA MAY ALCOTT, Little Women
3 likes
---
Money can't buy happiness, but it can make you awfully comfortable while you're being miserable.
CLARE BOOTHE LUCE, attributed, The Ultimate Book of Quotations
3 likes
---
Money poisons you when you've got it, and starves you when you haven't.
D. H. LAWRENCE, Lady Chatterley's Lover
2 likes
---
Money is the root of all evil.
BIBLE, 1 Timothy 6:10
2 likes
---
A nickel ain't worth a dime anymore.
YOGI BERRA, When You Come to a Fork in the Road, Take It!: Inspiration and Wisdom from One of Baseball's Greatest Heroes
2 likes
---
Money ... those who don't have enough of it are only aware of what it can buy them. When you finally have enough of it you become aware--acutely aware--of all the things it can't buy ... the really important things ... like youth, health, love, peace of mind.
F. PAUL WILSON, The Tomb
2 likes
---
If you want to know what God thinks of money, just look at the people he gave it to.
DOROTHY PARKER, Complete Stories
2 likes
---
When some people talk about money
They speak as if it were a mysterious lover
Who went out to buy milk and never
Came back, and it makes me nostalgic
For the years I lived on coffee and bread,
Hungry all the time, walking to work on payday
Like a woman journeying for water
From a village without a well, then living
One or two nights like everyone else
On roast chicken and wine.
TRACY K. SMITH, "The Good Life"
2 likes
---
Money makes the man.
ARISTODEMUS, fragment
2 likes
---
Put not your trust in money, but put your money in trust.
OLIVER WENDELL HOLMES, SR., The Autocrat of the Breakfast Table
1 likes
---
Money is just the poor man's credit card.
MARSHALL MCLUHAN, Understanding Media
1 likes
---
If you would know the value of money, go and try to borrow some; for he that goes a borrowing goes a sorrowing.
BENJAMIN FRANKLIN, Poor Richard's Almanac
1 likes
---
Surely there never was so evil a thing as money, which maketh cities into ruinous heaps, and banisheth men from their houses, and turneth their thoughts from good unto evil.
SOPHOCLES, Antigone
1 likes
---
So you think that money is the root of all evil? Have you ever asked what is the root of money? Money is a tool of exchange, which can't exist unless there are goods produced and men able to produce them. Money is the material shape of the principle that men who wish to deal wlth one another must deal by trade and give value for value. Money is not the tool of the moochers, who claim your product by tears or of the looters, who take it from you by force. Money is made possible only by the men who produce. Is this what you consider evil?
AYN RAND, Atlas Shrugged
1 likes
---
The lack of money is the root of all evil.
MARK TWAIN, Mark Twain's Notebook
1 likes
---
Las Vegas is the only place I know where money really talks--it says, "Goodbye."
FRANK SINATRA, The Joker Is Wild
1 likes
---
We teach children to save their money. As an attempt to counteract thoughtless and selfish expenditure, that has value. But it is not positive; it does not lead the child into the safe and useful avenues of self-expression or self-expenditure. To teach a child to invest and use is better than to teach him to save.
HENRY FORD, My Life and Work
1 likes
---
Few men have virtue enough to withstand the highest bidder.
GEORGE WASHINGTON, attributed, Wit and Wisdom of the American Presidents: A Book of Quotations
1 likes
---