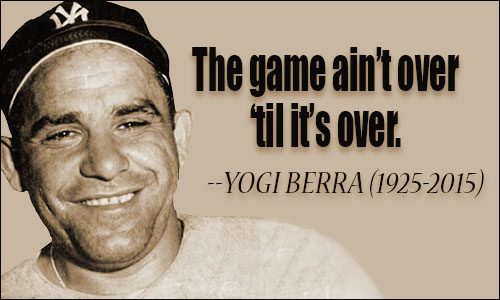 The game ain't over 'til it's over.
Baseball is 90% mental, the other half is physical.
I never blame myself when I'm not hitting. I just blame the bat and if it keeps up, I change bats.
The future ain't what it used to be.
Always go to other people's funerals, otherwise they won't come to yours.
This is like deja vu all over again.
A nickel ain't worth a dime anymore.
You can observe a lot just by watching.
When you come to a fork in the road, take it.
Little League baseball is a very good thing because it keeps the parents off the streets.
There are some people who, if they don't already know, you can't tell 'em.
We make too many wrong mistakes.
You're always nervous at the beginning, the first pitch. You get a little tense. When the game starts, then it's all right.
A lot of guys go, 'Hey, Yog, say a Yogi-ism.' I tell 'em, 'I don't know any.' They want me to make one up. I don't make 'em up. I don't even know when I say it. They're the truth.
Think! How the hell are you gonna think and hit at the same time?
In theory there is no difference between theory and practice. In practice there is.
I break up the English a little bit. I don't mean to do it, but it just comes out that way.
If people don't want to come out to the ball park, nobody's gonna stop 'em.
Half the lies they tell about me aren't true.
A good time to hit is with men on base, because the pitcher ain't got no place to put you. He's going to get that ball around there somewhere. He don't want to walk you.
All pitchers are liars or crybabies.
If you can't imitate him, don't copy him.
So I'm ugly. So what? I never saw anyone hit with his face.
The towels were so thick there I could hardly close my suitcase.
It's tough to make predictions, especially about the future.
I looked like this when I was young, and I still do.
Never answer an anonymous letter.
I wish I had an answer to that because I'm tired of answering that question.
YOGI BERRA, attributed, The Yogi Book
Nobody goes there anymore. It's too crowded.
It gets late early around here...
I didn't really say everything I said.