AVIATION QUOTES
quotations about aviation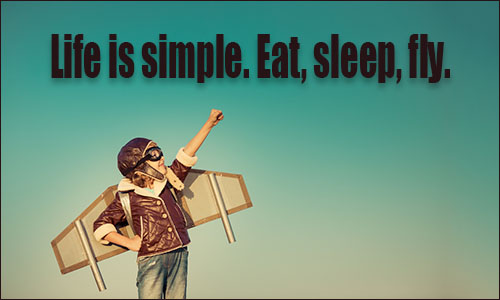 I fly because it releases my mind from the tyranny of petty things.
ANTOINE DE SAINT-EXUPERY, attributed, Empires of the Sky
4 likes
---
And he rode upon a cherub, and did fly: yea, he did fly upon the wings of the wind.
PSALMS 18:10
2 likes
---
The natural function of the wing is to soar upwards and carry that which is heavy up to the place where dwells the race of gods. More than any other thing that pertains to the body it partakes of the nature of the divine.
PLATO, Phaedrus
1 likes
---
Always try to keep the number of landings you make equal to the number of takeoffs.
ANONYMOUS
1 likes
---
O to speed where there is space enough and air enough at last!
WALT WHITMAN, "One Hour to Madness and Joy", Leaves of Grass
1 likes
---
My soul is in the sky.
WILLIAM SHAKESPEARE, A Midsummer Night's Dream
1 likes
---
We've come to view flying as yet another impressive but ultimately uninspiring technological realm.... Aren't we forfeiting something important when we sneer indifferently at the sight of an airplane--the sheer impressiveness of being able to throw down a few hundred dollars and travel halfway around the world at nearly the speed of sound?
PATRICK SMITH, Cockpit Confidential
1 likes
---
The list of flying indignities is by now as annoying as it is familiar. Shrinking seats. Bloated fees. Battles for overhead bin space. Peanuts in place of meals. The airlines' business model increasingly centers on getting customers to pay their way out of misery.
NICHOLAS CALIO, "Call to airlines to make experiences better", News-Press, March 27, 2016
1 likes
---
There are airmen and there are pilots: the first being part bird whose view from aloft is normal and comfortable, a creature whose brain and muscles frequently originate movements which suggest flight; and then there are pilots who regardless of their airborne time remain earth-loving bipeds forever. When these latter unfortunates, because of one urge or another, actually make an ascension, they neither anticipate nor relish the event and they drive their machines with the same graceless labor they inflict upon the family vehicle.
ERNEST K. GANN, Ernest K. Gann's Flying Circus
0 likes
---
My airplane is quiet, and for a moment still an alien, still a stranger to the ground, I am home.
RICHARD BACH, Stranger to the Ground
0 likes
---
I'm a nervous flyer, and it doesn't make it any easier when I get to the airport and see the sign TERMINAL.
ANONYMOUS
0 likes
---
One of the beautiful things about a single-piloted aircraft is the quality of the social experience.
RICHARD S. DRURY, attributed, Frequent Flyer Humor and One-Upmanship
0 likes
---
The air up there in the clouds is very pure and fine, bracing and delicious. And why shouldn't it be? --it is the same the angels breathe.
MARK TWAIN, Roughing It
0 likes
---
Sometimes, flying feels too godlike to be attained by man. Sometimes, the world from above seems too beautiful, too wonderful, too distant for human eyes to see.
CHARLES LINDBERGH, The Spirit of St. Louis
0 likes
---
Success. Four flights Thursday morning. All against twenty-one mile wind. Started from level with engine power alone. Average speed through air thirty-one miles. Longest fifty-nine seconds. Inform press. Home Christmas.
WILBUR & ORVILLE WRIGHT, telegram to Milton Wright from Kitty Hawk, N.C., Dec. 17, 1903
0 likes
---
An airplane stands for freedom, for joy, for the power to understand, and to demonstrate that understanding.
RICHARD BACH, Nothing by Chance
0 likes
---
I began to feel that I lived on a higher plane than the skeptics of the ground; one that was richer because of its very association with the element of danger they dreaded, because it was freer of the earth to which they were bound. In flying, I tasted a wine of the gods of which they could know nothing. Who valued life more highly, the aviators who spent it on the art they loved, or these misers who doled it out like pennies through their antlike days? I decided that if I could fly for ten years before I was killed in a crash, it would be a worthwhile trade for an ordinary life time.
CHARLES LINDBERGH, The Spirit of St. Louis
0 likes
---
You haven't seen a tree until you've seen it's shadow from the sky.
AMELIA EARHART, attributed, Aviation and the Role of Government
0 likes
---
Problems look mighty small from 150 miles up.
ROGER CHAFFEE, attributed, When the Moon Slips Away
0 likes
---
Most gulls don't bother to learn more than the simplest facts of flight--how to get from shore to food and back again. For most gulls, it is not flying that matters, but eating. For this gull, though, it was not eating that mattered, but flight. More than anything else, Jonathan Livingston Seagull loved to fly.
RICHARD BACH, Jonathan Livingston Seagull
0 likes
---