TRAVEL QUOTES
quotations about travel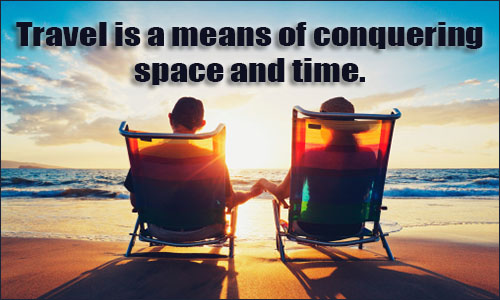 The World is a book, and those who do not travel read only a page.
ST. AUGUSTINE, attributed, 20,000 Quips and Quotes
5 likes
---
Travel is like a university without walls.
ANITA RODDICK, Third Way, April 1996
5 likes
---
Travel is fatal to prejudice, bigotry, and narrow-mindedness, and many of our people need it sorely on these accounts.
MARK TWAIN, Innocents Abroad
3 likes
---
We travel, some of us forever, to seek other states, other lives, other souls.
ANAÏS NIN, The Diary of Anaïs Nin
3 likes
---
I cannot rest from travel; I will drink life to the lees.
ALFRED, LORD TENNYSON, Ulysses
2 likes
---
Travel is the art form available to Everyman. You sit in the coffee shop in a strange city and nobody knows who you are, or cares, and so you shed your checkered past and your motley credentials and you face the day unarmed ... And onward we go and some day in the distant future, we will stop and turn around in astonishment to see all the places we've been and the heroes we were.
GARRISON KEILLOR, "The Art of Travel", A Prairie Home Companion, July 28, 2009
2 likes
---
The reason for why I travel is the same for why I write -- to find the place in this world that feels most like home.
HILARY SAUNDERS, "Off The Grid: Why Do We Travel?", Paste Magazine, May 16, 2017
2 likes
---
Travel: some good advice, from one who knows--take twice the cash, and half the clothes.
ANONYMOUS
2 likes
---
Perhaps travel cannot prevent bigotry, but by demonstrating that all peoples cry, laugh, eat, worry, and die, it can introduce the idea that if we try and understand each other, we may even become friends.
MAYA ANGELOU, "Passports to Understanding"
1 likes
---
He that travelleth into a country before he hath some entrance into the language, goeth to school, and not to travel.
FRANCIS BACON, Essays
1 likes
---
Travel is not the time to break in new shoes.
LYNNE CHRISTEN, Travel Wisdom
1 likes
---
Tourism is sin, and travel on foot virtue.
WERNER HERZOG, Minnesota Declaration
1 likes
---
Strong and content I travel the open road.
WALT WHITMAN, Song of the Open Road
1 likes
---
If travel is like love, it is, in the end, mostly because it's a heightened state of awareness, in which we are mindful, receptive, undimmed by familiarity and ready to be transformed. That is why the best trips, like the best love affairs, never really end.
PICO IYER, "Why We Travel"
1 likes
---
If you travel, it must be to seek difference.
KATHLEEN LEE, "Into the Heart of the Middle Kingdom"
1 likes
---
Travel is like the high drama of youth. It's the best and worst at the same time. One minute you are flung to the depths of despair, the next, you feel the giddy, exaggerated joy of an adolescent. For me, it had been a chance to make rash decisions, to take wild risks, to lose everything knowing I'd still have plenty of time to earn it all back.
WENDY DALE, Avoiding Prison and Other Noble Vacation Goals
1 likes
---
Travel is like knowledge. The more you see the more you know you haven't seen.
MARK HERTSGAARD, Earth Odyssey
1 likes
---
We travel, initially, to lose ourselves; and we travel, next, to find ourselves. We travel to open our hearts and eyes and learn more about the world than our newspapers will accommodate. We travel to bring what little we can, in our ignorance and knowledge, to those parts of the globe whose riches are differently dispersed. And we travel, in essence, to become young fools again -- to slow time down and get taken in, and fall in love once more.
PICO IYER, "Why We Travel"
1 likes
---
I think especially in the jet age that the right to travel is a civil right and a human right which, except for health reasons, ought not to be restricted in any way. Why does the State Department have the right to issue passports? We are citizens. Not subjects.
SHANA ALEXANDER, "The Real Tourist Trap", Life, January 26, 1968
1 likes
---
When one realizes that his life is worthless he either commits suicide or travels.
EDWARD DAHLBERG, Reasons of the Heart
1 likes
---