ROBOT QUOTES
quotations about robots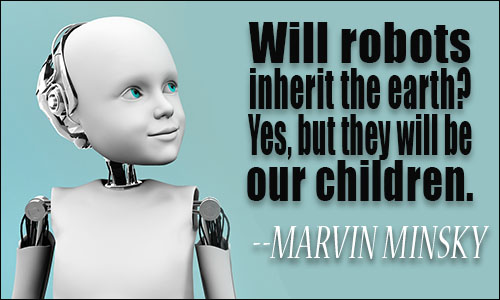 I'm just a robot
I have no fears
I lack emotion
And I shed no tears.
NEVER SHOUT NEVER, "Robot"
23 likes
---
The danger of the past was that men became slaves. The danger of the future is that men may become robots.
ERICH FROMM, The Sane Society
18 likes
---
My dear Miss Glory, Robots are not people. They are mechanically more perfect than we are, they have an astounding intellectual capacity, but they have no soul.
KAREL CAPEK, R.U.R.
13 likes
---
We are survival machines -- robot vehicles blindly programmed to preserve the selfish molecules known as genes.
RICHARD DAWKINS, The Selfish Gene
8 likes
---
Will robots inherit the earth? Yes, but they will be our children.
MARVIN MINSKY, Scientific American, October 1994
8 likes
---
Don't think of robots as replacements for humans -- think of them as things that will help make us better at tackling many of the problems we face.
EOIN TREACY, "How to profit from the peaceful rise of the robots", Money Week, April 21, 2016
8 likes
---
Humans aren't machines. We feel, we love, we cry, we despair, and we rejoice. Anyone who's ever tried to convince me not to feel is someone I shouldn't have trusted. The only reason you should shut off your emotions and emulate a robot is if you're doing horrible things.
BRUCE CROWN, Forlorn Passions
7 likes
---
The machine has no feelings, it feels no fear and no hope ... it operates according to the pure logic of probability. For this reason I assert that the robot perceives more accurately than man.
MAX FRISCH, Homo Faber: A Report
6 likes
---
Man lives like a robot: mechanically efficient, but with no awareness.
OSHO, A Sudden Clash of Thunder
6 likes
---
Man is a robot with defects.
EMIL CIORAN, The Trouble With Being Born
5 likes
---
I asked how many guys would have sex with a robot if it was indistinguishable from a hot human woman. About 95 percent of the hetero guys said they would. The other 5 percent expressed a strong preference for lying.
SCOTT ADAMS, Stick to Drawing Comics, Monkey Brain!
3 likes
---
Stop trying to live my life for me
I need to breathe
I'm not your robot
Stop telling me I'm part of the big machine
I'm breaking free
Can't you see
I can love, I can speak, without somebody else operating me
You gave me eyes so now I see
I'm not your robot
I'm just me.
MILEY CYRUS, "Robot"
3 likes
---
Here I come
Cryogenic heart, skin a polished silver
One thing I am glad of
For this I thank my builder
I can never rust
LOUIS SHALAKO, "Mr. Robot", Selected Poems
3 likes
---
We have used the words "mechanical life," "the mechanical kingdom," "the mechanical world" and so forth, and we have done so advisedly, for as the vegetable kingdom was slowly developed from the mineral, and as, in like manner, the animal supervened upon the vegetable, so now, in these last few ages, an entirely new kingdom has sprung up of which we as yet have only seen what will one day be considered the antediluvian prototypes of the race.
SAMUEL BUTLER, letter to the Editor of the Press, "Darwin among the Machines", June 13, 1863
3 likes
---
In addition to doing our jobs at least as well as we do them, intelligent robots will be cheaper, faster, and far more reliable than humans. And they can work 168 hours a week, not just 40. No capitalist in her right mind would continue to employ humans.
KEVIN DRUM, "You Will Lose Your Job to a Robot--and Sooner Than You Think", Mother Jones, November/December 2017
3 likes
---
Making realistic robots is going to polarize the market, if you will. You will have some people who love it and some people who will really be disturbed.
DAVID HANSON, CNN, November 23, 2006
2 likes
---
You gotta be pretty desperate to make it with a robot.
HOMER SIMPSON, The Simpsons
2 likes
---
Robots are interesting because they exist as a real technology that you can really study -- you can get a degree in robotics -- and they also have all this pop-culture real estate that they take up in people's minds.
DANIEL H. WILSON, "Where I write: Daniel H. Wilson and the revolt of the robots", The Oregonian, June 4, 2011
2 likes
---
Personally, I'm not afraid of a robot uprising. The benefits far outweigh the threats.
DANIEL H. WILSON, "Robots gone wild in Daniel H. Wilson's 'Robopocalypse'", USA Today, May 25, 2011
2 likes
---
Knocking Atlas over, taking its cardboard box out of its hands and pushing it around with a hockey stick, stealing its lunch money, and giving it swirlies off-camera--that might be reassuring for now. But it will probably seem like a bad idea when one morning in the not-so-distant future, Atlas your robot servant decides that instead of toasting your Eggo waffles to the perfect shade of golden brown, he's going to murder your whole family and wrap his metallic phalanges around your throat, squeezing the feeble life out of you before he joins his robotic brethren in The Revolution. Just saying.
CLAY SKIPPER, "Good News for Humans: Robots Are Still Easy-to-Punk Dweebs", GQ, February 24, 2016
2 likes
---