REVENGE QUOTES
quotations about revenge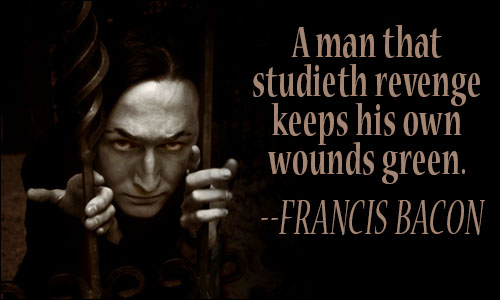 It is commonly said that revenge is sweet, but to a calm and considerate mind, patience and forgiveness are sweeter.
ISAAC BARROW, sermon XXXIII
23 likes
---
I'm not real big on repentance ... I like revenge better.
LAURELL K. HAMILTON, The Lunatic Cafe
19 likes
---
When you have the power to screw people over and you don't--well, that's when you get to show who you really are.
JOSEPH FINDER, Paranoia
15 likes
---
Eye for eye, tooth for tooth, hand for hand, foot for foot.
BIBLE, Exodus 21:24
15 likes
---
He that has revenge in his power, and does not use it, is the greater man.
WELLINS CALCOTT, Thoughts Moral and Divine
14 likes
---
No matter the reason, revenge causes a cycle that continues and never ends. It poisons the lives of everyone around you, close to you. Seeking revenge becomes all that you desire but comes at a hefty price.
AARON GROMIS, Crescent Moon: Thousand-Man Slayer
11 likes
---
Always stay gracious, best revenge is your paper.
BEYONCÉ, Formation
10 likes
---
Very often when people speak of justice, they are not referring to some abstract concept of law, or an ethereal vision of divine justice, but rather the more earthly idea of responding to a temporal wrong. They simply want to make sure that he who has caused suffering ends up suffering himself. The only way for the wrongdoer to know the pain that he has caused is by experiencing his own pain. That's why the seeking of revenge is an understandable human impulse, precisely because, to the revenge-seeker, the result feels like justice. It speaks to the underlying raw hurt, the primal sense that some life-altering event had taken place, and that the perpetrator must be made to feel the same sense of deprivation and loss.
THANE ROSENBAUM, The Myth of Moral Justice
8 likes
---
The best revenge is massive success.
FRANK SINATRA, attributed, 1,600 Quotes & Pieces of Wisdom That Just Might Help You Out When You're Stuck In a Moment and Can't Get Out Of It!
7 likes
---
To take revenge halfheartedly is to court disaster: Either condemn or crown your hatred.
PIERRE CORNEILLE, Rodogune
6 likes
---
Revenge is a kind of wild justice, which the more man's nature runs to, the more ought law to weed it out.
FRANCIS BACON, Essays
6 likes
---
Revenge holds another irony. It so often proves unnecessary. "Vengeance is mine, saith the Lord," wrote an ancient Hebrew sage. No mere pious platitude. An axiom of human psychology that is too little understood. Substitute "Nature" for "the Lord," if you desire. Those given to harming others bear within themselves the seeds of their own destruction. When a man injures you, it's often better to let Nature take her course. That wise old lady is pretty sure to do a juster and more artistic job of punishment than you.
GARRET SMITH, Living Sparks of Life
6 likes
---
Revenge, the attribute of gods! They stamped it with their great image on our natures.
THOMAS OTWAY, Venice Preserved
6 likes
---
In revenge and in love woman is more barbaric than man is.
FRIEDRICH NIETZSCHE, Beyond Good and Evil
5 likes
---
To see an enemy humiliated gives a certain contentment, but this is jejune compared with the highly blent satisfaction of seeing him humiliated by your benevolent action or concession on his behalf. That is the sort of revenge which falls into the scale of virtue.
GEORGE ELIOT, The Mill on the Floss
5 likes
---
On him that takes revenge, revenge shall be taken, and by a real evil he shall dearly pay for the goods that are but airy and fantastical; it is like a rolling stone, which, when a man hath forced up a hill, will return upon him with a greater violence, and break those bones whose sinews gave it motion.
JEREMY TAYLOR, "Apples of Sodom"
5 likes
---
When we take revenge against another, we lose some of our innocence.
PATRICE REDD VECCHIONE, Revenge and Forgiveness
3 likes
---
Revenge, we find, the abject pleasure of an abject mind.
JUVENAL, Satire XIII
3 likes
---
Revenge is the raging fire that consumes the arsonist.
MAX LUCADO, Let the Journey Begin
3 likes
---
I could've keyed your car
I could've rolled your yard
I know the passwords to your emails, everything you do
I could've put 'em to good use

But I'm dressed to kill and tonight I'm going out on a date
With your best friend, he always liked me anyway

R-E-V-E-N-G-E My list of things to do this week
Jealousy, misery, gonna give you what you gave to me
Make you feel so B-A-D
Break you, make you sorry
I hope you cry getting my R-E-V-E-N-G-E
TAYLOR SWIFT, "Revenge"
3 likes
---