REPUTATION QUOTES
quotations about reputation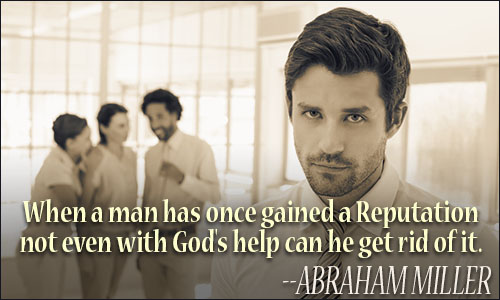 A reputation once broken may possibly be repaired, but the world will always keep their eyes on the spot where the crack was.
JOSEPH HALL, attributed, Golden Quotes
8 likes
---
Reputation, reputation, reputation! O, I have lost my reputation! I have lost the immortal part of myself, and what remains is bestial.
WILLIAM SHAKESPEARE, Othello
5 likes
---
At ev'ry word a reputation dies.
ALEXANDER POPE, The Rape of the Lock
4 likes
---
Until you've lost your reputation, you never realize what a burden it was or what freedom really is.
MARGARET MITCHELL, Gone With the Wind
3 likes
---
Who can know how much of his most inward life is made up of the thoughts he believes other men to have about him, until that fabric of opinion is threatened with ruin?
GEORGE ELIOT, Middlemarch
2 likes
---
Associate with men of good quality, if you esteem your own reputation; for it is better to be alone than in bad company.
GEORGE WASHINGTON, attributed, Incredible Quotations
2 likes
---
A good name is more desirable than great riches; to be esteemed is better than silver or gold.
BIBLE, Proverbs 22:1
2 likes
---
Reputation hangs a man.
ARIAS, attributed, Day's Collacon
2 likes
---
Treat a man as if he had a fine reputation to protect, and he will usually endeavor to deserve it.
ORSON SCOTT CARD, Pathfinder
2 likes
---
A good reputation is like the cypress; once cut, it never puts forth leaf again.
FRANCESCO GUICCIARDINI, attributed, Day's Collacon
2 likes
---
It's not who you know that matters--it's who knows you that's important. Personal branding builds up your reputation to the point where you have a presence even in your absence.
JAROD KINTZ, This Book is Not For Sale
2 likes
---
A man can get a reputation from very small things.
SOPHOCLES, fragment, Inachus
1 likes
---
Reputation is an idle and most false imposition; oft got without merit, and lost without deserving.
WILLIAM SHAKESPEARE, Othello
1 likes
---
How many people live on the reputation of the reputation they might have made!
OLIVER WENDELL HOLMES, SR., The Autocrat of the Breakfast Table
1 likes
---
Character is like a tree and reputation like its shadow. The shadow is what we think of it; the tree is the real thing.
ABRAHAM LINCOLN, Lincoln's Own Stories
1 likes
---
He who worries about reputation,
Has a reputation to worry about.
EDWIN LEIBFREED, "The Song of the Soul"
1 likes
---
Reputation is an interpretation, more or less accurate, of character.
AUSTIN O'MALLEY, Keystones of Thought
1 likes
---
There are two modes of establishing our reputation; to be praised by honest men, and to be abused by rogues.
CHARLES CALEB COLTON, Lacon
1 likes
---
If I take care of my character, my reputation will take care of itself.
D. L. MOODY, attributed, A Dictionary of Thoughts
1 likes
---
Reputations, like beavers and cloaks, shall last some people twice the time of others.
DOUGLAS JERROLD, Specimens of Jerrold's Wit
1 likes
---