PEER PRESSURE QUOTES
quotations about peer pressure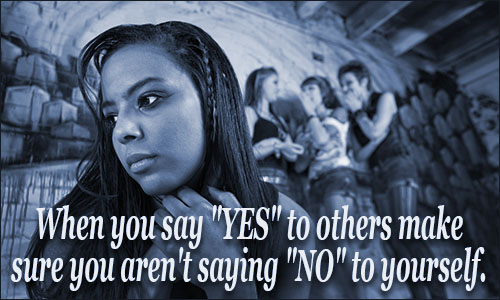 If you follow the crowd, you might get lost in it.
ANONYMOUS
23 likes
---
No child is immune to peer pressure.
KATHI HUDSON, Raising Kids God's Way
20 likes
---
When you say "YES" to others make sure you aren't saying "NO" to yourself.
ANONYMOUS
14 likes
---
To be yourself in a world that is constantly trying to make you something else is the greatest accomplishment.
ANONYMOUS, often wrongly attributed to Ralph Waldo Emerson
12 likes
---
Rarely do schools acknowledge the power of peer culture in defining standards, and rarely do they take advantage of this power as an engine for quality. When students themselves are in charge of projects that they care about, peer pressure can become a powerful force for high standards.
R. BERGER, Harvard Education Letter
5 likes
---
Peer pressure is not always negative. Sometimes, it inculcates new hobbies, habits, attitudes health conscience or a strong urge to succeed amongst people and where this happens, it is positive.
ADEYEMI RAPHAEL OLUWAMAYOWA, Peer Pressure: A Practical Guide To Handle It Successfully
5 likes
---
The ugly reality is that peer pressure reaches its greatest intensity at just the age when kids tend to be most insensitive and cruel.
WALT MUELLER, Understanding Today's Youth Culture
4 likes
---
The recipe to ignoring peer pressure is feeling confident in who you are.
PHOEBE WALLER, "6 Ways To Stand Up Against Peer Pressure & Do Your Own Thing", Bustle, March 10, 2016
4 likes
---
How you handle peer pressure -- the pressure your children feel as well as the pressure you feel -- in the early years will play a significant role in how your children handle peer pressure when they become adolescents.
KEVIN LEMAN, Adolescence Isn't Terminal
2 likes
---
Peer pressure has many redeeming qualities. It is the pressure of our peers, after all, that gives us the support to try things we otherwise wouldn't have.
BILL TREASURER, Right Risk
2 likes
---
I just want to live my own life instead of everyone else's version of it.
SOL LUCKMAN, Beginner's Luke
2 likes
---
Peer pressure is not a monolithic force that presses adolescents into the same mold.... Adolescents generally choose friends whose values, attitudes, tastes, and families are similar to their own. In short, good kids rarely go bad because of their friends.
LAURENCE STEINBERG, You and Your Adolescent
1 likes
---
The stress of resisting unhealthy peer pressure can be buffered by good family relationships and a high self-esteem, and it is often those adolescents with neither who succumb to unhealthy pressure from their peers.
L. EUGENE ARNOLD, Childhood Stress
1 likes
---
There's one advantage to being 102. There's no peer pressure.
DENNIS WOLFBERG, Humorous Quotes for All Occasions
1 likes
---
Of course, peer pressure has a strong positive component. It provides the social cohesion that allows the very development of communal affiliation. But peer power as an extrinsic force is a lot like radiation: a little goes a long way.
CHARLES D. HAYES, The Rapture of Maturity
1 likes
---
The main consequence of saying no to negative peer pressure is not just withstanding "the heat of the moment," as most adults think. Rather, it is coping with a sense of exclusion as others engage in the behavior and leave the adolescent increasingly alone. It is the loss of the shared experience. Further, the sense of exclusion remains whenever the group later recounts what happened. This feeling of loneliness then becomes pervasive but carries an easy solution -- go along with the crowd.
MICHAEL RIERA, Uncommon Sense for Parents With Teenagers
1 likes
---
Learning to effectively express your dissent when your peers are making a mistake is a business skill.
LARRY MYLER, "Overcoming Peer Pressure In Your Business Decisions", Forbes, April 9, 2015
1 likes
---
The alter ego of negative peer pressure is ... drum roll, please ... positive peer pressure! It's true, this awful annoyance does have a brighter side that is not only prettier, but also helpful and productive.
HILARY CHERNISS & SARA JANE SLUKE, The Complete Idiot's Guide to Peer Pressure for Teens
1 likes
---
Do not ever give in to peer pressure. It is a terrible thing. Whether it is for friends, drugs or sex, peer pressure is bad and can be difficult to resist. However, I say to you: Do not do anything you would be afraid to admit to your parents.
LEBOHANG MOTLOUNG, "Queen believes in caring", News 24, April 6, 2016
1 likes
---
Many Christians give in to various temptations through peer pressure and find themselves surrendering to worldly passions, justifying pleasures the world offers.
BILLY GRAHAM, Billy Graham in Quotes
1 likes
---