LYING QUOTES
quotations about lies and lying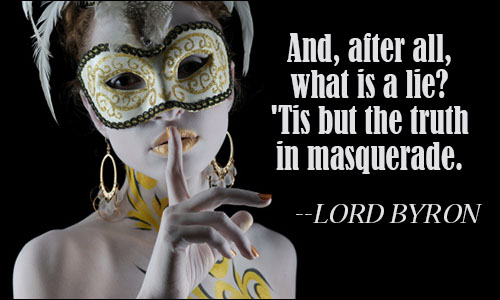 You may tell the greatest lies and wear a brilliant disguise, but you can't escape the eyes of the one who sees right through you.
TOM ROBBINS, Villa Incognito
520 likes
---
He who permits himself to tell a lie once, finds it much easier to do it a second and third time, till at length it becomes habitual; he tells lies without attending to it, and truths without the world's believing him. This falsehood of the tongue leads to that of the heart, and in time depraves all its good dispositions.
THOMAS JEFFERSON, letter to Peter Carr, Aug. 19, 1785
277 likes
---
Habitual liars invent falsehoods not to gain any end or even to deceive their hearers, but to amuse themselves. It is partly practice and partly habit. It requires an effort in them to speak truth.
WILLIAM HAZLITT, Characteristics
202 likes
---
O, what a tangled web we weave;
When first we practice to deceive!
SIR WALTER SCOTT, Marmion
197 likes
---
My father always told me that what's wrong with lying is that it's an admission of weakness. If you're the strongest, you can afford to tell the truth.
K. J. PARKER, Evil for Evil
192 likes
---
Yeah, it never fails to amaze me how a single lie can undo an entire lifetime of good.
SHERRILYN KENYON, Upon the Midnight Clear
177 likes
---
Some liars are so expert they deceive themselves.
AUSTIN O'MALLEY, Keystones of Thought
170 likes
---
Lies don't fix things. They don't even make things easier, at least not in the long run. Best to tell the truth and then clean up an honest mess.
P.C. CAST & KRISTIN CAST, Chosen
168 likes
---
The rules are simple: they lie to us, we know they're lying, they know we know they're lying, but they keep lying to us, and we keep pretending to believe them.
ELENA GOROKHOVA, A Mountain of Crumbs
166 likes
---
Lies are a little fortress; inside them you can feel safe and powerful. Through your little fortress of lies you try to run your life and manipulate others. But the fortress needs walls, so you build some. These are the justifications for your lies. You know, like you are doing this to protect someone you love, to keep them from feeling pain. Whatever works, just so you feel okay about the lies.
WM. PAUL YOUNG, The Shack
159 likes
---
Never try to destroy someone else's life with a lie when yours can be destroyed with the truth.
ANONYMOUS
155 likes
---
False words are not only evil in themselves, but they infect the soul with evil.
PLATO, Phaedo
141 likes
---
Lies were like acid, corrosive: They could dissolve trust in a heartbeat.
ROB THURMAN, Nightlife
90 likes
---
The cruelest lies are often told in silence.
ROBERT LOUIS STEVENSON, Virginibus Puerisque
77 likes
---
Lying lips are abomination to the LORD: but they that deal truly are his delight.
BIBLE, Proverbs 12:22
77 likes
---
The trust of the innocent is the liar's most useful tool.
STEPHEN KING, Needful Things
76 likes
---
I don't like lies ... Not even lies of omission. Hard truths can be dealt with, triumphed over, but lies will destroy your soul.
PATRICIA BRIGGS, Moon Called
74 likes
---
He who tells a lie, is not sensible how great a task he undertakes; for he must be forced to invent twenty more to maintain that one.
ALEXANDER POPE, "Thoughts on Various Subjects"
70 likes
---
Sometimes you can learn things from the way a person denies something. The choice of lies can be almost as helpful as the truth.
LAURELL K. HAMILTON, Guilty Pleasures
69 likes
---
All men must acknowledge Lying to be one of the most scandalous sins, that can be committed between man and man; a crime of a deep dye, and of an extensive nature, leading into innumerable sins; for Lying is practiced to deceive, to injure, betray, rob, destroy, and the like; Lying in this sense is the concealing of all other crimes, the sheep's clothing upon the wolf's back, the Pharisee's prayer, the harlot's blush, the hypocrite's paint, and Judas's kiss; in a word, it is mankind's darling sin, and the Devil's distinguished characteristic.
WELLINS CALCOTT, Thoughts Moral and Divine
68 likes
---