LONELINESS QUOTES
quotations about loneliness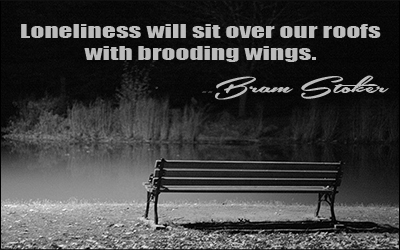 We have forgotten love, and
Sat lonely beside each other.
We have eaten together,
Lonely behind our plates, we
Have hidden behind children,
We have slept together in
A lonely bed. Now my heart
Turns toward you, awake at last,
Penitent, lost in the last
Loneliness. Speak to me. Talk
To me. Break the black silence.
KENNETH REXROTH, "Loneliness", The Collected Shorter Poems
46 likes
---
When Christ said: "I was hungry and you fed me," he didn't mean only the hunger for bread and for food; he also meant the hunger to be loved. Jesus himself experienced this loneliness. He came amongst his own and his own received him not, and it hurt him then and it has kept on hurting him. The same hunger, the same loneliness, the same having no one to be accepted by and to be loved and wanted by. Every human being in that case resembles Christ in his loneliness; and that is the hardest part, that's real hunger.
MOTHER TERESA, "Imitation of Christ", A Gift for God
34 likes
---
I'm lonely. And I'm lonely in some horribly deep way and for a flash of an instant, I can see just how lonely, and how deep this feeling runs. And it scares the shit out of me to be this lonely because it seems catastrophic.
AUGUSTEN BURROUGHS, Dry
34 likes
---
How we need another soul to cling to, another body to keep us warm. To rest and trust; to give your soul in confidence: I need this, I need someone to pour myself into.
SYLVIA PLATH, The Unabridged Journals of Sylvia Plath
28 likes
---
It is strange how the presence of additional people can make you feel more alone.
JAMES ALAN GARDNER, Ascending
27 likes
---
Depression on my left, Loneliness on my right. They don't need to show me their badges. I know these guys very well.
ELIZABETH GILBERT, Eat, Pray, Love
24 likes
---
Can you understand being alone so long
you would go out in the middle of the night
and put a bucket into the well
so you could feel something down there
tug at the other end of the rope?
JACK GILBERT, "The Abandoned Valley"
21 likes
---
The strongest man in the world is he who stands most alone.
HENRIK IBSEN, An Enemy of the People
18 likes
---
Nothing makes us so lonely as our secrets.
PAUL TOURNIER, attributed, 1000 Pocket Positives: Inspiring Quotations
9 likes
---
I don't doubt that a man can live perfectly well on his own, but I'm convinced that he begins to die as soon as he closes the door of his house behind him.
JOSE SARAMAGO, The Cave
9 likes
---
When so many are lonely as seem to be lonely, it would be inexcusably selfish to be lonely alone.
TENNESSEE WILLIAMS, Camino Real
8 likes
---
Loneliness is the first thing which God's eye named not good.
JOHN MILTON, Tetrachordon
8 likes
---
The whole problem of life, then, is this: how to break out of one's own loneliness, how to communicate with others.
CESARE PAVESE, This Business of Living
7 likes
---
Tears do not burn except in solitude.
EMIL CIORAN, On the Heights of Despair
7 likes
---
Loneliness isn't about being by yourself. That's fine, right and good, desirable in many ways. Loneliness is about finding a landing-place, or not, and knowing that, whatever you do, you can go back there. The opposite of loneliness isn't company, it's return. A place to return.
JEANETTE WINTERSON, The Stone Gods
7 likes
---
The distances between the stars seem brief by contrast to the distances between each of us and his fellows.
THOMAS M. DISCH, "Things Lost"
7 likes
---
I was never less alone than when by myself.
EDWARD GIBBON, Autobiography
6 likes
---
What loneliness is more lonely than distrust?
GEORGE ELIOT, Middlemarch
6 likes
---
Lonely people, in talking to each other can make each other lonelier.
LILLIAN HELLMAN, The Autumn Garden
5 likes
---
One trouble with most of us is that we don't use the resources within ourselves. We are all neglectful of powers that we share as our human birthright, capacities for distraction from ourselves, for intelligent enjoyment, for receiving and giving. Through lack of mental and moral and spiritual exercises our souls shrink and shrivel and break out into maladies that almost inevitably include the feeling of misery and isolation usually described as loneliness. If we were properly related to ourselves and to the world and to the universe we should never lack for company and we should never be lonely.
JOHN DANIEL BARRY, "Loneliness", Reactions and Other Essays Discussing Those States of Feeling and Attitude of Mind That Find Expression In Our Individual Qualities
5 likes
---