LAW QUOTES II
quotations about law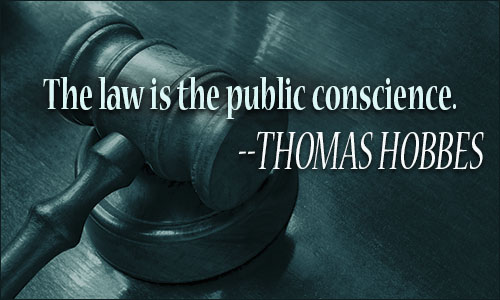 Laws, like houses, lean on one another.
EDMUND BURKE, Tracts Relative to the Laws Against Popery in Ireland
5 likes
---
No man-made law ever, no matter whether derived from the past or projected onto a distant, unforeseeable future, can or should ever be empowered to claim that it is greater than the Natural Law from which it stems and to which it must inevitably return in the eternal rhythm of creation and decline of all things natural.
WILHELM REICH, response to FDA complaint, Feb. 22, 1954
5 likes
---
Reason is the life of the law, nay the common law is nothing else but reason.
SIR EDWARD COKE, Institutes: Commentary upon Littleton
4 likes
---
Every new time will give its law.
MAXIM GORKY, The New Lawyer's Wit and Wisdom
4 likes
---
Who to himself is law, no law doth need,
Offends no law, and is a king indeed.
GEORGE CHAPMAN, Bussy D' Ambois
4 likes
---
Law is a bottomless pit.
JOHN ARBUTHNOT, The History of John Bull
4 likes
---
It's a strange thing, we think that law brings order. Law doesn't. How do we know that law does not bring order? Look around us. We live under the rule of law. Notice how much order we have?
HOWARD ZINN, Voices of a People's History of the United States
3 likes
---
Ignorance of the law is no good excuse, where every man is bound to take notice of the laws to which he is subject.
THOMAS HOBBES, Leviathan
3 likes
---
Law is not law, if it violates the principles of eternal justice.
LYDIA MARIA CHILD, speech, 1861
3 likes
---
Law is the rudder of the ship of state.
AUSTIN O'MALLEY, Keystones of Thought
3 likes
---
Courts are places where the ending is written first and all that precedes is simply vaudeville.
CHARLES BUKOWSKI, Notes of a Dirty Old Man
3 likes
---
Bad laws are the worst sort of tyranny.
EDMUND BURKE, speech at Bristol previous to the election of 1780
2 likes
---
Laws made by common consent must not be trampled on by individuals.
THOMAS JEFFERSON, letter to Colonel Van Meter, Apr. 27, 1781
2 likes
---
The law is a battery, which protects all that is behind it, but sweeps with destruction all that is outside.
HENRY WARD BEECHER, Proverbs from Plymouth Pulpit
2 likes
---
Laws change as the seasons.
EDWARD COUNSEL, Maxims
2 likes
---
A man with a club is a law-maker.
JACK LONDON, The Call of the Wild
2 likes
---
I know no method to secure the repeal of bad or obnoxious laws so effective as their stringent execution.
ULYSSES S. GRANT, Inaugural Address, Mar. 4, 1869
2 likes
---
However the law, to make it a mystery and a trade, may be wrapped up in terms of art, yet it is founded on reason, and obvious to common sense.
BUCKINGHAM, attributed, Day's Collacon
2 likes
---
Although I broke a lot of laws as a teenager, I straightened out immediately upon turning eighteen, when I realized the state had a legal right to execute me.
GEORGE CARLIN, Brain Droppings
2 likes
---
The Law is hard, but it is the Law.
CASSANDRA CLARE, City of Glass
2 likes
---