LAW QUOTES
quotations about law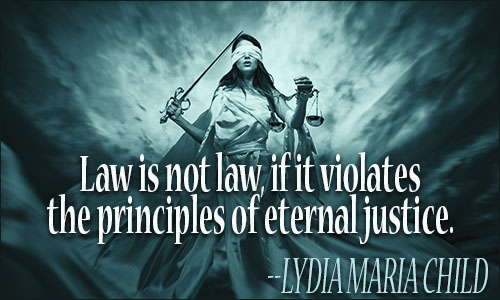 Laws grind the poor, and rich men rule the law.
OLIVER GOLDSMITH, The Traveller
41 likes
---
People are more afraid of the laws of Man than of God, because their punishment seems to be nearest.
WILLIAM PENN, Some Fruits of Solitude
26 likes
---
Law is order, and good law is good order.
ARISTOTLE, Politics
25 likes
---
Laws are like cobwebs, which may catch small flies, but let wasps and hornets break through.
JONATHAN SWIFT, A Critical Essay upon the Faculties of the Mind
18 likes
---
There is but one law for all, namely, that law which governs all law, the law of our Creator, the law of humanity, justice, equity -- the law of nature and of nations.
EDMUND BURKE, speech on Impeachment of Warren Hastings, May 28, 1794
16 likes
---
The law is the public conscience.
THOMAS HOBBES, Leviathan
13 likes
---
The law was made for one thing alone, for the exploitation of those who don't understand it.
BERTOLT BRECHT, The Threepenny Opera
12 likes
---
Without law men are beasts.
MAXWELL ANDERSON, Winterset
11 likes
---
A law is valuable, not because it is a law, but because there is right in it.
HENRY WARD BEECHER, Life Thoughts
11 likes
---
No organic law can ever be framed with a provision specifically applicable to every question which may occur in practical administration. No foresight can anticipate nor any document of reasonable length contain express provisions for all possible questions.
ABRAHAM LINCOLN, First Inaugural Address, Mar. 4, 1861
10 likes
---
Lawyers are the only persons in whom ignorance of the law is not punished.
JEREMY BENTHAM, The Canadian Bar Journal, Jun. 1966
9 likes
---
I am free, no matter what rules surround me. If I find them tolerable, I tolerate them; if I find them too obnoxious, I break them. I am free because I know that I alone am morally responsible for everything I do.
ROBERT A. HEINLEIN, The Moon Is a Harsh Mistress
9 likes
---
One with the law is a majority.
CALVIN COOLIDGE, New York Times, Jul. 28, 1920
7 likes
---
Law without justice is a wound without a cure.
WILLIAM SCOTT DOWNEY, Proverbs
7 likes
---
The precepts of the law may be comprehended under these three points: to live honestly, to hurt no man willfully, and to render every man his due carefully.
ARISTOTLE, attributed, Day's Collacon
7 likes
---
Law is an imperfect profession in which success can rarely be achieved without some sacrifice of principle. Thus all practicing lawyers -- and most others in the profession -- will necessarily be imperfect, especially in the eyes of young idealists. There is no perfect justice, just as there is no absolute in ethics. But there is perfect injustice, and we know it when we see it.
ALAN DERSHOWITZ, Letters to a Young Lawyer
6 likes
---
I don't go by what the law say. The law's liable to say anything. I go by if it's right or not. It don't matter what the law say. I take and look at it for myself.
AUGUST WILSON, The Piano Lesson
6 likes
---
The law, in its majestic equality, forbids the rich as well as the poor to sleep under bridges, to beg in the streets, and to steal bread.
ANATOLE FRANCE, The Red Lily
5 likes
---
Even when laws have been written down, they ought not always to remain unaltered.
ARISTOTLE, Politics
5 likes
---
No man-made law ever, no matter whether derived from the past or projected onto a distant, unforeseeable future, can or should ever be empowered to claim that it is greater than the Natural Law from which it stems and to which it must inevitably return in the eternal rhythm of creation and decline of all things natural.
WILHELM REICH, response to FDA complaint, Feb. 22, 1954
5 likes
---