HOME QUOTES II
quotations about home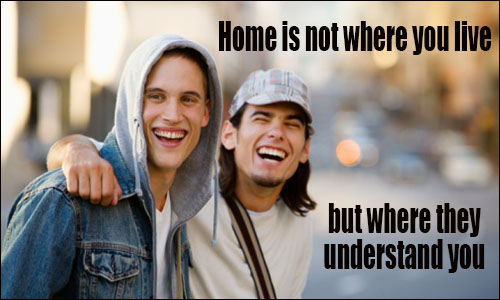 The ache for home lives in all of us. The safe place where we can go as we are and not be questioned.
MAYA ANGELOU, All God's Children Need Traveling Shoes
1 likes
---
A home is something we carry inside us. Those who do not have a home inside them cannot build one, either from defiance or from stone.
IVAN KLIMA, Waiting for the Dark
1 likes
---
You go back home and everything you wished was different is still the same and everything you wished was the same is different.
CORMAC MCCARTHY, Cities of the Plain
1 likes
---
Home pulls. It draws you back to tell you you don't belong.
GLEN DUNCAN, The Last Werewolf
1 likes
---
You can go home again ... so long as you understand that home is a place where you have never been.
URSULA K. LE GUIN, The Dispossessed
1 likes
---
All exiles carry a map within them that points the way homeward.
JACQUELINE CAREY, Kushiel's Dart
1 likes
---
Home is not where you live but where they understand you.
CHRISTIAN MORGENSTERN, American Flint
1 likes
---
At home the very walls lend you strength.
SERGEI LUKYANENKO, New Watch
1 likes
---
One never reaches home ... but where paths that have an affinity for each other intersect, the whole world looks like home, for a time.
HERMANN HESSE, Demian. Die Geschichte von Emil Sinclairs Jugend
1 likes
---
In countries where people have to flee their homes because of persecution and violence, political solutions must be found, peace and tolerance restored, so that refugees can return home. In my experience, going home is the deepest wish of most refugees.
ANGELINA JOLIE, BBC News interview, Apr. 8, 2004
0 likes
---
Some keep the Sabbath going to church;
I keep it staying at home,
With a bobolink for a chorister,
And an orchard for a dome.
EMILY DICKINSON, Some keep the Sabbath going to Church
0 likes
---
Birds finish the nest with their own breast, so it is the bosom that makes the home, and not the bill or the claw.
HENRY WARD BEECHER, Proverbs from Plymouth Pulpit
0 likes
---
Such is the patriot's boast, where'er we roam,
His first, best country ever is, at home.
OLIVER GOLDSMITH, The Traveller
0 likes
---
I feel like I've never had a home. You know? I feel related to the country, to this country, and yet I don't know exactly where I fit in. And the same thing applies to the theater. I don't know exactly how well I fit into the scheme of things. Maybe that's good, you know, that I'm not in a niche. But there's always this kind of nostalgia for a place, a place where you can reckon with yourself. Now I've found that what's most valuable about that place is not the place itself but the other people; that through other people you can find a recognition of each other. I think that's where the real home is.
SAM SHEPARD, attributed, Sam Shepard
0 likes
---
Home is a place in the mind. When it is empty, it frets. It is fretful with memory, faces and places and times gone by. Beloved images rise up in disobedience and make a mirror for emptiness.
MAEVE BRENNAN, The Visitor
0 likes
---
It is easy to listen to far off echoes unmoved, and we can treat them with disbelief, or scorn, or disdain, or whatever attitude of coldness may suit our purpose. But when the scandal came close home it was another matter; and the feelings of independence and integrity which is in people of every community which is not utterly spoiled, asserted itself and demanded that condemnation should be expressed.
BRAM STOKER, "The Secret of the Growing Gold"
0 likes
---
It is always sad when someone leaves home, unless they are simply going around the corner and will return in a few minutes with ice-cream sandwiches.
DANIEL HANDLER (as Lemony Snicket), Horseradish: Bitter Truths You Can't Avoid
0 likes
---
Shod with wings is the horse of him who rides
On a Spring day the road that leads to home.
BAI JUYI, "After Passing the Examination"
0 likes
---
Though the fire of the heart may have withered its core
Unto ashes and dust--though the head have turned hoar
Ere its time, as the surfs o'er the breakers that foam--
Still, a tear will arise when we think upon Home.
ALBERT PIKE, "Home"
0 likes
---
He that loves not his wife and children feeds a lioness at home and broods a nest of sorrows.
JEREMY TAYLOR, Twenty-Seven Sermons
0 likes
---