HOME QUOTES
quotations about home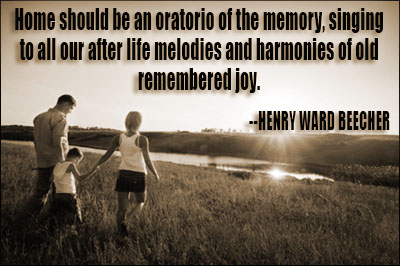 No matter how dreary and gray our homes are, we people of flesh and blood would rather live there than in any other country, be it ever so beautiful. There is no place like home.
L. FRANK BAUM, The Wonderful Wizard of Oz
In countries where people have to flee their homes because of persecution and violence, political solutions must be found, peace and tolerance restored, so that refugees can return home. In my experience, going home is the deepest wish of most refugees.
ANGELINA JOLIE, BBC News interview, Apr. 8, 2004
Home is the place, where, when you have to go there, they have to take you in.
ROBERT FROST, "The Death of a Hired Man"
Some keep the Sabbath going to church;

I keep it staying at home,

With a bobolink for a chorister,

And an orchard for a dome.
EMILY DICKINSON, Some keep the Sabbath going to Church
There are some people who believe that home is where one hang's one's hat, but these people tend to live in closets and on little pegs.
DANIEL HANDLER (as Lemony Snicket), Horseradish: Bitter Truths You Can't Avoid
Birds finish the nest with their own breast, so it is the bosom that makes the home, and not the bill or the claw.
HENRY WARD BEECHER, Proverbs from Plymouth Pulpit
Such is the patriot's boast, where'er we roam,

His first, best country ever is, at home.
OLIVER GOLDSMITH, The Traveller
I feel like I've never had a home. You know? I feel related to the country, to this country, and yet I don't know exactly where I fit in. And the same thing applies to the theater. I don't know exactly how well I fit into the scheme of things. Maybe that's good, you know, that I'm not in a niche. But there's always this kind of nostalgia for a place, a place where you can reckon with yourself. Now I've found that what's most valuable about that place is not the place itself but the other people; that through other people you can find a recognition of each other. I think that's where the real home is.
SAM SHEPARD, Don Shewey's Sam Shepard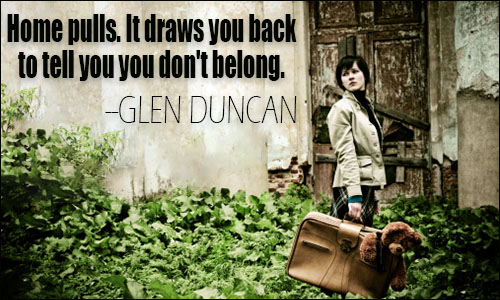 Home is a place in the mind. When it is empty, it frets. It is fretful with memory, faces and places and times gone by. Beloved images rise up in disobedience and make a mirror for emptiness.
MAEVE BRENNAN, The Visitor
It is easy to listen to far off echoes unmoved, and we can treat them with disbelief, or scorn, or disdain, or whatever attitude of coldness may suit our purpose. But when the scandal came close home it was another matter; and the feelings of independence and integrity which is in people of every community which is not utterly spoiled, asserted itself and demanded that condemnation should be expressed.
BRAM STOKER, "The Secret of the Growing Gold"
I'm laying out my winter clothes and wishing I was gone,

Going home, where the new york city winters aren't bleedin' me.
It is always sad when someone leaves home, unless they are simply going around the corner and will return in a few minutes with ice-cream sandwiches.
DANIEL HANDLER (as Lemony Snicket), Horseradish: Bitter Truths You Can't Avoid
Shod with wings is the horse of him who rides

On a Spring day the road that leads to home.
BAI JUYI, "After Passing the Examination"
Though the fire of the heart may have withered its core

Unto ashes and dust--though the head have turned hoar

Ere its time, as the surfs o'er the breakers that foam--

Still, a tear will arise when we think upon Home.
He that loves not his wife and children feeds a lioness at home and broods a nest of sorrows.
JEREMY TAYLOR, Twenty-Seven Sermons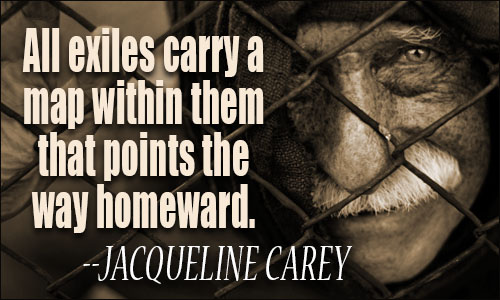 Home is the seminary of all other institutions. There are the roots of all public prosperity, the foundations of the State, the germs of the church. There is all that in the child makes the future man; all that in the man makes the good citizen.
E. H. CHAPIN, Living Words
Home should be an oratorio of the memory, singing to all our after life melodies and harmonies of old remembered joy.
HENRY WARD BEECHER, Proverbs from Plymouth Pulpit
It is restful to leave one's home; not because traveling does not entail varied and difficult daily actions, but because it removes our responsibilities.
ANDRÉ MAUROIS, An Art of Living
A human life, I think, should be well rooted in some spot of native land, where it may get the love of tender kinship for the face of earth, for the labours men go forth to, for the sounds and accents that haunt it, for whatever will give that early home a familiar unmistakeable difference amidst the future widening of knowledge: a spot where the definiteness of early memories may be inwrought with affection, and kindly acquaintance with all neighbours, even to the dogs and donkeys, may spread not by sentimental effort and reflection, but as a sweet habbit of the blood. At five years old, mortals are not prepared to be citizens of the world, to be stimulated by abstract nouns, to soar above preference into impartiality; and that prejudice in favour of milk with which we blindly begin, is a type of the way body and soul must get nourished at least for a time. The best introduction to astronomy is to think of the nightly heavens as a little lot of stars belonging to one's own homestead.
GEORGE ELIOT, Daniel Deronda
Do you know how hard it is to make a home?... That's something that a woman does from inside herself. You do it in the face of all sorts of opposition. Husbands are very appreciative when it works out well. But they're not that anxious to help. It's understandable. They don't know how.
SAMUEL R. DELANY, Dhalgren
Good food and a warm kitchen are what make a house a home.
RACHAEL RAY, Good Housekeeping, Jul. 2010
The difference between a house and a home is like the difference between a man and a woman--it might be embarrassing to explain, but it would be very unusual to get them confused.
DANIEL HANDLER (as Lemony Snicket), Horseradish: Bitter Truths You Can't Avoid
Home can never be expressed,

Till the soul has found its rest.

Home is transient here below,

And its term we cannot know:

It is like the sun's last ray,

Dying with departing day.

Home is like the robin's nest,

Now in downy feathers drest,

But tomorrow nowhere found,

In the air or on the ground.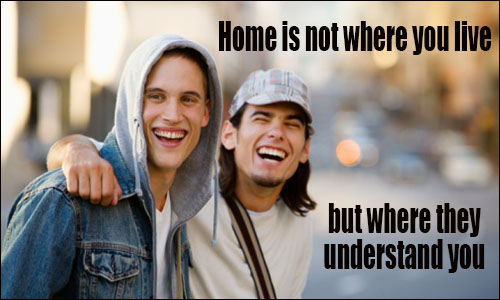 Home is the place that goes where you go, yet it welcomes you upon your return. Like a dog overjoyed at the door. We've missed you is what you hear, no matter how long you've been gone.
In the homes of America are born the children of America; and from them go out into American life, American men and women. They go out with the stamp of these homes upon them; and only as these homes are what they should be, will they be what they should be.
JOSIAH GILBERT HOLLAND, Titcomb's Letters to Young People
How does it feel

To be without a home

Like a complete unknown

Like a rolling stone?
BOB DYLAN, "Like A Rolling Stone"
It's a curious rite of passage, isn't it? Visit the old places. First you wonder how you lived so uncomplainingly in such cramped circumstances. The streets are narrower, the buildings smaller than you ever remembered. It's like coming back to Lilliput.
No man has a home unless he is master of a place where he must please no one — a place where he can go and lock the door behind him.
GENE WOLFE, "Slaves of Silver," Storeys from the Old Hotel
Every man, every woman, carries in heart and mind the image of the ideal place, the right place, the one true home, known or unknown, actual or visionary. A houseboat in Kashmir, a view down Atlantic Avenue in Brooklyn, a gray gothic farmhouse two stories high at the end of a red dog road in the Allegheny Mountains, a cabin on the shore of a blue lake in spruce and fir country, a greasy alley near the Hoboken waterfront, or even, possibly, for those of a less demanding sensibility, the world to be seen from a comfortable apartment high in the tender, velvety smog of Manhattan, Chicago, Paris, Tokyo, Rio, or Rome -- there's no limit to the human capacity for the homing sentiment.
EDWARD ABBEY, "The First Morning", Desert Solitaire
Home is where the heart is.
JOSEPH C. NEAL, Singleton Snippe
SHARE QUOTES WITH FRIENDS!
---