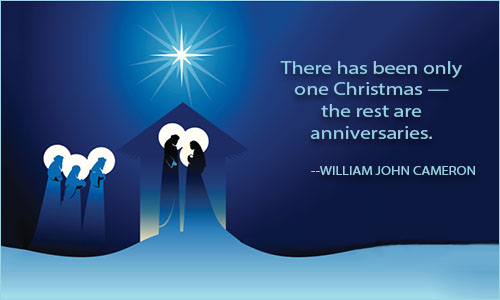 I will honor Christmas in my heart, and try to keep it all the year.
CHARLES DICKENS, A Christmas Carol
The "first Christmas" was a simple time of beauty and wonder. The birth of Christ was less about celebration than it was about family. Though many today may grow tired of the commercialization of Christmas, in reality it has opened the door for Christ to once again become the focal point of the season, and for family, especially children, to be at the heart of the celebration.
ACE COLLINS, Stories Behind Great Traditions of Christmas
Christmas won't be Christmas without any presents.
LOUISA MAY ALCOTT, Little Women
Christmas is a season of such infinite labour, as well as expense in the shopping and present-making line, that almost every woman I know is good for nothing in purse and person for a month afterwards, done up physically, and broken down financially.
FANNY KEMBLE, Further Records, Dec. 31, 1874
I heard the bells on Christmas Day

Their old, familiar carols play,

And wild and sweet

The words repeat

Of peace on earth, good-will to men!
HENRY WADSWORTH LONGFELLOW, "Christmas Bells"
The Supreme Court has ruled that they cannot have a nativity scene in Washington, D.C. This wasn't for any religious reasons. They couldn't find three wise men and a virgin.
JAY LENO, The Tonight Show
Christmas is ... a time to mark our progress through this earthly journey. Every December we can look back and marvel at the designs of God and realize how very little we are in control of the events that shaped the past year. Then, with hearts full, look to the celebration of that silent, holy night, and all its certainty. Because of Christmas, this we know: Christ was born for us. He is love, and the plans he has for us always surpass those of our own.
KAREN KINGSBURY, A Treasury of Christmas Miracles
Christmas in Bethlehem. The ancient dream: a cold, clear night made brilliant by a glorious star, the smell of incense, shepherds and wise men falling to their knees in adoration of the sweet baby, the incarnation of perfect love.
LUCINDA FRANKS, New York Times, Dec. 23, 1984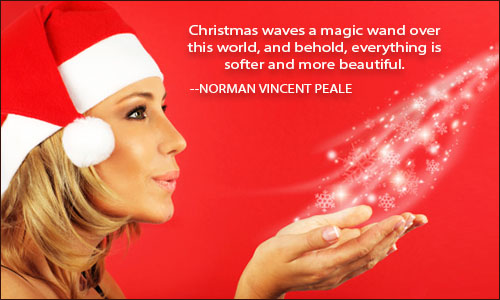 Merry Christmas! ... What's Christmas time to you but a time for paying bills without money; a time for finding yourself a year older, and not an hour richer; a time for balancing your books and having every item in 'em through a round dozen of months presented against you? If I would work my will ... every idiot who goes about with "Merry Christmas," on his lips, should be boiled with his own pudding, and buried with a stake of holly through his heart.
CHARLES DICKENS, A Christmas Carol
Christmas doesn't come from a store, maybe Christmas perhaps means a little bit more....
DR. SEUSS, How the Grinch Stole Christmas
The main reason Santa is so jolly is because he knows where all the bad girls live.
GEORGE CARLIN, stand-up routine
I have always thought of Christmas time, when it has come round -- apart from the veneration due to its sacred name and origin, if anything belonging to it can be apart from that -- as a good time: a kind, forgiving, charitable, pleasant time: the only time I know of, in the long calendar of the year, when men and women seem by one consent to open their shut-up hearts freely, and to think of people below them as if they really were fellow-passengers to the grave, and not another race of creatures bound on their journeys.
CHARLES DICKENS, A Christmas Carol
I'm dreaming of a white Christmas,

Just like the ones I used to know.
IRVING BERLIN, White Christmas
Part of my passion for all things Christmas is seeing my holiday stuff again every December. I suppose I do have more than most folks, so the reunion each winter keeps me in the holiday spirit for a full year. And there are always a few pieces out in my house whatever the month.
MARY ENGELBREIT, Christmas with Mary Engelbreit
I grew up in Scotland in the 1970s. There was not much money. The most popular Christmas toy was probably a potato.
CRAIG FERGUSON, The Late Late Show with Craig Ferguson, Dec. 20, 2011
More and more people each year are going abroad for Christmas ... Fed up with the fact that commercial Christmas starts in October. Fed up with carols. Dreading the arrival of Christmas cards from people they have forgotten to send a card to. Unable to bear yet another family get-together with Auntie Mary puking up in the corner after sampling too much of the punch. You see in the airports the triumphant glitter in the eyes of people who are leaving it all behind, including the hundredth rerun of Miracle on 34th Street.
M.C. BEATON, A Highland Christmas
Christmas is not a time or a season but a state of mind. To cherish peace and good will, to be plenteous in mercy, is to have the real spirit of Christmas. If we think on these things, there will be born in us a Savior and over us will shine a star sending its gleam of hope to the world.
CALVIN COOLIDGE, Presidential message, Dec. 25, 1927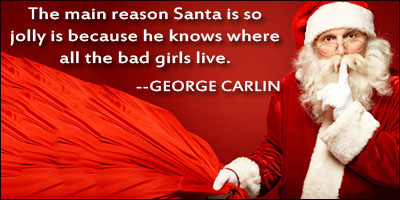 For me, music brings Christmas to life. Songs about the birth of Jesus transport me to the first Christmas. A carol that describes snow makes me feel the chill ... To me, each one of these special songs is a pretty package that I get to unwrap again every year.
ACE COLLINS, Stories Behind the Best-Loved Songs of Christmas
For many people, Christmas is about the grand gesture -- spending days and nights in frenzied cooking and decorating, enduring crowds to buy piles of gifts, and attending to a calendar chock-full of obligations. The funny thing is, at the end of all the huzzah and hurrah, many of us are exhausted rather than exhilarated.
DONATA MAGGIPINTO, Christmas Family Gatherings
A lovely thing about Christmas is that it's compulsory, like a thunderstorm, and we all go through it together.
GARRISON KEILLOR, Leaving Home
Christmas has been a season of mixed interests and meanings, but the very foundation, of course, is its religious significance. No matter what other personal desires or crises we have faced, I've never forgotten that this is the time to celebrate the birth of the Baby Jesus, and the impact of this event on the history of the world.
JIMMY CARTER, Christmas in Plains: Memories
Like God, Christmas is timeless and eternal, from everlasting to everlasting. It is something even more than what happened that night in starlit little Bethlehem; it has been behind the stars forever. There was Christmas in the heart of God before the world was formed.
ROY ROGERS, A Happy Trails Christmas
Santa blows all these shipping companies away. He delivers more than 2 billion packages in just 24 hours. He does it by sleigh. He doesn't use tracking numbers and doesn't use trucks. He just uses midgets and a giant bag.
CRAIG FERGUSON, The Late Late Show with Craig Ferguson, Dec. 12, 2011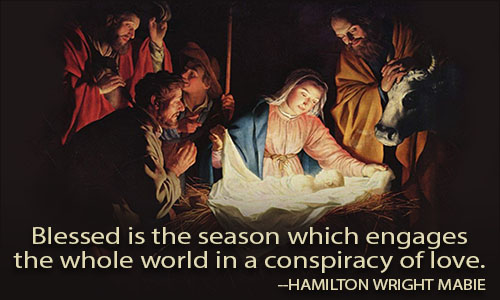 We consider Christmas as the encounter, the great encounter, the historical encounter, the decisive encounter, between God and mankind. He who has faith knows this truly; let him rejoice.
POPE PAUL VI, speech, Dec. 23, 1965
It's the most wonderful time of the year.

There'll be much mistletoeing

And hearts will be glowing,

When loved ones are near.

It's the most wonderful time of the year.
EDDIE POLA & GEORGE WYLE, It's the Most Wonderful Time of the Year
At Christmas play and make good cheer,

For Christmas comes but once a year.
THOMAS TUSSER, The Farmer's Daily Diet