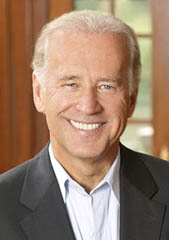 After 9-11, the President had a historic opportunity to unite Americans and the world in common cause. Instead, by exploiting the politics of fear, instigating an optional war in Iraq before finishing a necessary war in Afghanistan and instituting policies on torture, detainees and domestic surveillance that fly in the face of our values and interests, President Bush divided Americans from each other and from the world.
JOE BIDEN, speech, Jul. 15, 2008
Al Qaeda must be destroyed. Its ability to acquire weapons of mass destruction must be stopped. But to compare terrorism with an all encompassing ideology like Communism and Fascism is evidence of profound confusion. Terrorism is a means, not an end, and very different groups and countries are using it toward very different goals. President Bush and Senator McCain lump together, as a single threat, extremist groups and states as at odds with each other as they are with us: Sunnis and Shiites, Persian and Arabs, Iraq and Iran, Al Qaeda and Shiite militia. If they can't identify the enemy or describe the war we're fighting, it's difficult to see how we will win.
JOE BIDEN, speech, Jul. 15, 2008
The most powerful military in the world cannot invade, kill or capture a network or destroy every loose weapon on the planet. The best response to this network of terror is to build a network of our own -- a network of like-minded countries and organizations that pools resources, information, ideas, and power. Taking on the radical fundamentalists alone isn't necessary, it isn't smart, and it won't succeed.
JOE BIDEN, speech, Aug. 7, 2006
Our current policy in Iraq is a failure. We are past the point of an open-ended commitment. We are past the point of adding more troops. We are past the point of vague policy prescriptions. It is not an answer just to stay. Nor is it an answer -- though it may become a necessity -- just to go, with no concern for what follows. The fundamental question we must answer is whether, as we begin to leave Iraq, there are still concrete steps we can take to avoid leaving chaos behind.
JOE BIDEN, speech, Dec. 4, 2006
My mother's creed is the American creed: No one is better than you. You are everyone's equal, and everyone is equal to you.
JOE BIDEN, acceptance speech, Aug. 27, 2008
I still have my 1967 Goodwood-green Corvette, 327, 350-horse, with a rear-axle ratio that really gets up and goes. The Secret Service won't let me drive it. I'm not allowed to drive anything. It's the one thing I hate about this job. I'm serious.
JOE BIDEN, Car and Driver, Sep. 2011
Instead of regime change, we should focus on conduct change. We should make it very clear to Iran what it risks in terms of isolation if it continues to pursue a dangerous nuclear program but also what it stands to gain if it does the right thing. That will require keeping our allies in Europe, as well as Russia and China, on the same page as we ratchet up pressure. It also requires a more sophisticated understanding that by publicly engaging Iran – including through direct talks – we can exploit cracks within the ruling elite and between Iran's rulers and its people, who are struggling economically and stifled politically. The Iranian people need to know that their government, not the United States, is choosing confrontation over cooperation. Our allies and partners need to know that the United States will go the extra diplomatic mile – if we do, they are much more likely to stand with us if diplomacy fails.
JOE BIDEN, speech, May 20, 2008
Barack Obama has a vision of American greatness based not just on our unmatched military might, but on our economic, intellectual, and moral strengths. They were once the envy of the world. They can be again
JOE BIDEN, speech, Jul. 15, 2008
There are periods in our country's history when Americans re-examine the essence of our social contract. They have occurred half a dozen times. These periods invariably include debate over the meaning of our "civil bible" -- the Constitution -- because we have relied so much on that document to articulate how we see ourselves as a people and how we see ourselves as a nation.
JOE BIDEN, speech, Jul. 29, 2005
Iran is not a monolith. Our greatest allies against the theocracy are the Iranian people. They admire America. But we never get our side of the argument into Iran to the people who could insist, over time, that the government change course. They never hear our voice. America, whose greatest strengths are her ideas and ideals, has become afraid to talk. It's time to find our voice again.
JOE BIDEN, speech, Oct. 31, 2006
The idea that we can wipe out every vestige of Iran's influence in Iraq is a fantasy. Even with 160,000 American troops in Iraq, Prime Minister Maliki, our ally in Baghdad greets Iran's leader with kisses. Like it or not, Iran is a major regional power and it shares a long border – and a long history – with Iraq.
JOE BIDEN, speech, May 20, 2008
Some of my friends in the current administration have little interest in alliances, international organizations and treaties. There's a logic to their disengagement. They start from the premise that America's military might is the single most important determinant in the international system. Because that might is so much greater than anyone else's they see allies and agreements as more of a burden than a benefit. It's Gulliver tied down by the Lilliputians.
JOE BIDEN, speech, Apr. 12, 2005
The art of living is simply getting up after you've been knocked down.
JOE BIDEN, Promises to Keep
Rudy Giuliani — there's only three things he mentions in a sentence: a noun, a verb, and 9/11.
JOE BIDEN, MSNBC Democratic Debate, Oct. 30, 2007
I'm not used to these standing ovations, I'm a Vice President.
JOE BIDEN, remarks at the 21st annual National Fire and Emergency Services Dinner, Apr. 2, 2009
If you do politics the right way, I believe, you can actually make people's lives better. And integrity is the minimum ante to get into the game.
JOE BIDEN, Promises to Keep
The vice-presidency is not a job designed to enhance your standing.
JOE BIDEN, Esquire, Jan. 2012
The terrorists who attacked the Pentagon ... sought to weaken America by shattering this defining symbol of our military might and prowess. But they failed. And they also failed for another reason, not just physically failed. They failed because they continue to fundamentally misunderstand us, as they misunderstood us on that day. For the true source of American power does not lie within that building because as Americans, we draw our strength from the rich tapestry of our people.
JOE BIDEN, remarks at the Pentagon, Sep. 11, 2011
All our differences hardly measure up to the values we all hold in common.
JOE BIDEN, Promises to Keep
We kept our promise to remove all American troops from Iraq -- Iraqi cities. We kept our promise to end our combat mission last August and to reduce our forces in Iraq to 50,000. At the end of this month, we will keep our promise to remove our remaining troops from Iraq, which, when we came to office, numbered 140,000 American forces. Where I come from, where the President comes from, a promise made is a promise kept. And we are keeping our promise.
JOE BIDEN, remarks at event to honor U. S. and Iraqui service members, Dec. 1, 2011
The greatest sin a man or woman can commit is the abuse of power.
JOE BIDEN, Esquire, Jan. 2012
For the world to follow, we must do more than rattle our sabers and demand allegienace to our vision simply because we believe we are right. We must provide a reason for others to aspire to that vision. And that reason must come with more than the repetition of a bumper-sticker phrase about freedom and democracy. It must come with more than the restatement of failed policy. It must come with the wisdom to admit when we are wrong and resolve to change course and get it right.
JOE BIDEN, Promises to Keep
It's not just the automobile industry is coming back, folks. Manufacturing is coming back. The middle class is coming back. America is coming back -- worker by worker, home by home, community by community, this country is coming back.
JOE BIDEN, speech, Mar. 15, 2012
Our failure in recent years has not been the failure of the people to meet the challenges placed before them, but rather the failure of both our great political parties to place those challenges honestly and courageously before the people, and to trust the willingness of the people to do the things that really need to be done.
JOE BIDEN, Promises to Keep
My dad used to say, "Without your word, you're not a man."
JOE BIDEN, Esquire, Jan. 2012
I believe all Americans are born with certain inalienable rights. As a child of God, I believe my rights are not derived from the constitution. My rights are not derived from any government. My rights are not denied by any majority. My rights are because I exist. They were given to me and each of my fellow citizens by our creator, and they represent the essence of human dignity.
JOE BIDEN, Promises to Keep
Our military might and economic resources are necessary but not sufficient to lead us into this new century. It is our ideas and ideals that will allow us to exert the kind of leadership that persuades others to follow and to deal effectively with these forces of change.
JOE BIDEN, speech, Apr. 15, 2008