ATHEISM QUOTES II
quotations about atheism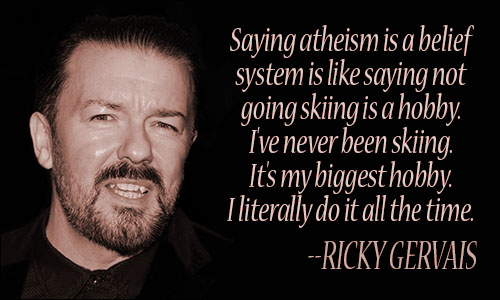 The only position that leaves me with no cognitive dissonance is atheism. It is not a creed. Death is certain, replacing both the siren-song of Paradise and the dread of Hell. Life on this earth, with all its mystery and beauty and pain, is then to be lived far more intensely: we stumble and get up, we are sad, confident, insecure, feel loneliness and joy and love. There is nothing more; but I want nothing more.
AYAAN HIRSI ALI, Infidel
7 likes
---
The fact that a believer is happier than a skeptic is no more to the point than the fact that a drunken man is happier than a sober one. The happiness of credulity is a cheap and dangerous quality of happiness, and by no means a necessity of life.
GEORGE BERNARD SHAW, preface, Androcles and the Lion
7 likes
---
All children are Atheists; they have no idea of God.
PAUL-HENRI HOLBACH, Le Bon-Sens, ou, Idees Naturelles Opposees aux Idees Surnaturelles
7 likes
---
It is often said, mainly by the 'no-contests', that although there is no positive evidence for the existence of God, nor is there evidence against his existence. So it is best to keep an open mind and be agnostic. At first sight that seems an unassailable position, at least in the weak sense of Pascal's wager. But on second thoughts it seems a cop-out, because the same could be said of Father Christmas and tooth fairies. There may be fairies at the bottom of the garden. There is no evidence for it, but you can't prove that there aren't any, so shouldn't we be agnostic with respect to fairies?
RICHARD DAWKINS, speech at the Edinburgh International Science Festival, Apr. 15, 1992
7 likes
---
The history of atheism matters. It matters not just for intellectual reasons--that is, because it behooves us to understand the past as fully as we can--but also on moral, indeed political grounds. History confers authority and legitimacy. This is why authoritarian states seek to deny it to those thy do not favor, destroying historic sites and outlawing traditional practice. Atheist history is not embodied in buildings or rituals in quite the same way, but the principle is identical. If religious belief is treated as deep and ancient and disbelief as recent, then atheism can readily be dismissed as faddish and inconsequential. Perhaps, even, the persecution of atheists can be seen as a less serious problem than the persecution of religious minorities. The deep history of atheism is then in part a human rights issue: it is about recognizing atheists as real people deserving of respect, tolerance, and the opportunity to live their lives unmolested.
TIM WHITMARSH, Battling the Gods: Atheism in the Ancient World
7 likes
---
I am not even an atheist so much as I am an antitheist; I not only maintain that all religions are versions of the same untruth, but I hold that the influence of churches, and the effect of religious belief is positively harmful. Reviewing the false claims of religion, I do not wish, as some sentimental materialists affect to wish, that they were true. I do not envy believers their faith. I am relieved to think that the whole story is a sinister fairy tale; life would be miserable if what the faithful affirmed was actually the case.
CHRISTOPHER HITCHENS, Letters to a Young Contrarian
6 likes
---
It is not hardness of heart or evil passions that drive certain individuals to atheism, but rather a scrupulous intellectual honesty.
STEVE ALLEN, 2000 Years of Disbelief
6 likes
---
My atheism ... is true piety towards the universe and denies only gods fashioned by men in their own image, to be servants of their human interests.
GEORGE SANTAYANA, "On My Friendly Critics", Soliloquies in England and Later Soliloquies
6 likes
---
To you I'm an atheist; to God, I'm the Loyal Opposition.
WOODY ALLEN, Stardust Memories
6 likes
---
For those who believe in God, most of the big questions are answered. But for those of us who can't readily accept the God formula, the big answers don't remain stonewritten. We adjust to new conditions and discoveries. We are pliable. Love need not be a command or faith a dictum. I am my own God. We are here to unlearn the teachings of the church, state and our educational system. We are here to drink beer. We are here to kill war. We are here to laugh at the odds and live our lives so well that Death will tremble to take us.
CHARLES BUKOWSKI, Life Magazine, Dec. 1988
6 likes
---
An Atheist loves his fellow man instead of god. An Atheist believes that heaven is something for which we should work now--here on earth for all men together to enjoy. An Atheist believes that he can get no help through prayer but that he must find in himself the inner conviction, and strength to meet life, to grapple with it, to subdue it, and enjoy it. An Atheist believes that only in a knowledge of himself and a knowledge of his fellow man can he find the understanding that will help to a life of fulfillment. He seeks to know himself and his fellow man rather than to know a god. An Atheist believes that a hospital should be built instead of a church. An Atheist believes that deed must be done instead of a prayer said. An Atheist strives for involvement in life and not escape into death. He wants disease conquered, poverty vanished, war eliminated.
MADALYN MURRAY O'HAIR, Petition for Relief, Murray v. Curlett, 1959
6 likes
---
Imagine that the brain is a computer and that religion is a virus. Atheism is the wiping of that virus.
NICK HARDING, News Talk, January 25, 2016
6 likes
---
The legitimate powers of government extend to only such acts as are injurious to others. But it does me no injury for my neighbor to say that there are twenty gods, or no God.
THOMAS JEFFERSON, Life and Selected Writings
5 likes
---
When I became convinced that the universe is natural, that all the ghosts and gods are myths, there entered into my brain, into my soul, into every drop of my blood the sense, the feeling, the joy of freedom. The walls of my prison crumbled and fell. The dungeon was flooded with light and all the bolts and bars and manacles became dust.
ROBERT GREEN INGERSOLL, Why I Am An Agnostic
5 likes
---
All religions, with their gods, their demi-gods, and their prophets, their messiahs and their saints, were created by the prejudiced fancy of men who had not attained the full development and full possession of their faculties.
MIKHAIL BAKUNIN, God and the State
5 likes
---
It is the absolutism of theism, its pernicious influence upon humanity, its paralyzing effect upon thought and action, which Atheism is fighting with all its power.
EMMA GOLDMAN, Mother Earth, Feb. 1916
5 likes
---
In the first place, I'm sort of an atheist. I like Jesus and all, but I don't care too much for most of the other stuff in the Bible. Take the Disciples, for instance. They annoy the hell out of me, if you want to know the truth. They were all right after Jesus was dead and all, but while He was alive, they were about as much use to Him as a hole in the head. All they did was keep letting Him down. I like almost anybody in the Bible better than the Disciples. If you want to know the truth, the guy I like best in the Bible, next to Jesus, was that lunatic and all, that lived in the tombs and kept cutting himself with stones. I like him ten times as much as the Disciples, that poor bastard.
J. D. SALINGER, The Catcher in the Rye
5 likes
---
I had no intention to write atheistically. But I own that I cannot see as plainly as others do, and as I should wish to do, evidence of design and beneficence on all sides of us. There seems to me too much misery in the world. I cannot persuade myself that a beneficent and omnipotent God would have designedly created the Ichneumonidæ with the express intention of their feeding within the living bodies of Caterpillars, or that a cat should play with mice. Not believing this, I see no necessity in the belief that the eye was expressly designed. On the other hand, I cannot anyhow be contented to view this wonderful universe, and especially the nature of man, and to conclude that everything is the result of brute force. I am inclined to look at everything as resulting from designed laws, with the details, whether good or bad, left to the working out of what we may call chance. Not that this notion at all satisfies me. I feel most deeply that the whole subject is too profound for the human intellect. A dog might as well speculate on the mind of Newton. Let each man hope and believe what he can. Certainly I agree with you that my views are not at all necessarily atheistical.
CHARLES DARWIN, letter to Asa Gray, May 22, 1860
5 likes
---
I think I use the term radical rather loosely, just for emphasis. If you describe yourself as "Atheist," some people will say, "Don't you mean 'Agnostic'?" I have to reply that I really do mean Atheist. I really do not believe that there is a god -- in fact I am convinced that there is not a god (a subtle difference). I see not a shred of evidence to suggest that there is one. It's easier to say that I am a radical Atheist, just to signal that I really mean it, have thought about it a great deal, and that it's an opinion I hold seriously. It's funny how many people are genuinely surprised to hear a view expressed so strongly. In England we seem to have drifted from vague, wishy-washy Anglicanism to vague, wishy-washy Agnosticism -- both of which I think betoken a desire not to have to think about things too much. People will then often say, "But surely it's better to remain an Agnostic just in case?" This, to me, suggests such a level of silliness and muddle that I usually edge out of the conversation rather than get sucked into it. (If it turns out that I've been wrong all along, and there is in fact a god, and if it further turned out that this kind of legalistic, cross-your-fingers-behind-your-back, Clintonian hair-splitting impressed him, then I would choose not to worship him anyway.)
DOUGLAS ADAMS, American Atheist Magazine, winter 1998-1999
5 likes
---
Until someone claims to see Christopher Hitchens' face in a tree stump, idiots must stop claiming that atheism is a religion. There's one little difference: Religion is defined as the belief in and worship of a superhuman controlling power, and atheism is -- precisely not that. Got it? Atheism is a religion like abstinence is a sex position.
BILL MAHER, Real Time with Bill Maher, Feb. 3, 2012
5 likes
---