ARROGANCE QUOTES
quotations about arrogance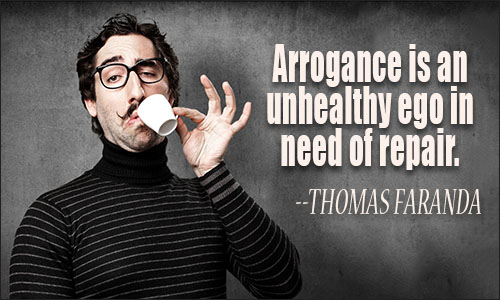 Don't confuse confidence with arrogance. Arrogance is being full of yourself, feeling you're always right, and believing your accomplishments or abilities make you better than other people. People often believe arrogance is excessive confidence, but it's really a lack of confidence. Arrogant people are insecure, and often repel others. Truly confident people feel good about themselves and attract others to them.
CHRISTIE HARTMAN, It's Not Him, It's You
113 likes
---
Arrogance is a self-defense tactic to disguise insecurities.
CAROLL MICHELS, How to Survive and Prosper as an Artist
61 likes
---
Arrogant people are non-learners. They invest their energies in maintaining a cozy feeling of complacency, and complacency is the biggest single enemy to the process of continuously learning from experience. Arrogant people are exactly the sort of people who are destined to have one year's experience 20 times rather than 20 years' worth of experience.
PETER HONEY, Problem People: And How to Deal with Them
46 likes
---
Arrogance is an unhealthy ego in need of repair.
THOMAS FARANDA, The Global Sales Professional
37 likes
---
That which inspires arrogance is ignorance, caused by the heart's blindness.
SAEED MALIK, A Perspective on the Signs of Al-Quran
31 likes
---
Confidence is a nice suit. Arrogance is the same suit with suspenders, Italian loafers, and gold cuff links.
TIM SCHNEIDER, Lead Well
27 likes
---
The arrogance of some people makes even their virtues appear vices.
BOUHOURS, attributed, Day's Collacon
24 likes
---
Usually arrogance is a mask for a lack of confidence. People who lack confidence may display arrogance as a way of compensating for the way they feel.
JAY CARTER & BOBBI DEMPSY, The Complete Idiot's Guide to Bipolar Disorder
22 likes
---
You're so damn arrogant. If you ever met God, the first thing you'd say is what are you doing in my chair?
LISA GARDNER, The Perfect Husband
18 likes
---
Arrogant leadership is toxic to an organization. It looks like strength but is a debilitating weakness.
IRA CHALEFF, The Courageous Follower
17 likes
---
The fragile line between confidence and arrogance is humility.
NORMAN E. BOWIE & MEG SCHNEIDER, Business Ethics for Dummies
16 likes
---
Because arrogance is born in personal vanity, arrogant people are driven without mercy. They can never get enough power to fill the soul's needs or enough respect to overcome the fear that they deserve less than they are getting.
LEWIS B. SMEDES, Love Within Limits
14 likes
---
Ah, how the seeds of cockiness blossom when soiled in ignorance.
STEVE ALTEN, The Loch
13 likes
---
Arrogance is a way for a person to cover up shame. After years of arrogance, the arrogant person is so out of touch, she truly doesn't know who she is. This is one of the greatest tragedies of shame cover-ups: not only does the person hide from others, she also hides from herself.
JOHN BRADSHAW, Healing the Shame That Binds You
11 likes
---
Early in life I had to choose between honest arrogance and hypocritical humility. I chose the former and have seen no reason to change.
FRANK LLOYD WRIGHT, Chicago Tribune, Sep. 26, 2004
9 likes
---
Nothing is so unpalatable to arrogant people as to meet with scorn where they expected an unqualified admission of superiority.
CHARLES WILLIAM DAY, The Maxims, Experiences, and Observations of Agogos
8 likes
---
Where men are the most sure and arrogant, they are commonly the most mistaken, and have there given reins to passion, without that proper deliberation and suspense, which can alone secure them from the grossest absurdities.
DAVID HUME, Essays, Literary, Moral, and Political
7 likes
---
Arrogance is pride polluted by the child-self. Pride is a natural and self-rewarding feeling of worth and efficacy which results from achievement. Arrogance, on the other hand, is a feeling of superiority and entitlement which completely annihilates the "we" for the "I."
W. T. WATTS, A Personal Journey to Positive Change
7 likes
---
There is a wicked and pervading arrogance loose on the earth, like a rabid beast, an overdog. Does it run, does it slouch, does its name have a number? The beast preaches contempt, for that's what arrogance says: that nothing is real but itself, and the bone and blood of another's being are insubstantial as breath.
KELLY CHERRY, The Exiled Heart
6 likes
---
Arrogance is, as it were, a solicitation on the part of one seeking honor for followers, whom he thinks he is entitled to treat with contempt.
IMMANUEL KANT, The Metaphysics of Morals
6 likes
---